New 3Shape Orthodontics Advisory Board focuses on patient and market needs
3Shape announces the creation of the Orthodontics Advisory Board to advise the company on patient care and orthondontic needs.

Nov 25th, 2014

Leading international experts make up 3Shape's Orthodontics Advisory Board, created to improve patient care and identify unmet needs in orthodontic market.


3Shape has brought together five leading orthodontists from around the world to form the first 3Shape Orthodontics Advisory Board.
The Orthodontics Advisory Board will work together with 3Shape to improve patient care and help the company better support orthodontia needs.
The Orthodontics Advisory Board created a four-point plan to achieve goals:
1. Provide 3Shape with feedback on present digital technologies
2. Recommend actionable steps to improve patient care, existing workflows and solutions
3. Identify unmet needs in the orthodontic market
4. Share best practices within the orthodontic community

"Perhaps no other branch in dental care benefits more from digital technology than orthodontics. 3Shape solutions enable orthodontists and labs to digitally plan, simulate, manage and even build orthodontic appliances, as well as store and exchange patient dental impressions. This is a radical leap for many in the industry. The advisory board allows us to work closer with the sector's key opinion leaders. Their insight is essential in achieving our goal of improving patient care, and in many ways, defining the future of digital orthodontics," says Flemming Thorup, CEO for 3Shape.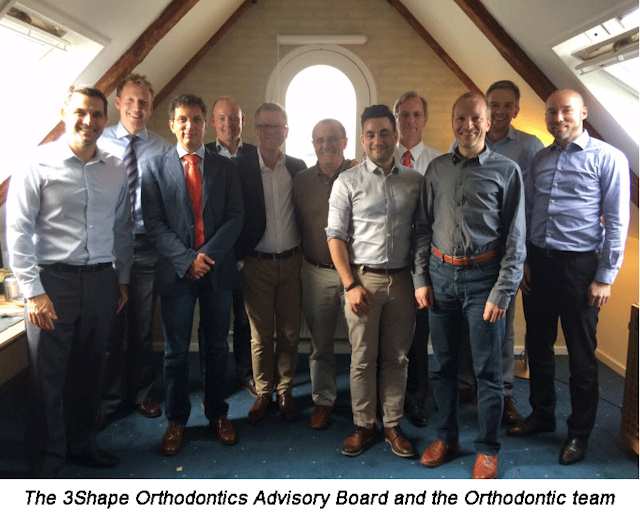 "The advantages of intraoral scanning in orthodontic clinics are so powerful with the model storage savings, communication, reduced chair time, and efficient treatment planning software tools – that success in the market will soon be defined by those who have adapted to the technology," says Dr. Carlo Marassi, 3Shape Orthodontics Advisory Board Member
3Shape orthodontic solutions enable orthodontists and orthodontic labs to plan and manage patient care, as well as drive hands-free manufacturing of orthodontic appliances using CAM equipment. In addition, digital solutions enable orthodontists and labs to do away with gypsum models, which eliminates the need for storage space and reduces environmental impact. The TRIOS digital impression solution provides easy full-bite impression taking, digital accuracy of occlusion, and increased patient satisfaction.
The five members of the 3Shape Orthodontics Advisory Board are all respected leaders in orthodontics and recognized digital experts. They each bring a unique insight into the strategies and procedures they practice in patient care. The board members are Dr. Lars Christensen, UK; Dr. Carlo Marassi, Brazil; Dr. Santiago Isaza Penco, Italy; Dr. Jean-Marc Retrouvey, Canada; and Dr. Alain Souchet, France.
__
Editor's note: This article first appeared in the Apex360 newsletter. Not a subscriber? Go here to sign up for the latest industry updates, delivered twice a week to your inbox.
__
Related Articles
3Shape Implant Studio receives FDA 510(k) market clearance
Zimmer Zfx abutments products now available to 3Shape Dental System users