Orthodontists: Build your digital brand online
It is important in today's competitive market to set your brand apart by having a great web presence, so patients know exactly what you offer.

Oct 21st, 2014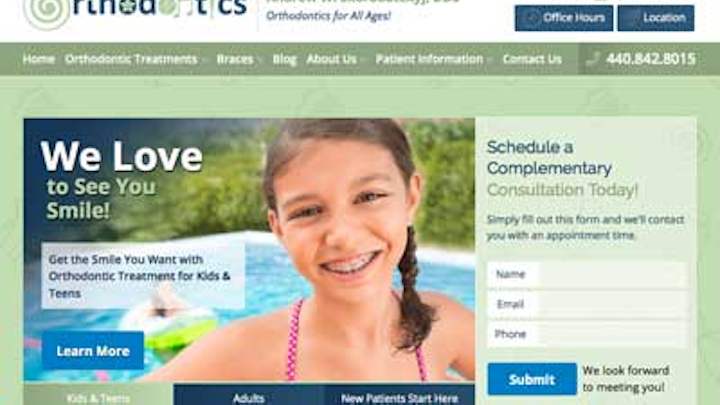 If you manage an orthodontic practice, you've probably learned how important it is to have an online presence. While word-of-mouth and traditional marketing is still effective, most potential patients search the Web for information and make a decision based on what they find. What does this mean for you? It means you must establish your brand online. If you don't, you'll cut yourself off from the stream of online traffic.

Here are a few tips to help you build a strong, consistent brand for your practice across the Internet.
1. It all starts with a great website
The first step to build your digital brand is to create a user-friendly, visually appealing website. A great website is simple, but it must include all the information potential patients need. Define your desired clientele, and build a website for this audience. If you offer high-end services, your website must reflect your elite brand. If you target young families, consider a colorful, friendly website.
Not sure what your patients want to see on your website? Ask them! Most people love to share their opinion and can fill out a short survey in the reception area while they wait for their appointment.
To make this easy, here is a list of tried-and-true pages for orthodontic websites:
• Home – Introduction to your practice
• Staff – Include short bios on the dentist(s) and office staff
• Services – Detail the services you offer to patients
• Patient info – Any information that a patient may need to know before making an appointment (forms, FAQs, etc.)
• Contact – This section is critical! Be sure to include your address, phone number, email address, and any other pertinent contact info
2. Make your business memorable
Competition is fierce. Be sure your website stands out from competitors and grabs the attention of your target audience. Use pleasant colors and images to draw viewers into your website, and craft helpful, easy-to-read content. Include identifying information on the homepage so that viewers can associate your offline presence with your website. Things to include are your logo, name, and contact information. Emphasize elements that make your business unique, and give potential clients a reason to choose your practice for their orthodontic services.
3. Expand your brand
Once your website is launched, expand your brand across the Web. Seek opportunities to add your business to local directories such as Yelp, Yellowpages, Bing Places, and Google My Business. When setting these accounts, be sure to use the exact same information across all platforms to ensure that potential clients will be able to find you!
Andrew W. Skorobatckyj, DDS, is an orthodontist practicing in Parma, Ohio as well as an Assistant Clinical Professor at Case Western Reserve University School of Dental Medicine. He is a member of the American, Great Lakes and Cleveland Societies of Orthodontics, and the American, Ohio and Greater Cleveland Dental Associations. Contact Dr. Skorobatckyj at andrewskoro@sbcglobal.net, (440) 842-8015, or skororthodontics.com.