Give Kids a Smile Comes to SIU School of Dental Medicine
WRITTEN BY Debra M.
Nov 1st, 2005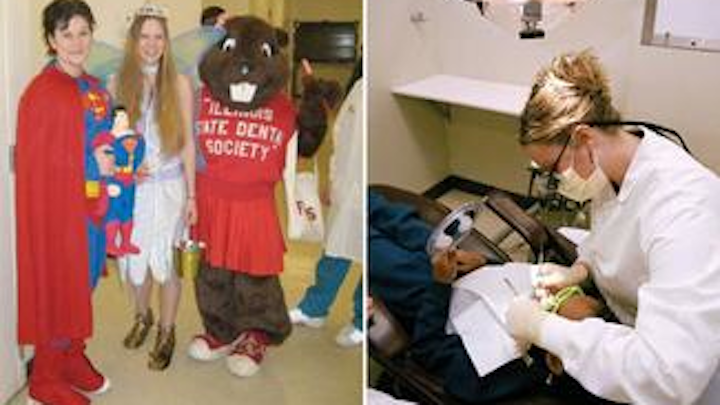 WRITTEN BY Debra M. Schwenk, DMD, MS, MPA
By now, most folks in the dental community have heard about the very successful Give Kids a Smile® (GKAS) program. However, the history of the organization may not be as well-known. The Greater St. Louis Dental Society originated the concept in February 2002. They have held two GKAS events every year, one in February and one in October. The Board of Trustees of the American Dental Association endorsed GKAS in April 2002. The following October, the House of Delegates made it a permanent February event to be held in conjunction with National Children's Dental Health Month. The first nationwide GKAS day was Feb. 21, 2003.
Each year the ADA-sponsored program has grown. In 2004 and 2005, more than 10,000 dentists and 30,000 staff members contributed their time and energy to provide free treatment for underserved children. The ADA estimates that 700,000 children were seen in 2004. This year, Give Kids a Smile events were held in about 1,800 locations across the United States.
Besides providing oral health care for children in need, the Give Kids a Smile project provides public and political awareness of the issue of access to care. While the treatment provided by GKAS volunteers cannot begin to solve the problem of access, it has created a greater awareness of the extent of the need. Currently, the ADA's role is to provide materials for dentists and dental societies who want to start their own events, and to document participation. Information on Give Kids a Smile can be found on the American Dental Association's Web site at www.ada.org under "Events and Meetings." Any activity that addresses the dental health needs of underserved children is welcome.
The ADA's Give Kids a Smile program has two major corporate sponsors. Crest Healthy Smiles, the exclusive consumer product sponsor, provides educational materials and hygiene products, including a Crest SpinBrushfor all the children. In 2004, Crest provided 563,000 dental kits to GKAS programs. Sullivan-Schein, the exclusive product distributor partner, provides professional product packages including everything from amalgam to patient napkins and gloves for patient treatment.
In the fall of 2003, the School of Dental Medicine (SDM) at Southern Illinois University (SIU) jumped on the Give Kids a Smile bandwagon. Dr. Debra Schwenk, Section Head of Community Dentistry at the SDM, chaired the initial GKAS committee. It was a joint effort among the dental school's faculty, students, and staff, the Madison District Dental Society (MDDS), and the St. Clair District Dental Society. The Alton, Ill.-based dental school is located in the area included in the MDDS, and the school has a satellite clinic in East St. Louis. Faculty and students from the nearby Lewis and Clark Community College (LCCC) dental assisting and dental hygiene programs also participated.
The first SIU/SDM Give Kids a Smile program was held on Feb. 7, 2004, at the dental school's clinic. Children from 51 schools received more than $50,000 worth of free dental treatment during the event. A total of 175 children ages 3 to 13 were treated, and the average amount of treatment per child was valued at $288. This included a full range of treatment from prevention to restorations and extractions. Parents brought youngsters from as far away as Metropolis, Ill., which is a three-hour trip each direction.
A volunteer for each child made this possible. There were 174 volunteers, including 46 dentists, 54 dental students, several SDM faculty members, and more than 60 staff members from the dental school and private practice. Lay volunteers from three local service organizations - the Alton/Wood River Zonta Club, the Delta Theta Tau service sorority, and the Junior League - served as registration clerks and escorts for the children. A dental health fair called the Smile Station, which included games and prizes with dental themes, was set up by Cathy Anderson, RDH, a faculty member at LCCC. Flossie, the Illinois State Dental Society mascot, and the "tooth fairy" entertained the children while they waited. Everyone worked hard and felt the event was a success.
Monetary and in-kind contributions contributed to the event's success. Donations were received from six dentists, Procter and Gamble, Ultradent, Inc., six restaurants (including Pizza Hut, Papa John's, Princivalli's, Hartford Ribs, and Duke's Bakery), and the Alton Belle Casino.
Many reporters were present and articles appeared in several area newspapers. The group's efforts were also recognized when Dr. Schwenk described the program at the Illinois State Dental Society's (ISDS) Leadership Conference in April 2004. She spoke about the event to nearly 500 ISDS members.
Encouraged by the initial success of the first SDM/Madison/St. Clair Give Kids a Smile event, the key players began planning early for February 2005. Dr. Randy Parmlee from Mascoutah, Ill., agreed to be chairman, and committees were formed to oversee various aspects. These included dental school arrangements, volunteers, public relations, food, cleanup, and donations. Dr. Schwenk obtained $3,425 in grant money from the SIU Meridian Society, a university-based charitable organization, for bus transportation for the children.
Thanks to better organization and the bus transportation, the 2005 event nearly doubled the number of children seen in 2004. About 300 volunteers treated 330 children. The average amount of treatment per child was lower ($207), but this was due to seeing more children in the same amount of time. More lay volunteers were recruited to act as escorts since there weren't enough in 2004.
Many area politicians attended the 2005 Give Kids a Smile event, including state and federal representatives and senators. It gave the school's dean, Dr. Ann Boyle, a perfect opportunity to address the dental needs of the public and the issues confronting today's dental schools.
The GKAS program begun by Dr. Schwenk is unique in that it is a cooperative effort between a dental school, dental hygiene and assisting programs, two dental societies, and several local service clubs. It has been very successful in meeting the ADA's goals for improving access to care through donated treatment and public awareness. Plans are already underway for the third annual SIU/SDM Give Kids a Smile Day with Madison and St. Clair District Dental Societies on Feb. 4, 2006. For information on how the event was organized, contact Dr. Debra Schwenk at dschwen@siue.edu. ■
Debra M. Schwenk, DMD, MS, MPA
Dr. Schwenk is currently an assistant professor and section head of community dentistry at Southern Illinois University School of Dental Medicine. She was recently inducted into the American College of Dentistry and the International College of Dentistry. You may contact Dr. Schwenk at dschwen@siue.edu.