Saluting Dr. Michelle Cantwell
Prosthodontist Michelle Cantwell went on active duty after Sept. 11, 2001.
Jun 1st, 2006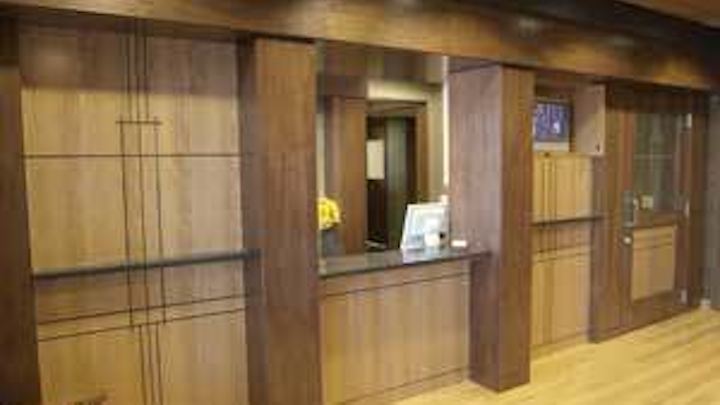 Prosthodontist Michelle Cantwell went on active duty after Sept. 11, 2001. Then, she learned she was expecting twins. A year later, her third child arrived.
The twins, Brighid and Tierney, are now 4. Little sister Rory is 3.
"There's always somebody crying in our house," Dr. Cantwell said. "They're all girls, hence the crying. We had three different sizes of diapers going at one time. Usually it's my husband crying at this point."
Dr. Cantwell, 36, met her husband, John, in Pittsburgh. He was a JAG officer in the Navy and now works as an attorney in Fort Indiantown Gap, Penn., near their home in Mount Joy.
"He has been incredibly supportive throughout all of this," she said. "My husband just resigned his commission. I'm considered inactive at the moment, but I'm still theirs for a couple of years. I was just promoted to lieutenant commander, so I outrank John - he doesn't like that part. He was in the Navy when we met. I talked to the recruiter, and they offered me a scholarship. It just felt like the right thing to do. Prosthodontists are only deployed on aircraft carriers, and there are only 12. The slots were filled. I did more crown-and-bridge work my first month in the Navy than I did in a year of my residency program."
She graduated from Wilkes University with a bachelor's degree in biology and the University of Pittsburgh School of Dental Medicine in 1998.
"I knew I loved working with people, and I was always driving my parents crazy taking things apart," Dr. Cantwell said. "Prosthodontics is like the engineering of dentistry."
A typical patient at Cantwell Dental Group is 45 to 50 years old, partially endentulous, and ready for the smile he or she has always wanted, Dr. Cantwell said.
"Most of our patients come in asking us about implants because they either have a partial or complete denture that they don't want to wear any more. We try to work a lot with charitable organizations because it makes my team feel good, it helps the public, and it always comes back to us. From that, we end up getting a lot of referrals. We try to work with some of the networks in town, but most of the time it's other doctors who ask us to help them out, and they think of us next time they have a case."
She owns the 2,200-square-foot space that comprises Cantwell Dental Group in Lancaster, Penn.
"We kind of did it in phases," she said. "We did two operatories to start, and it's set up for five. We wanted something to grow with us."
The organic architecture of Frank Lloyd Wright influenced much of Dr. Cantwell's office design. Features include stained glass windows, Armstrong rich wood flooring, and even wood ceilings. The finished product has been nominated for two architectural awards, Dr. Cantwell said.
But the architecture isn't the only aspect that deserves mention. All the dental equipment is new and the latest technology. The office is paperless and equipped with digital X-rays and an intraoral camera.
"My patients have copies of their own records," Dr. Cantwell said. "The doctors we work with love it because we can e-mail them our referrals. Insurance companies seem to like it, too. Everything I see, the patients see. We don't have to point things out because patients can see it."
Dr. Cantwell's advice for women dentists is to talk with other women dentists. An easy way to make contacts is by joining the American Association of Women Dentists. Dr. Cantwell is the secretary and a founding member of her local AAWD chapter. They had 59 members at their most recent meeting, she said.
"Network with each other," Dr. Cantwell said. "Some of the information and guidance I've gotten from other women dentists has saved me. When I came out here, it was really the women dentists who helped put me in touch with the vendors and laboratories they trusted."
---
get to know her …
what are you reading?
favorite web site?
favorite comfort food?
favorite hometown restaurant?
who would you interview?
"I have a favorite author, Sandra Boynton. (It used to be Faulkner.) The book's about a hippopotamus, and my daughters ask to hear it all the time."
"I have to go to the ADA Web site."
"Chocolate! You can put exclamation points after that. I live by Hershey, Pennsylvania. If there were a way to extract calories from the air, I'd do it."
"Anything from the sushi bar at Blue Pacific."
"I would interview my grandmother. She raised 12 kids on a coal miner's salary. Before she passed away, I didn't have kids and didn't ask her how she did it and kept her sanity."