SmileSimplicity introduces ZERO PAIN technique
SmileSimplicity introduces ZERO PAIN veneer technique.

Jan 20th, 2014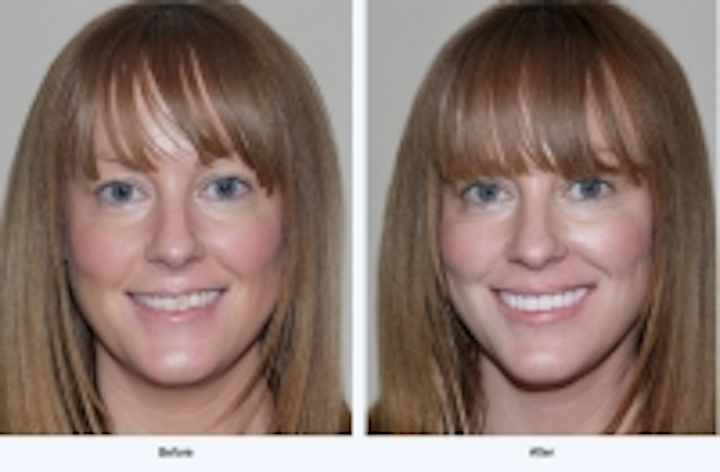 SmileSimplicity has introduced its ZERØ PAIN veneer technique to the dental industry. According to the manufacturer, the veneer technique allows dentists to noninvasively remedy chipped, worn, misaligned, irregularly shaped, gapped, or even severely stained teeth in a minimum of two short visits.
The SmileSimplicity ZERØ PAIN veneer technique reportedly contrasts with traditional veneer procedures in that tooth structure is preserved. SmileSimplicity claims that patients avoid pain, discomfort, and sensitivity associated with conventional veneer methods. Additionally, the patient can have the veneers removed if desired, as original teeth are left intact.
In a press release, SmileSimplicity noted that "[T]raditional methods require numbing shots and can cause increased tooth sensitivity. They can also jeopardize the vital, sensitive pulp inside the tooth, potentially leading to a root canal. Teeth prepared in this manner are noticeably altered in size and shape, no longer resembling normal teeth."
"I'm fundamentally against unnecessarily drilling down healthy teeth and causing patients needless discomfort," said Dr. David Ouellet, DDS, of Santa Maria, CA. "But with the SmileSimplicity technique, I finally have the ability to give patients the smile of their dreams without having to administer a single shot or touch any sensitive tooth structure. SmileSimplicity is truly a revolutionary smile enhancement solution for dentists and their patients."
SmileSimplicity was developed by Robert Ibsen, DDS, the creator of Rembrandt oral care products, inventor of Lumineers veneers, and leading pioneer in noninvasive cosmetic dentistry.
SmileSimplicity's two-visit procedure consists of the following:
The first visit takes about an hour, when the dentist goes through a patient evaluation and preparation process to ensure that teeth and gums are healthy. Then, impressions are taken and a specialized lab creates the veneers to the dentist's specifications. In the second visit, also lasting about an hour, the veneers are placed. There are no shots, temporaries, or post-procedure sensitivities.
SmileSimplicty claims its veneers can last over 20 years.
"What impressed me most about the procedure was it was painless," said Alfred Salazar, a SmileSimplicity patient who underwent the procedure in Santa Maria, CA. "It went very quickly. I originally thought maybe you spend a long time in the chair in order to complete the procedure, but I like the quick results and the fact that it was painless. And I get lots of compliments!"
For more information on SmileSimplicity CE webinars, chair side courses, and marketing module materials, email info@smilesimplicity.com or call 1-888-543-1143. For more information on this story contact: Light Years Ahead at (323) 650-2201; Bette Light at bette@lightyearsahead.com; or Megan Brown Bennett at megan@lightyearsahead.com.