Techniques for Today's Dentistry: Tape, putty, and ferric sulfate
As we continue to seek conservative treatment options, direct bonding has become increasingly popular.
Jan 1st, 2004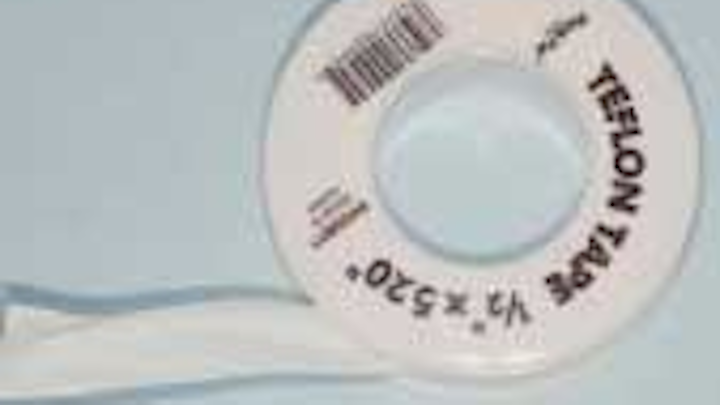 As we continue to seek conservative treatment options, direct bonding has become increasingly popular. New micro-hybrid composite resin systems combine durability, strength, beauty, and ease of handling, and can be used in anterior or posterior restorations. Although the restorative materials have improved dramatically, the anterior matrix systems have not necessarily kept up the pace. Fumbling with a mylar or dead soft matrix strip can often be frustrating, not to mention a significant waste of time. By applying Teflon tape to teeth adjacent to those being bonded, a much easier method for better contours and tighter contacts can be achieved than with traditional matrix systems (Figure 1).
Bonded restorations are technique-sensitive. The challenge is to avoid contamination of the restorative materials during the procedure. One contaminant in particular that is often overlooked is sulcular fluid. A hemostatic agent that ensures profound hemostasis as well as control of the sulcular fluid flow should be utilized before etching and placement of the bonding agent.
A diagnostic wax-up not only can save significant time in anterior direct bonded cases, but it also can be an excellent predictor of the case outcome. A stent or guide can be fabricated from the diagnostic wax-up by taking a silicon putty impression (Exiflex, GC America, Alsip, Ill. ) of the wax-up (Figure 2). Trim the facial aspect of the impression to expose the margins of the teeth to be restored. Now, it becomes a quick guide to get the job done faster (Figure 3).
All three in action
Pumice the teeth to be bonded, rinse, and dry. Drying the teeth prior to applying the Teflon tape allows the tape to adhere to the teeth more securely. A strip of the Teflon tape should be flossed in between the teeth, being careful not to create wrinkles. Then wrap the tape around the teeth that will not be bonded (Figure 4). To ensure profound hemostasis and sulcular fluid control, gently, but firmly, scrub a ferric sulfate hemostatic agent (Viscostat, Ultradent Products, South Jordan, Utah) into the sulcular areas of the teeth to be bonded (Figure 5). Follow with a thorough rinse to remove contaminants from the area. After the teeth have been etched and the bonding agent placed, introduce the putty stent and place the composite accordingly (Figures 6 and 7).
These three simple, inexpensive additions to your armamentarium can make anterior direct bonded procedures much easier, more predictable, and, ultimately, more enjoyable!
null
null
Jaimee Morgan, DDS
Dr. Morgan practices orthodontics, family, and cosmetic dentistry in Salt Lake City, Utah. She has presented numerous scientific papers, is a published author, and lectures internationally on aesthetic dentistry. Contact her at (801) 569-2600 or jaimee morgan@mindspring.com.