Road to a Successful Restorative Practice
Dr. Gayle Reardon of Sioux Falls, S.D., shares what she's learned along the road of life as a successful woman dentist
Sep 1st, 2004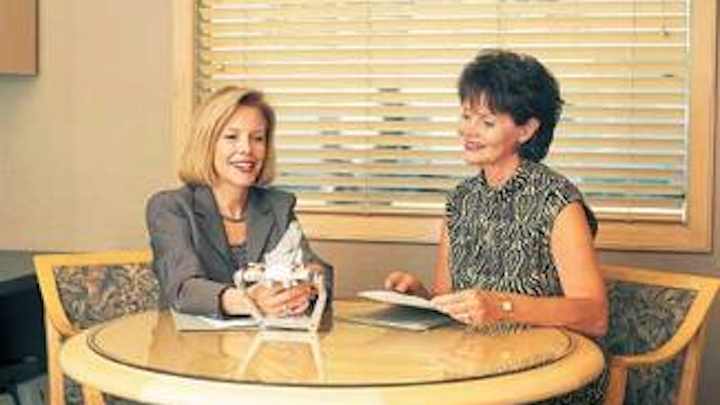 Dr. Gayle Reardon of Sioux Falls, S.D., shares what she's learned along the road of life as a successful woman dentist
What drives the successful woman's dental practice in today's world? I have been fortunate to discover key elements within dentistry that have taken my practice from the "usual and customary" level to that of the "highly refined and very rewarding" level. This is no small accomplishment in an environment where practice management and personnel development are challenging.
My passion for learning and creativity is the driving force of my practice. Being the daughter of a perfectionist dentist, I lived with a role model who taught me the value of continued learning. My father instructed me from the time I was a small child that regardless of my field of study, I must be committed to a lifetime of study in that field. He lived out his recommendations and is an example of a person who has truly enjoyed his life of learning.
In dental school, I learned the basics of restorative dentistry — fundamentals of preparation design, biomaterials, their indications and applications — and began my career with a basic level of competence consistent with that of all new graduates. After graduation, I participated in a special prosthetics program at the University of Minnesota. Cases that were beyond the undergraduates' skill level but not suitable for the Graduate Prosthetics Department were eligible for treatment by me. I worked closely with faculty, achieving results that met the goals of my patients.
After my tenure at the University of Minnesota, I joined my father in private practice. Practicing closely with a mentor who cared about my development furthered my education. During this early learning period, I continued my participation in university continuing-education programs. After a 13-year practice relationship, my father retired. I was then faced with complex cases that would challenge the most competent prosthodontist. While I had significant hands-on experience in my 14 years since dental school, I had a long way to go. I was confident and competent doing single-tooth dentistry, but the thought of full-mouth reconstruction with esthetic emphasis was daunting.
I knew that the only answer for me was to find educational sources to supplement my background or go back into a prosthetics program. With small children at home, I decided to further my education by participating in programs structured in a curriculum fashion. Drs. Peter Dawson and Frank Spear came into my life at this point, followed rapidly by The Pankey Institute. The influence of these three resources was amazing. I began to grow not only as a clinician but also personally and as a leader. My practice changed from a "usual and customary" single-tooth practice to a practice founded upon complete dentistry — a practice where the goals and desires of my patients are identified, pursued, and accomplished. The focus is no longer on teeth but on people.
After a decade of transition, I am happy to call myself a restorative dentist. My clients are generally adults whose needs and desires are highly variable. Our relationship begins with a detailed evaluation for all clients. This evaluation includes soft tissue/oral cancer screening, esthetic screening, mandibular range of motion, full muscle examination of the head and neck region, doppler auscultation of the temporomandibular joints, CR/CO comparison, and clinical tooth examination including hot, cold, and percussion testing. Periodontal examination and debridement, diagnostic models, and pretreatment photographs conclude the examination and co-discovery process. It is not unusual to confer with multiple specialists who may be involved with a client's treatment. All information is organized and assessed prior to the next meeting with our client at the pretreatment consultation.
During the pretreatment consultation, we review treatment needs and options. We develop a deeper understanding of our clients' desires and aspirations. We develop and confirm our multidisciplinary treatment direction and goals.
Although it is often possible to accomplish patients' goals using only restorative dentistry, I have found that working in cooperation with specialists can help accomplish clients' goals while minimizing the need for more invasive restorative procedures. It's amazing how much easier it is to restore a case when the teeth are aligned properly and the gingiva is healthy than when there are crowding and periodontal issues that increase the possibility of restorative complication. I believe that restorative dentistry is more predictable when the services of specialists have been utilized.
In my restorative dental practice, we enjoy a mix of services including traditional fixed partial dentures, implant-supported prosthetics, and esthetic rehabilitation, to name a few. All of our restorative procedures are based on the four foundational occlusal principles:
Create simultaneous centric stops along the long axis of each tooth in the centric relation arc of closure. These stops are the buccal cusp tips of the lower posterior teeth and the lingual cusp tips of the upper posterior teeth occluding in established receiving areas.
Create immediate posterior disclusion by coupled anterior teeth or some appropriate substitute.
There should be no retrusive guiding planes, inclines, or forces.
Allow for freedom in centric relation; i.e., anterior contact that is not heavier than posterior contact even during standing in the patient's own closure.
Only when occlusal principles have been followed can we expect success and longevity with our cases.
Dentistry is a wonderful profession when you are able to manage the variables in a fashion that leads to success and longevity for your patients!
---
Dr. Reardon's Roadmap to Restorative Success
Use a thorough diagnostic process, including a diagnostic wax-up
Engage specialist support where indicated
Plan cases according to foundational principles of esthetics and occlusion
---
Gayle Tieszen Reardon, DDS
Dr. Reardon has a successful private practice in Sioux Falls, S.D., where she specializes in restorative, esthetic, and implant dentistry. She has pursued extensive postgraduate education, earning Mastership in the AGD, Accredited Membership in the American Academy of Cosmetic Dentistry (AACD), Fellowship in the Misch International Implant Institute, and Diplomat status in the International Congress of Oral Implantologists. She is on the visiting faculty of the Pankey Institute for Advanced Dental Education and is an examiner of the AACD. You may contact Dr. Reardon at gtrdds@aol.com.