Permanent Cosmetics: A new niche for dentistry
One of life's drudgeries for many women is the daily application of make-up.
Sep 1st, 2007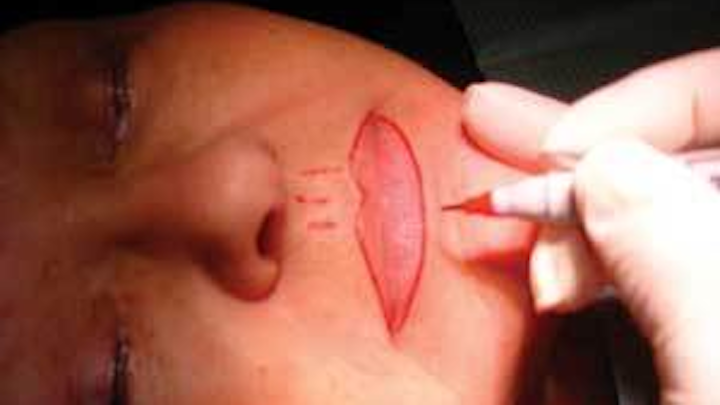 By Dianne Glasscoe
One of life's drudgeries for many women is the daily application of make-up. Many of us wouldn't be caught out of the house without spending the necessary time to "fix" our faces. But what if that drudgery could be drastically reduced? Here's how that happened for me.
Micropigmentation
I first heard the phrase "permanent makeup," also called micropigmentation, when I was a speaker for the Oklahoma Dental Hygiene Association in 2005. My meeting planner and host was a registered dental hygienist named Julie Gillispie. As we sat at dinner the evening I flew into town, I asked her about the CMM designation on her name tag. That's when she told me about permanent makeup.
Noticing how beautiful Gillispie's make-up looked, I was impressed and leery at the same time. The thought of applying something that would be permanent to my face seemed a little outside the boundaries of my very conservative upbringing. But the more I listened and learned, the more interested I became.
First, Gillispie described how doing this kind of work is perfectly suited for dental hygienists, who must develop fine dexterity skills to work in the confines of the mouth with sharp instruments. Further, hygienists learn how to use fulcrums to steady their hands. Hygienists must become proficient in infection-control procedures. Local anesthesia certification is a necessity, and hygienists in Oklahoma have been giving local anesthesia for years. Finally, the handpiece used to deliver the pigment is similar to a dental handpiece.
Another interesting point about Oklahoma is that tattooing, until recently, could only be performed by medical personnel under direct supervision, which included anyone who worked for a physician or dentist.
Gillispie was employed as a hygienist in a largely cosmetic practice. She was interested in learning micropigmentation, so she enrolled in a nine-month course at Norman Technology Center. (The cost for this course runs from $5,000 to $7,000.) Upon successful completion of the course, she received her new designation, Certified Medical Micropigmentologist, through the Oklahoma State Board of Health.
Just give me a little time
Months after I lectured for the ODHA meeting, I kept thinking about permanent makeup. I had given up on eyeliner several years ago because I couldn't see well enough to apply it neatly. Although I liked wearing eyeliner, it was more trouble than it was worth. Additionally, my lips are so naturally colorless that I look sickly without lipstick. I always carried no less than eight tubes of lipstick in my purse.
I was talking with a friend about permanent makeup. Suddenly she exclaimed, "Dianne, let's both have it done! I'll do it if you will." What reasonable woman can turn down a challenge like that?
So, I set everything up with Gillispie for my friend and me to fly to Oklahoma and get our permanent makeup.
The day finally arrives
The day of the procedure, I was excited and a little scared. I knew this would be permanent. What if I didn't like it? What if Gillispie slipped with the handpiece? What if it hurt? What if she went into labor halfway through (she was eight months pregnant at the time) and only finished one lip? What if pigs really do fly? What if ...? What if …? If it had not been for my friend, I don't know if I would have had enough courage. We flipped a coin to see who would go first. Heads, me. Tails, Linda. The flip - heads! I was first.
Gillispie works in the office of Dr. C.W. Littlefield, an oral surgeon in Lawton. She only does permanent makeup cases there, usually two days a week. The procedure is intense, and it usually takes three to four hours to do a full face, which includes eyebrows, eyeliner, and lips. I only had lips and eyeliner done because I don't use eyebrow pencil.
Dr. Littlefield offers several cosmetic procedures in his practice, along with the typical oral surgical procedures such as third-molar extractions and implants, including Botox, contour thread lift to remove wrinkles, lip implants, restylane, Intense Pulse Light for hair and dark spot removal, spider vein removal, microdermabrasion for skin smoothing, and Obagi® skin care. Offering permanent cosmetic enhancement fits perfectly in his practice.
The procedure
Before we started, we chose a color for my eyeliner and lips. Gillispie asked me to bring my favorite lipsticks so she could see what I use. The color I wear most is a pinkish mauve. The eyeliner color we chose is black-brown. I looked at her photo album of before, during, and after photos of many clients she had completed. I noted that they all had red lips during healing, and the true color clarifies during the next 30 days.
After Gillispie anesthetized my lips thoroughly with local anesthetic, she outlined them with a special pencil. This would be the boundary of the pigment.
Next, she delivered the pigment with her handpiece. The machine is called a Nouveau® contour digital machine. It uses a series of small needles to apply the pigment. The only sensation I felt was the vibration from the handpiece.
There was some bleeding, and my lips swelled almost immediately. Because my lips are naturally full, the extra fullness from the swelling made them at least twice their normal size, plus, they were a blood-red color. I looked like I had a set of those large, red-wax lips I used to play with as a child!
Of course, Gillispie had explained to me ahead of time that I would need a couple of weeks to let everything heal and for the swelling to subside. Actually, the swelling was completely gone in four days, but my lips were very tender. I was instructed to apply A and D ointment several times a day to soothe and help with the healing. During the next two weeks, there were two periods of exfoliation.
To anesthetize the eyes, Gillispie used a special gel anesthetic. She applied it numerous times during the appointment. Again, the sensation I felt was that of the needle vibration. I was instructed to apply Bacitracin™ ointment with a cotton swab several times over the next two days to prevent infection. The day after the procedure, my eyes were red and slightly swollen, and I looked like I had been crying the night before. The swelling, however, was completely gone in two days.
Would I do it again?
Absolutely! Now that I'm past the 30-day mark, I see the benefits of permanent makeup:
My eyeliner always looks great, and I don't have to remove and reapply liner.
My lips have a pleasant color and I love eating and not getting lipstick on my napkin.
My lipstick doesn't bleed at my lip boundaries like it did before the permanent makeup.
With my eyeliner, I don't have to apply mascara; my eyes have nice definition without mascara.
My pocketbook is lighter since I don't have to carry multiple tubes of lipstick.
Makeup application is faster and easier.
I still have the option to change my lipstick color by applying regular lipstick, but I haven't found the need to do that since having micropigmentation.

A final thought

My grandma was a simple woman who gave birth to 10 children and lived all her life in the mountains of North Carolina. I never saw her wear makeup.

Nevertheless, even she recognized the value of "prettying up" and looking your best, as evidenced by her remark, "Any old barn looks better with a little paint." And my grandma was a smart cookie!