MicroDental introduces the Zeus Zirconia Implant-retained Prosthesis
MicroDental Laboratories introduces the Zeus Zirconia Implant-retained Prosthesis (ZIP).

Sep 10th, 2014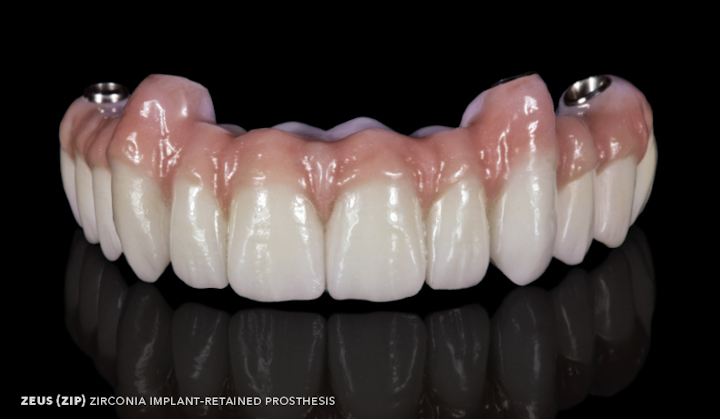 MicroDental Laboratories introduced the Zeus Zirconia Implant-retained Prosthesis (ZIP), a new restorative option for treating the growing population of edentulous patients. Precision-milled out of zirconia utilizing the latest CAD/CAM technology, Zeus ZIP is designed to offer dentists a durable and easy-to-maintain alternative to implant-retained dentures. Available with facial cutback and layering for enhanced esthetics, or monolithic for additional robustness, Zeus ZIP offers natural and lasting esthetic advantages.
"Driven by demographic trends, there is a present and growing need for durable and esthetic treatment options for edentulous patients," noted Kim Bradshaw, the CEO and president of MicroDental Laboratories. "Zeus ZIP is our response to this need, utilizing MicroDental's expertise as a leading cosmetic lab and an award-winning producer of zirconia restorations."
"MicroDental has designed an entire CAD/CAM dental laboratory production system for Zeus ZIP to ensure that it offers dentists better function and esthetics," commented Lee Culp, the CTO of MicroDental Laboratories. "To make a full-arch zirconia prosthesis, the laboratory needs to harmonize and optimize each step of the process, from model work to computer-aided design, from making the verification temps to milling and finishing the definitive restoration. That's what we've done."
Zeus ZIP features a simple three-step process. After submission of the models, the first step is the verification temporary. The dentist tries-in the verification temporary to ensure fit and can indicate adjustments as needed. The second step is the temporary prosthesis. The dentist can either convert the patient's existing denture or have the lab fabricate a temporary prosthesis. The third step of the process is the seating of the final prosthesis.
For more information about the Zeus ZIP, visit microdental.com.