BEAUTIFIL Flow Plus now available in compules
Previously only available in a syringe delivery system, BEAUTIFUL Flow Plus is now also available in compules.
May 9th, 2014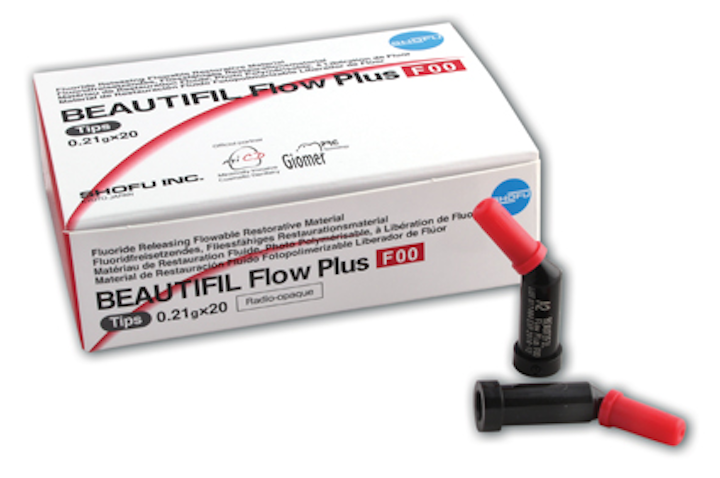 BEAUTIFIL Flow Plus, previously only available in a syringe delivery system, is now also available in compules.

BEAUTIFIL Flow Plus from Shofu Dental is the next step in the evolution of restorative materials, combining the convenience of a flowable with the physical properties and functionality that rivals leading hybrids. Approved for all indications, including Class II, BEAUTIFIL Flow Plus, presents a novel way to complete restorations quickly and easily using a single material, filled all the way up to the occlusal surface.

Shofu's proprietary S-PRG (Surface Pre-Reacted Glass) technology also provides sustained fluoride release and recharge making it ideal for high caries index patients, or as a glass ionomer alternative. A smooth, self-leveling composition reduces the need to over-handle the material, speeding the restoration process and simplifying polishing.

Unlike other flowables, BEAUTIFIL Flow Plus has "stay-put" handling, amazing tooth-like light diffusion and chameleon properties that provide highly esthetic solutions without the need to stock every conceivable shade variation. Additionally, the material has 15% more radiopacity than enamel.

BEAUTIFIL Flow Plus compules are available in both viscosities, F00 (Zero Flow) for precision stacking, and F03 (Low Flow) for traditional flowability.

For more information, call (800) 827-4638 or visit www.shofu.com.

To comment on this product, go to http://community.pennwelldentalgroup.com.