Dental assistants: Are you prepared for your dream job interview?
Being prepared for your upcoming dental assisting job interview is very important. It takes a bit of work, but it's well worth it to go into the interview knowing something about the practice and how to answer some basic questions.

Oct 20th, 2016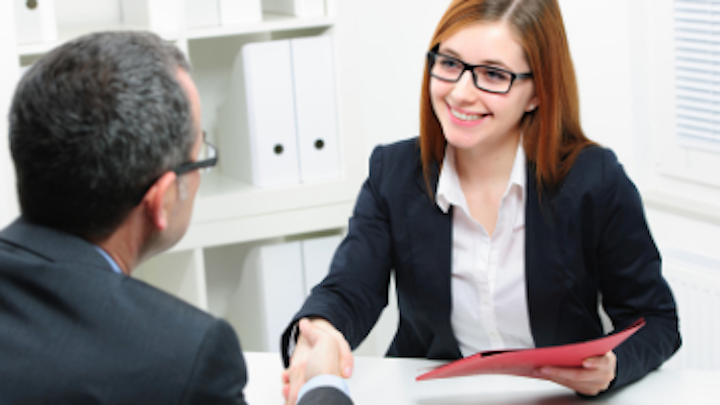 Being prepared for your upcoming dental assisting job interview is very important. It takes a bit of work, but it's well worth it to go into the interview knowing something about the practice and how to answer some basic questions.
Once you find a job that looks right on paper and you've gotten past the initial call or email, it's time to prepare for your interview. You'll need to have your resumé ready. No matter how short or how long your resumé is, this document must be clean, well organized, and free of typos and grammatical errors. Remember, once you've left the room, the impression you've made and this piece of paper will play an important role in determining whether or not you get that job—first impresssions.
Some organizations. such as DentReps, offer assistance with resumé and CV review and writing to help you make sure everything is up to par. Of course, the American Dental Assistants Association also offers help. Take advatage of every offering!
Here are a few suggestions to help you prepare and succssfully get through an interview.
1. Know the dental practice or company—With so much information available online, there's no excuse for not having a thorough understanding of the office where you apply. Their website will contain lots of information. You can usually find the names of people who work there, how long they've held the position, and what experience and training they've had. This gives you a good idea of what the office manager and practice owner are looking for in their employees.
Also, if you notice that most of the people working at the office have been there for many years, you can probably assume two things: it's a great place to work, and they'll be picky about who they hire to ensure the "new kid" will fit in and work well with the long-time staff. If most of the staff has been on the job for a short time, this is either a new practice or there's something wrong with the work atmosphere.
Looking at the practice's Facebook page and other social media are also terrific ways to gain an understanding of the office culture. Do their posts seem friendly and personable? Do they seem overly serious? In this part of your investigation, you're looking for whether this place you might be showing up to every day feels like a real team and one you want to be part of or not.
Ask some of your industry friends or former colleagues from dental asssisting school if they know about the office and have any information that may give you an insider's view.
Finally, look at Yelp and other review websites. Here you can discover what others think about the office. Do their patients like the work that's been done? Do they feel the staff is friendly, helpful, interested, and kind? If the practice you're considering becoming part of is getting an unusual number of bad reviews, you might want to think more about your decision.
But remember that everyone gets a few bad reviews. This is part of working with people. It's having a large number of recent bad reviews that is the red flag.
2. What to wear?—You've looked at the website and the social media for the office, and from this you can get an idea of the kind of clothing you'll be expected to wear. You can plan your wardrobe a few days ahead of time to make sure you're not caught by surprise by a stained blouse or shoes that need polishing. Be sure you ask as a dental assistant if this will be a working interview or simply a casual introduction and educational meeting. If it is a working interview, you will want to ask about wearing scrubs.
3. Arrive early and be preprared—So you've checked out the office and its people as much as you can and you're ready to go to the interview. Here's a great piece of advice. Arrive early. Ten minutes works well. You just need some time to ensure you don't get lost in the building or arrive late. You also need an opportunity to sit and relax a moment and breathe deeply. Go over what you want to say about yourself and your qualifications, and what you want to know about the practice and your place in it.
Carry a file folder with copies of your resumé or CV, letters of recommendation, and any other applicable paperwork, such as a completed personnell assessment, to make available for the employer to review.
4. Know the answers—You can't know the answers to every question, so don't be afraid to say you're not sure or you don't know. However, some stock questions come up in almost every job interview. Knowing your responses to these can make you look great and, more importantly, give you a sense of certainty and calm.

Here are a few of the standard questions: Why did you leave your old job? Why do you want to work here? Tell me about yourself. What are your strengths? What are your weaknesses? What makes you the best person for this job?
5. Be yourself—No dental practice is hiring a resumé, an education, or letters of recommendation. They are hiring you, a unique individual with far more to bring to the table than can be expressed in writing. So be yourself and have fun. Never forget, as much as you're trying to impress the prospective employer, they also need also to impress you. Your time and abilities are valuable. Try to judge as best you can that you and your new job will be a good fit for both sides.
Dental assistants are one of the critical pillars in the dental practice. So be sure you ask all of the questions that are important to you. No matter what level or experience you have, especially as a dental asssisttant, you should never accept a job for the sake of taking the job. This is why every dental assistant needs to prepare for each and every interview as if it were their first.
---
For the most current dental headlines, click here.

---
Peter Cargill is the founder and president of DentReps, an exclusive dental jobs site and solution that supports the hiring of all clinicians, especially dental assistants, and DR Recruiting, dentistry's recruiting solution. Pete is also a board member for the New England Dental Office Managers (NEDOM) and the exclusive job board for the American Dental Assistants Association.