The dental interview that went downhill
Most people have experienced the "Did I just blow that interview?" feeling. Here are some tips to help you avoid that moment when you interview for your perfect dental position.

Oct 19th, 2016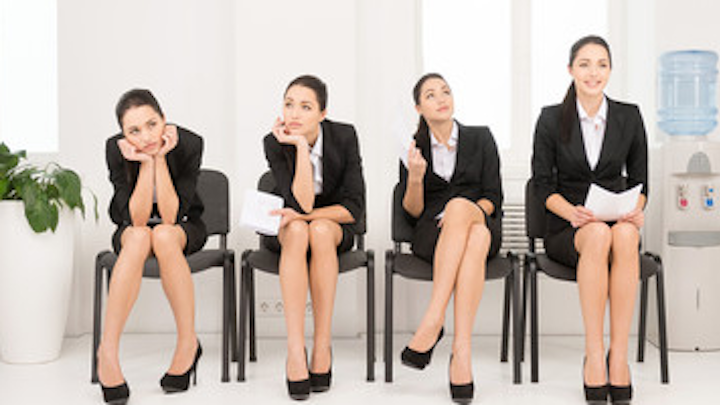 Have you ever walked out of a dental interview and said, "What just happened? Why did I say that?" Many dental professionals have experienced unpolished moments in their interviews. It's more important to learn from these moments than to relive the moment over and over. But how can you prevent this from happening again? Follow these five guidelines to make your next interview go seamlessly.
1. Have an idea of what types of questions might be asked of you, and how you will answer them—Many applicants go into job interviews unprepared. Remember, you're trying out for a job position, and you need to do your homework. If you're interviewing for the front desk position, you should know your scheduling, insurance, and treatment planning questions. If you're interviewing for a dental assistant position, think of questions the dentist might ask about instruments, sterilization procedures, dental materials, and x-rays.
I've had some dental assisting graduates interview at some offices where they were asked the names of certain instruments. Some instruments were part of an exam tray and others were part of a composite filling tray set-up. These questions stumped some of them. A few of them admitted that they weren't prepared, while some just said they freaked out and forgot the information. Keep in mind that if you're asked something that you either can't remember or don't know, you can reply with, "I'm so sorry, I'm pretty nervous right now and I'm just drawing a blank." Be honest and the interviewer will appreciate the answer more than random answers.
RELATED ARTICLES:
Things they didn't teach me in school, part 5: How to prepare for the first job interview
Do you really want this job? How some people sabotage their interview
2. Be prepared to answer the commonly dreaded questions—
"Tell me about yourself."—This is an easy one, but try not to talk too much. Tell the employer about your skills, interests, and how many years of experience you have. You can add other important characteristics such as dependability, working well with others, fast learner, punctual, and caring.
"Why did you leave your last job?" Keep this brief and positive. Never talk badly about a former employer. Some reasons you can use for leaving a position could include wanting a shorter commute, looking for a more challenging work environment, or needing a better work schedule. Don't feel guilty about any of these. In big cities, commute times can really affect your day. After all, who wants to spend all their time in their car? Better days and hours also are appealing. We all love more time with our family and friends. If your reason for leaving is that you need a more challenging work environment, explain why. You can loop your reasons into why the job listing appealed to you. Say something like, "I noticed that your office needs a dental assistant with a coronal polishing certification. I'm really interested in polishing again."
"What is your weakness?" The trick to this response is to say something that will be perceived by the employer as a strength. For example, "My weakness is probably that I am somewhat of a perfectionist at my work. I don't stop until I feel like it's perfect, but I'm aware of this and continually try to manage my time appropriately."
"What are your strengths?" This is time to brag about yourself. Examples are, "I'm an extremely quick learner and hard worker. In my last job, after being trained on our new dental software, I was put in charge of training existing and new staff." Other strengths include that you're a friendly person who loves building relationships with patients. This strength definitely helps in the dental profession because we all know how many new patients you meet and have to make comfortable each day. Again, keep it short and sweet.
3. Know how to handle the salary topic—This is an uncomfortable part of the interview. You don't want to lowball yourself, but then again you don't want to price yourself out of the market either. Never bring up salary first, wait for the employer to do it. If you are asked, you can say that you are flexible and salary is negotiable. You can also ask the employer what figure he or she has in mind for someone with your qualifications. They typically respond with a salary range. If it's lower than you want, you can ask if there are any benefits included, such as a bonus plan, paid vacation, retirement package, medical insurance, paid continuing education, and so on. Keep in mind that if you receive a higher offer it might be lacking benefits that you really need, such as health insurance or paid vacation. Be careful and take all this into consideration before accepting the position.
4. Be ready for when the employer asks "well, do you have any questions for me?"—Always have one or two questions to ask the employer. I like to ask simple questions like what kind of dentistry do you like to do the most, or how long have you been at this location? There are never any bad question at this point. Asking shows that you're still engaged in the interview.
5. Lastly, if any of these questions catch you off guard or you feel like you're rambling, have exit verbiage prepared—Change the subject and quickly ask the dentist a question, such as, "Can you tell me a little more about your practice?" Also, have a compliment ready, such as, "You have a beautiful practice or a great website, or friendly staff."
If you play out an interview in your head, then you'll be on your way to a successful real interview. Don't forget that while the employer is interviewing you, you are interviewing the employer as well. Is this the type of dental practice you can see yourself working in? Does it feel right? Then I believe in you, and you can have a successful interview!
---
For the most current dental headlines, click here.

---
Kimberly Morgan, RDH, has over 24 years of experience in the dental field. She is the founder of YourDentalConnect.comto help connect dental professionals with jobs and employees. She co-owns and teaches at the Dental Essentials School of Dental Assistingin Austin, Texas, since 2003. She is a practicing dental hygienist at a private practice in Austin. She is the current vice president for the Austin Dental Hygiene Society. Contact her at KimMorgan@aol.comor find her on LinkedIn.