Product review: Issa, the sleek, ergonomic electric toothbrush
Amber Auger, RDH, MPH, reviews the new Issa toothbrush from Foreo. She offers it as an option for sensitive patients.

Oct 13th, 2016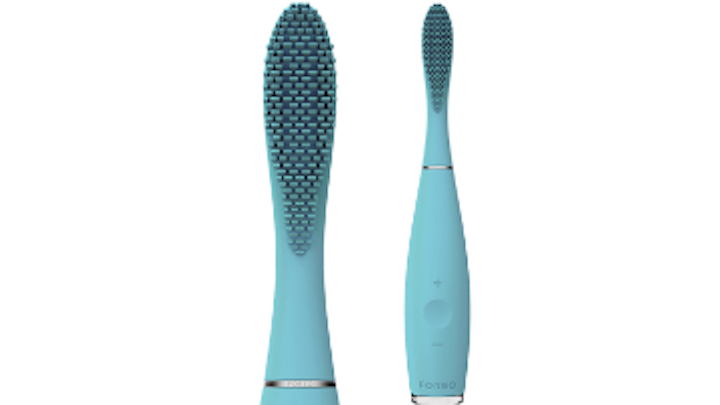 When we discuss electric toothbrushes with our patients, we think Oral-B and Sonicare. Beauty company Foreo is another alternative to meet the needs of our sensitive patients. Foreo, known for its sonic face cleanser Luna, has created an ergonomically friendly electric toothbrush known as Issa. According to the company's website, the product uses sonic pulse technology along with a silicone handle and bristles, and the sleek design has grown rapidly since its creation in 2014.
READ MORE | Product review: Hydrabrush, the 30-second electric toothbrush
The Issa and Issa Hybrid channels up to 11,000 high-intensity pulsations per minute to create micro-sweeps that effectively and gently clean the teeth and gums, according to Foreo. The Issa is easy to travel with as it is lightweight; it uses a USB to charge and one charge lasts up to 365 uses.
Equipped with 8 speeds, 3-D flexible brush heads, and an easy-to-hold handle, Issa offers highly desired features to meet the needs of all patients.
READ MORE | Spry oral probiotics: Defender against destructive periodontal pathogens
Issa utilizes silicone heads that provide a gentle yet effective clean for patients of all needs. The heads are fast drying to eliminate bacteria growth. Designed in Sweden, the nonpourous silicone heads last for a year and retail for $25 each. Initial purchase of the brush includes one head and retails at $199.00 thru Foreo.com.
Issa is available in four different colors: black, colbalt blue, mint and lavender. Reducing bacteria on the toothbrush head itself is motivation to take another look at the Issa. Issa offers a two-year warranty with a 10-year quality guarantee. Foreo products can be found online at Amazon.com and in speciality stores (e.g., Sephora, Harvey Nicholas, Barneys New York, Nieman Marcus).
---
Editor's note: This article originally appeared in RDH eVillage Focus. Our editorial team would be happy to deliver content like this to your inbox twice a month. Just let us know by subscribing here.
---
Amber Auger, RDH, MPH, is a hygienist with over six years of experience in multiple clinical settings, including facilities abroad. This experience has allowed her to educate dental hygiene students and coach dental teams on periodontal systems to optimize practice growth. She holds a full-time position at an elite dental office in Lynnfield, Mass., and owns her own dental consulting company. Amber obtained master's in public health from the University of New England and her bachelor's of dental hygiene from the University of New Haven. Amber specializes in pediatric education, periodontal education, and continues to create progressive systems. She is a key opinion leader for several elite dental companies and a published author. She can be contacted at amberaugerrdh@gmail.com.
---
For the most current dental headlines, click here.

---