Online auction hosted by America's Toothfairy offers product deals for dental practices
Dental practices can bid on a variety of products and equipment during an online charity auction hosted by America's Toothfairy in November.
Oct 18th, 2016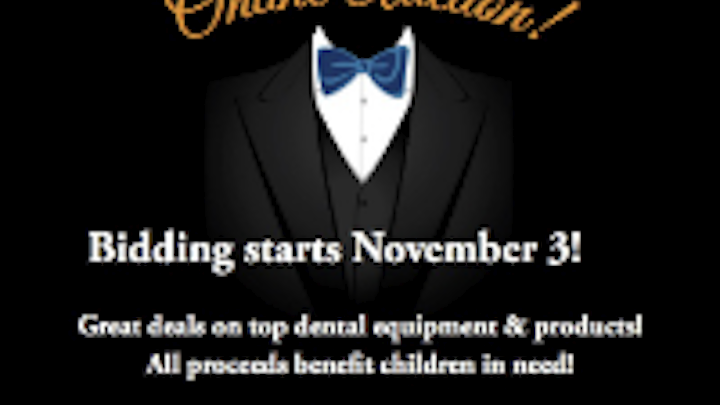 America's ToothFairy: National Children's Oral Health Foundation will hold its third annual Virtual ToothFairy Ball and Online Auction on Nov. 3-15. Dental companies and supporters of America's ToothFairy have donated dental equipment, products, professional development opportunities and more for the online event, which is open to all dental practices and service providers.
Interested bidders are invited to preview available auction items at www.AmericasToothFairyBall.org in preparation for the auction. New items will be added each week leading up to November 3.
Thanks to generous underwriters, 100% of event proceeds will be allocated directly to oral health education and treatment programs for children in need.

Available auction items include:
A day with Dr. Gordon Christensen including a private personalized course and lunch
iChiropro from Bien Air
Pentamix Lite Automatic Mixing Unit from 3M Oral Care
Paradigm DeepCure Curing Light and Elipar DeepCure-S Curing Light from 3M Oral Care
Invisalign Lab Fee Vouchers
Mocom B Futura Sterilizer from Patterson Dental Supply
Pioneer Elite Laser from Patterson Dental Supply
Patterson LED Plus Curing Light from Patterson Dental Supply
Ritter M3 UltraFast Automatic Sterilizer from Midmark
SmartLite Focus Curing Unit from Dentsply Sirona
Midwest E Electric Handpiece System from Dentsply Sirona
SmartLite Focus Pen Style LED Curing Light form Dentsply Sirona
Midwest Automate System from Dentsply Sirona
Cavitron Plus Ultrasonic Scaler from Dentsply Sirona
STATIM G4 Autoclave from SciCan, Inc.
Capsule Mixer CM-II from GC America
Midwest RDH Freedom Premium Kit
NOMAD Handheld X-ray Unit from KaVo Kerr
Handpieces from KaVo Kerr
Products from 3M Oral Care, Centrix, Dentsply Sirona, DMG America, Dr. John's Candy, GC America, GumChucks, Healthy Chocolate Florida, KaVo Kerr Group, Mydent International, Pac-Dent International, Septodont, Shofu Dental, and Whip Mix.
In addition to donating auction items, generous corporations and individuals are participating by sponsoring "virtual tables" at the $10,000 Diamond Star or $5,000 Gold Star levels. Each sponsor will have a ToothFairy Grant awarded in their name to a member of the America's ToothFairy Affiliate Network, a collaborative alliance of nonprofit clinics and community programs serving vulnerable children.
Over the last two years, dozens of ToothFairy Grants have been distributed to nonprofit clinics to expand delivery of preventive services and treatment from coast to coast.

Diamond Star Sponsors for this year's event include Dr. Gordon Christensen, Henry Schein, Invsialign, Mr. James Ingebrand, Thomas and JoAnn Prescott, and TSC EcoSolutions.
Gold Star Sponsors include Benco Family Foundation, Cetylite, Dentsply Sirona, Dr. Cherilyn Sheets & Mark Moehlman, Fern Ingber, Henk van Duijnhoven, IQ Dental, Sheets, Patterson Dental, Paquette & Wu Dental Practice, Steve Fletcher, and Ultradent.
"At the Virtual ToothFairy Ball and Online Auction, dental practices can access great deals on top dental equipment and products, while also supporting vital oral health education and care for underserved children," said Fern Ingber, America's ToothFairy President and CEO. "We hope all dental practices will participate so that more children can be rescued from the pain of untreated tooth decay."

---
For the most current dental headlines, click here.

---