Mexican orphanage: Dental hygienist converts old clinic to a new purpose
Susan Clark, a California dental hygienist, sees a need when she spots an unused dental clinic at an orphange in Mexico.
Jul 5th, 2016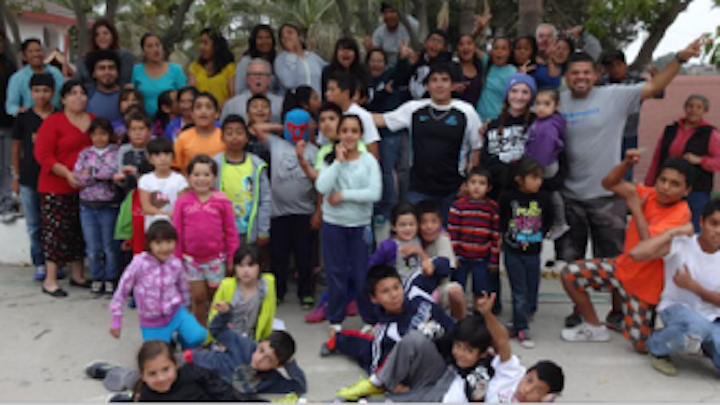 Residents of the Colina de Luz Christian Home for Children in Mexico.
By Susan Clark, RDH
My dictionary describes life as the time between birth and death. To some, life is what you make it. To others, life is a beach, a box of chocolates, a day at the races, etc. There are endless opinions and philosophies about life and how we should live it. Whatever your definition of what life can or should be, as a retired clinical dental hygienist, I once asked myself, "Am I all I could be while I am living life, or I am sitting back waiting for something more to happen?"
In 2011, I volunteered for a humanitarian dental mission to southern Honduras. It was such an emotional, spiritual, and personal sense of gratification and an eye-opening, life-altering experience for me. I learned a lot about the lives of children who live in abject poverty in underdeveloped areas.
Upon returning stateside, I began traveling throughout northern San Diego County as a volunteer with the local health department, providing dental screenings and oral health education for the underserved children of Mexican-migrant workers. I was hoping my screenings would lead to clinical care, but the parameters of the program were limited. Then another opportunity revealed itself to me, and a renewed purpose in my life emerged, leading me to fulfill my passion as an oral health-care provider.
My church is affiliated with the Colina de Luz Christian Home for Children in Mexico and travels monthly to visit, minister, and interact with the children. Colina de Luz is located just outside Tijuana, Mexico, and is the home for about 63 boys and girls ranging in age from 5 to a 22-year-old student. Some of these children have been abused, some orphaned, some abandoned, reflecting the poverty that surrounds their family life and community.
During my first visit to the orphanage, I noticed a small room with two old dental chairs and some dental equipment. I asked Jim Drake, the director of the orphanage, about who was in charge of the clinic, since I was interested in offering my dental hygiene services. He informed me that the clinic had not been functioning for the past five years due to a lack support from the local dentists. He also explained that the children faced significant barriers to accessing dental care in the traditional office setting due to the high cost of treatment. He assured me that he did his best with his limited knowledge to offer tooth brushing instructions to all of the children in his care.
I immediately offered my hygiene services and began understanding that I really could make an impact and create positive change for those in need. Jim was overwhelmed by my generosity and asked me how soon I could start. I told him I would first have to evaluate the room and equipment to determine if everything was in good operating condition, take an inventory of supplies on hand, and decide what additional supplies I would need to obtain to operate the clinic. Most of the supplies were outdated and needed to be tossed. I also informed Jim that I did not speak Spanish and would need an interpreter while conducting my health education sessions. Minor detail, I was told.
Returning stateside, I began reaching out to various dental supply companies requesting donations. To my delight, with the generous outpour of donations received, I was able to open the doors to the free dental clinic the following month.
Providing the unmet dental needs of an underserved population in abject poverty within an underdeveloped community is the most rewarding achievement of my dental career. My main objectives were education that influence positive behavioral change resulting in long-term dental prevention and overall oral and systemic health; early detection, prevention and therapeutic; reduce dental care barriers that may contribute to oral health disparities.
The clinic is relevant and is important in making a contribution to the children, orphanage, and local community. The educational program creates a framework for the children to understand the benefits and value of good oral hygiene and to establish a daily routine. Although there is a language barrier (the children do not speak English, and I do not speak Spanish), this has never been an issue. On occasion, there is a Spanish-speaking interpreter to assist during the hands-on educational sessions.
With a group of 15 to 25 junior and senior high students from my church and a handful of adults, we travel to the orphanage once a month. Prior to a trip, an announcement is made to encourage the students to volunteer in the clinic. Most often, the students, who do not have any prior dental experience, are eager to volunteer. During our two-hour drive to Mexico, these students are taught the benefits and use of a disclosing solution, shown proper tooth brushing and string flossing techniques, and the use of floss aids.
Prior to any hygiene service provided, the volunteer students apply the disclosing solution on the children's teeth and offer them tooth brushing and flossing instructions. While assisting, they observe what is involved during a dental hygiene visit, and ask many questions. Not only is much needed dental services provided to the children, but the students are learning new behavioral habits, teamwork, understanding the benefits and value of good oral hygiene, and contributing the well-being to others. This creates an educational, yet fun hygiene appointment for the orphans and students alike. It becomes a win-win for all.
Upholding the standard of care, and working within the scope of practice, health histories are provided and reviewed, head, neck and oral cancer screenings and a visual clinical evaluation is performed, and periodontal evaluation for the health of the tissues is provided. Unfortunately, the radiograph equipment is not calibrated or functioning at this time and is in dire need of repair, so a complete evaluation cannot take place.
Dental hygiene services include periodontal therapy, hand scaling, polishing, fluoride varnish treatment, and, as needed, pit and fissure sealants. These ongoing services are offered on a three-month recare cycle. All children receive their own toothbrush, toothpaste, floss packages, disclosing tablets, hand mirrors, and timers, to use daily.
Play Doh Dental Kits were given to the younger children. The kit has a plastic head with vacant spots where teeth should be. With the white Play Doh, the children utilize a tooth mold to form teeth and place them in the vacant spots. The purpose was to have the children learn how many teeth are in their mouth and where they are located. Then the children are instructed to take black Play Doh and place it on the biting surface of some teeth, indicating decay. In the kit is a play drill the children used to remove the "decay" and then refill the tooth with the white Play Doh. This exercise was designed as a fun, informative, and education tool. The children were able to keep the kit for future enjoyment.
In addition, the younger children receive a small stuffed teddy bear to hold during their dental treatment and then to keep. This has been a helpful incentive to put them at ease during their appointment. The children get involved with their appointment by placing the polishing paste on the polishing angle, holding the handpiece against their teeth, and pretending they are "the dentist" polishing their teeth. This activity is a gentle way of breaking the ice, building trust, and avoiding any apprehension they might have. Once they realize how the equipment is used, it is not so scary, and they become more accepting and cooperative.
Each visit concludes with a photo of the child with their teddy bear, a water bottle with tooth brush, disclosing tablets, and string floss or a package of floss aids. The photo is then placed in a scrapbook that remains in the clinic for all to see.
Now in the third year of service, proactive appointments rather than reactive appointments are scheduled every three months for the children. In addition, home care is reviewed in every effort to reduce the incidence of dental decay and gum disease.
Results
Initial clinical evaluation revealed the following:
All 63 children needed educational instructions on proper care of their teeth and gums
All 63 children needed scaling and polishing
Nine children needed two to three additional appointments due to periodontal disease
12 children needed restorative treatment, and were seen by a dentist.
One teenager need his wisdom teeth extracted
97 surfaces needed pit and fissure sealants
Fluoride varnish to all surfaces of each child's teeth
Although some of the children at Colina de Luz have been abused, some orphaned, some abandoned by their families, they all have one thing in common—teeth. The purpose of establishing this free dental clinic is to extend access of dental care to this underserved population. The gateway to good oral health starts at a very early age. By supporting and encouraging a proactive approach to good oral health now, the dental care that is provided is paving the way towards a lifetime of positive behavior habits.
Acknowledgement: I want to acknowledge the following dental supply companies: Plak Smacker's for numerous paper goods, Sunstar Americas for toothbrushes and floss, Microcopy for the NeoDrys Parotid Saliva Pads, Pascal for Cotton Roll Isolators, Crosstex for masks and bibs, Waterpik for fluoride varnish and prophy paste, and Shofu Dental for an abundant supply of BeautiSealant pit and fissure sealants sets. Shofu even sent supplies of a composite resin material for restorative work. My scope of practice does not allow me to do restorative dentistry, so I reached out to my church family and found a dentist who was willing to join me at the clinic to perform the restorative work. In addition, I would like to thank Joel Marcus and the San Diego Association of Health Underwriters (SDAHU), for a cash donation so that I could hire a repairman to fix the dental unit, overhead light and chairs. In addition, I am grateful to Dr. John K. Gunderson of Murrieta, California, for donating a curing light, and the San Diego County Dental Hygienists' Society for donating Play Doh Children's Dental Kits.
Susan Clark, RDH, is a retired dental hygienist with 32 years of clinical experience. She is a certified orofacial myologist, key opinion leader, public speaker, and a self-published author of "Exploring Dental Hygiene: Finding the Hidden Rewards." She served two terms as president of the San Diego County Dental Hygienists' Society, and recently stepped down as vice president of professional development. In 2013, she received the Sunstar/RDH Award of Distinction. She is an independent contractor on behalf of Waterpik, conducting lunch-and-learn presentations in the northern San Diego and Riverside County areas. She can be reached at sgc31@verizon.net.
---
For the most current dental headlines, click here.

---