ADHA strong: Why members stand behind national dental hygiene association
Sixty-one percent of members of the American Dental Hygienists' Association (ADHA) believe the national dental hygiene association addresses issues that are relevant to dental hygienists' careers.
Jul 6th, 2016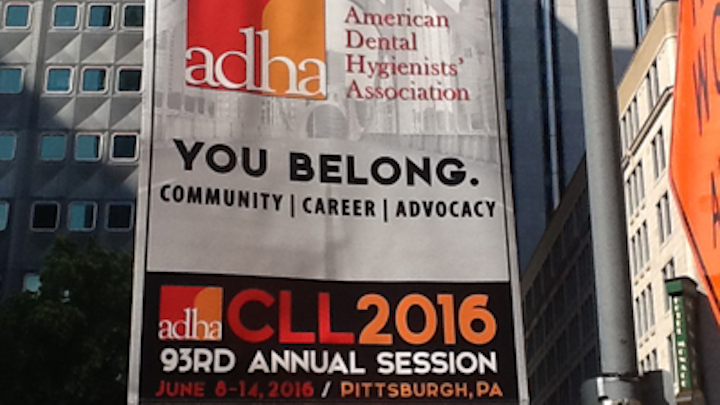 Sixty-one percent of members of the American Dental Hygienists' Association (ADHA) believe the national dental hygiene association addresses issues that are relevant to dental hygienists' careers, according to a June 2016 survey conducted by RDH eVillage.
A Kansas dental hygienist said, "If not for ADHA representing dental hygienists, we would not have what we have now as a profession. When I graduated back in 1983, we did not have general supervision, local anesthesia, extended care permits, or the respect that we have gained professionally as registered dental hygienists. ADHA should be considered our professional life insurance for they are looking out for us and the work that we perform on our patients."
Overall, 508 dental hygienists participated in the RDH eVillage survey. This article, however, reviews the feedback provided by 218 dental hygienists who are members of the ADHA. It excludes answers by nonmembers (which will be the topic of an upcoming article) and California dental hygienists (who opted to terminate their relationship with the ADHA in early June). The comments on the survey by California dental hygienists were featured in the June 24 issue of RDH eVillage.
Most ADHA members (42%) indicated they were "uncertain" about the decision by the California Dental Hygienists' Association. Of the remainder, 31% of ADHA members do not support the CDHA's decision, while 27% were supportive.
The survey asked dental hygienists if they experienced unsatisfactory communication with a hygiene association either on a local, state, or national level. Among ADHA members, 6% said they were unsatisfied with communication with a local society; 9% said they were less than satisfied with the interaction with a state association; and 16% indicated similar sentiments after contacting the national association.
In 2015, the ADHA posed a similar question to a much larger pool of respondents (2,300), and ADHA members were asked to rate their experience of contacting the national association's headquarters. Only 2% indicated they were "not at all satisfied" about contacting the ADHA.
The states with the largest number of ADHA members participating in the survey were Arizona (11), Florida (13), Illinois (12), Michigan (15), Pennsylvania (12), Texas (14), and Wisconsin (14). The responses from these seven states represented 42% of ADHA members.
Sixty-two percent indicated they have been a part of the ADHA tripartite system for all of their careers; only 13% said they have been ADHA members for a quarter or less of their careers.
ADHA members were asked to identify benefits of membership that they felt "nonmembers should know." Here is a sampling of those comments:
Representation at every level—local, state, and national. Public relations: letting the public know who we are. Networking and collaborating for the common good of the dental hygiene profession. Research agenda to define our profession. Student mentoring for professionalism.
I believe it is my responsibility as a hygienist to be aware of issues concerning my profession. What I enjoy most is being in contact with other RDHs and gaining knowledge and perspective from them.
Membership supports the continued development of academic standards, addresses the broader health care needs of the country, and fights in the political arena for issues impacting dental hygiene.
Advancing the profession and supporting our profession on state and national levels are part of being a professional. I have never considered not being a member.
Professional membership is a factor that is looked at by state legislative members who have the power to vote for changes (positive and negative) to our scope of practice. If membership is low, then legislators perceive that we don't care about our profession and what happens to it.
ADHA is working hard on our behalf. They are working to make us more recognized by everyone. They push for legislation in all states no matter at what stage of the game. They advocate on our behalf to keep our standards high and to get us into low access areas to help improve the population's oral health. Networking opportunities abound. These connections help us improve ourselves professionally and personally as well as open doors we didn't know existed. Being a member is the best investment you will make in yourself as a RDH.
Strength in numbers. Hygienists are viewed as more professional when they are members of ADHA.
First of all, each RDH must find their personal value in being a member of ADHA. There is no recipe that applies to every individual. Much of how I benefit from being a member for 38 years is intangible. I believe you have to be a participating member to recognize the benefit of membership. I feel pride in being a member of ADHA. I do not expect to receive a measurable benefit. I see benefit every time I look at my dental hygiene license. I belong to a professional association that collectively represents my best interests. My dental hygiene license has been protected because ADHA supports dental hygiene associations nationally when ADA tries to dilute dental hygiene education standards. Many states have faced the threat of preceptorship legislation and defeated the challenge through financial and manpower support of ADHA. A very important question that I often ask is, "Do you use ADHA as a resource?" If you don't, you likely will not feel value in ADHA membership.
That they support all dental hygienists even when they don't pay professional dues. They have always been responsive to our state's needs.
The offer discounted registration fees for ADHA session, and continuing education classes. They are fighting to halt preceptorship legislation.
ADHA works tirelessly to promote a professional image and the highest educational standards for dental hygiene. Also, ADHA is involved nationwide in legislation that will allow our profession to practice to the full extent of our education and training.
ADHA is the voice for our profession if we want to have a voice. We need more members to help us be that voice
I'm a member of ADHA because I value the opportunities to work collaboratively with others and to provide mutual support. Furthermore, professions are like chains—they are only as strong as the weakest link. The easiest and most convenient way for me to support the highest standards for dental hygiene practice, licensure, and education is to work with like-minded hygienists wherever they are through the national group.
I have only been a hygienist for a year. My school always talked about how necessary it is to be a member of ADHA. I was really surprised to hear about the California issue. I feel that the ADHA has lots of benefits. There is an area to help look for jobs on their website, it gives us a professional network, and it gives us insurance and hotel discounts. That's just to name a few of the organization's many benefits.
To me the greatest benefit of membership is simply supporting an organization that is charged with the protection of our profession. There is a genuine need for this service as there is an agenda in some of organized dentistry to undermine the value of RDHs.
---
For the most current dental headlines, click here.

---