DentalEZ hosts Facebook sweepstakes for chair
Aug 1st, 2014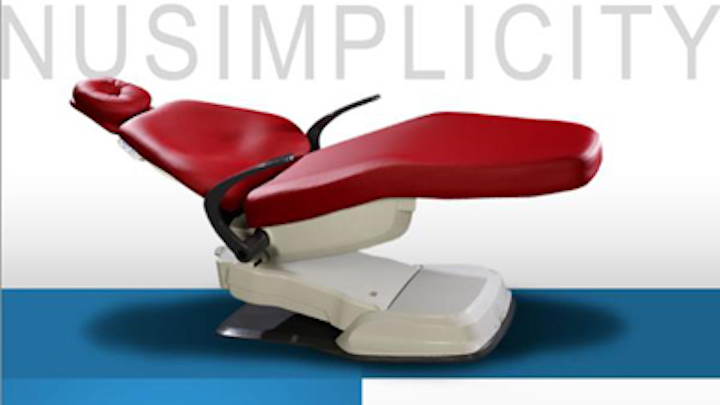 DentalEZ Group announced its #MYNUSIMPLICITY Sweepstakes. Currently running on the DentalEZ Group Facebook page, the sweepstakes provides all participants a chance to win a free NuSimplicity™ patient chair.
Open to all practicing licensed dentists and hygienists, the #MYNUSIMPLICITY sweepstakes runs from July 1, 2014, through September 30, 2014.
DentalEZ Group Facebook fans can simply visit the DentalEZ Facebook page at facebook.com/dentalezgroup and click on the "#MYNUSIMPLICITY SWEEPSTAKES" tab. An online registration entry form will appear and dental professionals will be prompted to complete the form as instructed.
Non-fans of the DentalEZ Facebook page can also enter for a chance to win. All dental professionals who are not currently fans of the page are invited to visit the DentalEZ Facebook page and will be eligible to enter the sweepstakes simply by choosing to "Like" the page. Once the page is "Liked," the online registration entry form will appear and the dental professional will be prompted to enter their contact information to be entered in the sweepstakes.
#MYNUSIMPLICITY Sweepstakes participants can submit up to one entry per day, and each submission counts as one entry for the grand prize. The grand prize winner will be selected and notified in a random drawing on or about October 3, 2014.
The NuSimplicity patient chair features a narrow, tapered back for close patient contact and a base plate exclusively designed for closer stool placement. Dual-location touch pad controls are conveniently located on both sides of the upper backrest. Touch pad controls come standard with the option to add a wireless foot control, unit-mounted touch pad, or remote wireless touch pad. NuSimplicity is quiet and has smooth hydraulic movements. It has 60° of rotation, and height flexibility from 15" to 35.5" to accommodate both sit-down and stand-up dentistry.
To enter the #MYNUSIMPLICITY Sweepstakes, please visit facebook.com/dentalezgroup.
Please visit DentalEZ Group's NuSimplicity product page for more detailed information on the many features and benefits of the NuSimplicity patient chair.