Crest toothpaste introduces new flavors including chocolate
line of toothpastes that combines unexpected flavors with refreshing cleansing benefits. The line features three new, bold and exciting flavors including Mint Chocolate Trek, Vanilla Mint Spark and Lime Spearmint Zest.

Jan 29th, 2014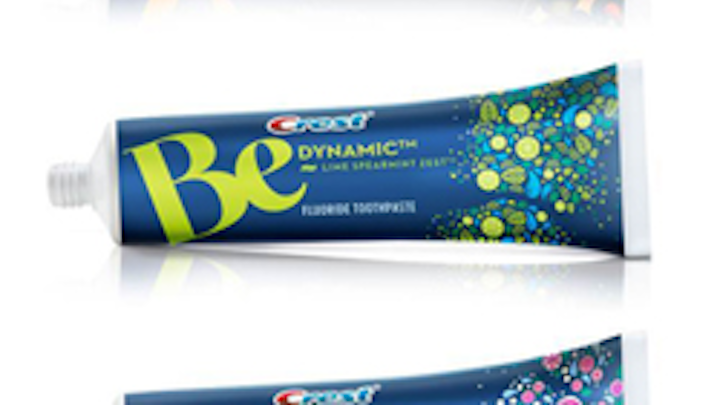 Crest introduced Be, a line of toothpastes that feature three new flavors: Mint Chocolate Trek, Vanilla Mint Spark, and Lime Spearmint Zest. Each toothpaste provides the efficacy expected from Crest, including cavity protection, cleaning, fresh breath, and whitening.

"Crest is always looking at trends to develop products that give consumers a unique yet effective experience," said Rishi Dhingra, marketing director at Procter & Gamble. "Crest Be was developed out of the research and insights that consumers are looking for experiential purchases. The new toothpastes not only provide the foundational benefits needed for oral health but allow for an unexpected experience through flavors that offer personal expression."

In a statement: the company said:
"Crest Be Lime Spearmint Zest starts out with a fresh, juicy, and fragrant taste, and finishes with a touch of lingering coolness. The lime enhances and compliments the spearmint flavor, delivering a unique and dynamic brushing experience like you've never experienced!
"Crest Be Vanilla Mint Spark plays off of a favorite combination with two notes that blend incredibly well. The vanilla provides a contrast to the sharpness of the peppermint and this toothpaste will leave a unique minty aftertaste that is cool and refreshing.

"Crest Be Mint Chocolate Trek opens with a rich, creamy cocoa flavor that provides an indulgent and decadent experience. Got an adventurous spirit or a sweet tooth? Well then this is the toothpaste for you. The cocoa flavor evolves into a minty cool sensation and ends with a lingering fresh feeling."
The new toothpastes were developed by an in-house team of flavorists at Procter & Gamble. The Crest Be toothpastes will begin to be available the first week of February and will retail for $4.99. The products can be found in drugstores, mass retailers nationwide, and on www.crest.com/be.

For more information, visit www.Facebook.com/Crest and www.Twitter.com/Crest.