My Epic Ride With Heroes: A Civilian's Perspective
I am so honored and proud to announce I have been selected to ride again with the Ride Texas 2014 Cycling Team this fall in November, riding 575 miles across Texas in a week, ending in Corpus Christi on Veteran's Day.
Jul 23rd, 2014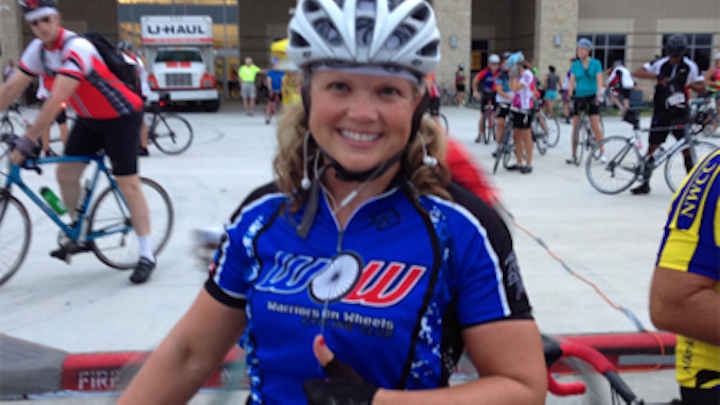 By Trish Jones, RDH
I am proud to celebrate Independence Day when the holiday rolls around. I think it is my favorite holiday. It is summer and so relaxing. People are happy wearing shorts and flip-flops. The smell of BBQ grills, corn on the cob, juicy watermelon, the taste of a cold beer (or tea) on a hot day, the warmth of sunshine on your skin, and hanging out with family and friends in the glory of red, white, and blue is just an amazing feeling. It is summer, and I just love this feeling.
But I am also humbled; these enjoyable things are part of a price that someone paid for all of us to have. Let's not forget the true meaning of this holiday. I want to thank our military and their families for fighting for this freedom of all these enjoyable summertime memories.
--------------------------------------------------------------------

Making a difference one peddle at a time | Two hygienists support HIV awareness in California bike ride
--------------------------------------------------------------------

I am so honored and proud to announce I have been selected to ride again with the Ride Texas 2014 Cycling Team this fall in November, riding 575 miles across Texas in a week, ending in Corpus Christi on Veteran's Day. We are raising funds for Wish for Our Heroes, an organization that grants wishes to military soldiers and their families. Last year, I did not really ask for donations and paid my fundraising out of my own pocket. But after riding this past year, I realize how valuable a resource this is to my military friends, and I am asking for your help.
I originally wanted this ride to help me with my fitness goals last year, and the bonus was I was helping a few people at the same time. Well, a big eye opener — this ended up being a life-changing epic journey for me. I had a fellow woman cyclist who participated the year before tell me, "This will change your life!"
I rode my bicycle across the state of Texas from Wichita Falls to Corpus Christi with our nations' true heroes. A lot of things were put into perspective in life for me. I was one of six civilians riding with veterans. These men and women had been to the brink of death and back. They had been blown up, they had limbs missing, they had organs removed, they had steel plates and bolts holding their joints together, they had scars, and had been burned but the most important thing is that they were alive.
They take each moment of life and savor it. They live each day to the fullest. They have many friends who had made the ultimate sacrifice. Funny, people would ask if my butt hurt on the 525-mile trek. If it did, I would never admit it. I was riding with heroes who had suffered far worth pain mentally and physically than I would ever comprehend. If my butt hurt, so be it.
I was privy to hearing "war stories" and learning about some military tactics that, if I tell you, I would have to kill you. I learned that people who are and have been in the military possess personal characteristics that are a true form of selflessness, gratitude, determination, and strength. As the days progressed during my ride, I realized that strength is in numbers. Skills work better together during teamwork, and communication is the key. Then the one true thing that is true: no man is left behind.
Every day during the rides, something substantial happened that empowered me. On the first day, a little girl at a school was so excited to see a girl on a bike that she was jumping up and down saying, "There is a girl on a bike!" I was one of the two women on the team. I hope I inspired her to get on her bike and ride. Go girl power!
Each day, the Honor Guards/Patriot Guards escorted us on their motorcycles through the towns. Their large flags blowing in the winds were a beacon for us to follow. Towns even had parades for us. People I didn't know provided homemade food and desserts for us, taking the time to tell us how proud they were to make the food for us. They put their heart and soul in it to say thank you to all of us.
I think I had a hard time at first, when so many people hugged me and thanked me for my service, and I was quick at first to tell them I was just a civilian. I was quickly corrected by several of my fellow warriors who said, "Accept their gratitude and know you are one of us because you are out here riding with us. This is your service."
I don't think I ever cried so much on a bike ride. "Soldier, dry those eyes! No crying!" is what I heard from the Navy sergeant on our team. I told him that I was "sweating from my eyes."
I was amazed by the hospitality and genuine good-hearted American folks out there who are so damn proud to live in the United States. It surpassed all my expectations. A benefit dinner was held one evening at a Mexican restaurant, and so many supporters showed up. Beeville hosted a parade. I have a poster with my name on it as they displayed them as we rode into the town. The town literally shut down for us. Cheerleaders, bands, and fire trucks led us through the town. I had never been in a parade until that day. We met with Greg Abbot, attorney general of Texas at the capitol building in Austin.
We had various pit stops along the way, and it was so heartwarming to see my Chainlink Bike Shop Gang at the one in New Braunfels supporting Ride Texas. They even had pom-poms! Again, tears rolled down my face as I was so proud to have their support in my journey.
I was posting about the event every day on Facebook. One day I posted, asking for my friends and family to let me know who they wanted me to ride in honor of on that day. I was astonished by the responses of my friends, and how many people have a loved one who is or has served in the military forces. I wrote everyone's names on some cards as it gave me inspiration to honor them for their service to our country. I was riding in honor of my uncle Donnie McDowell, who was a Navy veteran who had cancer. I dedicated this ride to him, and I was so proud. He died a week after the ride and knowing I could do this for him was a blessing.
The last day about did me in. One the last day of the ride, everything came to fruition. I was cleaning my bike, and the chain came off and became wedged. I could not get it undone. I cried. Of course, I cried. I had ridden 470 something miles at this point and I was determined I was going to finish this ride with my team even if it was on a beach cruiser. Two people in the area immediately donated their bikes to me with no questions asked. What was remarkable, though, was that my team came to me and said, "We are not leaving without you. No man left behind."
A bike mechanic showed up and fixed my bike, and we were off. All the guys laughed at me because they couldn't figure out why I was crying. They said they weren't going to leave without me, and they meant it. They demonstrated true character. I felt so blessed.
We had to make one more stop at a school in Corpus Christi where the students were going to sing us a song before we crossed the bridge into our final destination. We all thought they were going to sing 'God Bless America." But they didn't. They sung us this most angelic song that had us all sobbing. One of my favorite photos of the ride was my selfie with these students. As we rode off to finish out last few miles, they chanted "U-S-A!"
I can remember riding over bridge and being so focused and clear minded. I rode in honor with the 100-plus names of military heroes on my cards. I rode for my Uncle Donnie, and most of all words can't describe riding with these true warriors on wheels, true heroes who have dedicated their life to giving the rest of us the freedoms we have.
It was an epic journey where I learned more about myself than I ever thought I would. I have to add that the added bonus for a woman was being low maintenance; I didn't have to fix my hair or put any makeup on for seven days. The best part was that I ate what I wanted and still lost eight pounds. Funny how my original reason for riding this became the last thing on my mind, and the true reasons shined through.
As we rode the last half mile into our destination, I could hear the music of Bruce Springsteen's "Born in the USA" playing. Cold chills hit my body and the hair stood up on my arms. When we pulled into the parking lot, I saw my family. My son in the arms of my husband and daughter waving flags and yelling "Go Mom!" Sobbing tears stung my windblown, overly suntanned face.
I hope I can leave a lasting impression on my family, knowing this world needs a lot of good people to step up and do something bigger than yourself. Do something for others. People may not remember who you are but they will remember what you did to help make this world a better place. I want to inspire others to do better, to be better, and not to be afraid to step outside the comfort zone. Earn the respect of others. Opportunity is there, but you must seek it.
This year, I thought I would opt out and give someone else an opportunity to ride. But I was informed I was part of the team, and it was not an option. What an honor! I feel so much pride, and, if this helps inspires others to do good deeds, so be it. I received so much support from all my family and friends. I have so much respect for those in the military and for the families. They do not get enough accolades and honor for what all they do or have done for this nation.
A few days after the last ride, a military friend took me to lunch and gave me something special, a military coin. For those in the military, you know what these are. He told me I had respectfully earned it because he rode the ride through me via my Facebook posts. He told me the story of how he had earned it. I felt so honored that I actually touched someone enough to earn this gift.
This year, I do not have the vacation time. I will be taking off a week with no pay, and will need to raise $1,500. This year, I have my friend Shannon who lives in Nevada joining me on this ride. We will be the two women in a handful of civilians riding 575 miles in a week across Texas in a week.
I am not afraid to ask for your help. This is bigger than me. It is going for a cause I believe in 110%. Please share your gratitude for our nation's military. Wish for Our Heroes is an amazing organization. If 100 friends on my Facebook page would donate $15 dollars to help me out, I will have reached my goal. This is equivalent a cost of two movie tickets, two Starbucks coffees, a cheap lunch, a cheap pair of sunglasses, a manicure, a book, or a CD. $15 bucks is all I am asking. Every little bit counts and does make a difference. Please help me help others. Take pride in our heroes.
Donations are 100% tax deductible and the proceeds from this ride will go directly to active duty military families needing assistance. EIN 27-0483869
Please donate via sending checks/money orders to:
Wish for Our Heroes
On behalf of Trish Jones
P.O. Box 1395
Seguin, TX 78156
You can also donate via PayPal through the Wish for Our Heroes website at https://www.wishforourheroes.org/ridetexas. Please make sure to enter "Trish Jones" under your address in "Line 2." I also have a GoFundMe.com account at http://www.gofundme.com/brk8k4. This will identify which rider the donation is coming from. Also, let me know if you do donate online so I can let me Ride Director know.
Personal Bonus: If you want to ride in honor of a loved one, friend, family etc. Email me their name and details and I will make up their own card for them. I will carry my deck of "Hero" cards with me on my bike in their honor! jonestec@live.com
Thank you from my heart. My heroes are now my great friends. I am honored to be associated with them and I know you will be too.