Paying It Forward With A Guide Dog Named Flossie
Guide Dogs of the Desert provides the "miracle of independence" for the visually impaired, and hygienist Ruth Carey is a part of it.
Aug 17th, 2010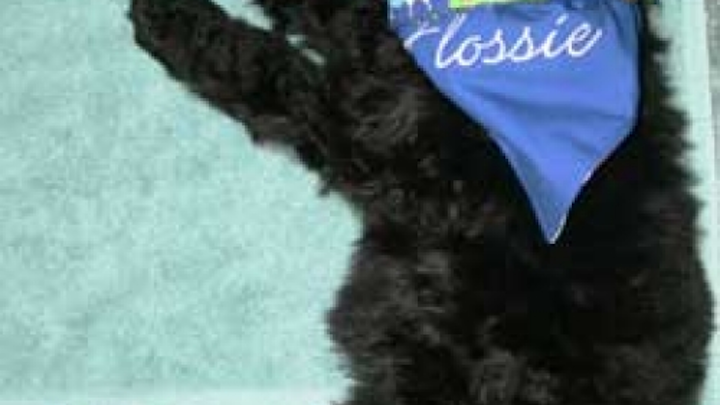 by Penny E. Anderson
Senior Editor
Dental Economics

In the movie "Pay It Forward," a young boy decides to do three good deeds for other people in the hopes that they will "pay it forward" to improve mankind and help create a better world.

It's a concept that Yucaipa, Calif. dental hygienist Ruth Carey definitely understands. Thanks to the generosity of her and her husband, Jake, a guide dog will become the eyes of a person who cannot see. For Carey, it's an opportunity to be on the other side of the fence — sponsoring rather than training a dog — for Guide Dogs of the Desert (GDD), a program she has been a part of for 13 years. Yucaipa is in the Inland Empire area of Southern California, between Los Angeles and Palm Springs, home of GDD.

Carey learned about the GDD Puppy Raiser Program through a friend who was raising a puppy. "It sounded like something fun to do," Carey recalls. "But when I went to my first guide dog graduation and saw the impact receiving a guide dog has on a visually-impaired person, I was really hooked. It is truly the "miracle of independence.' "

Sponsoring a guide dog puppy
Sponsoring a puppy is different from raising a puppy for the program.
A sponsor makes a $1,500 donation. The visually-impaired recipients receive their dogs and the training at no charge. GDD receives no federal, state, or local government aid, but relies completely on donations to provide this service. Many sponsors make their donations in honor of a loved one or to mark a special event in a unique way.

Puppy sponsors get to name their puppy, meet the puppy and the puppy raiser, and attend the graduation of the newly minted guide dog. The sponsor also receives photos and updates quarterly, chronicling the puppy's progress. "It's kind of like being the puppy's grandparents," Carey explains.

Sponsors can also request the breed and gender of the puppy (which helps to fit the name with the puppy). GDD currently uses and breeds Labrador retrievers, standard poodles, German shepherds, and some cross breeds such as golden/Labrador retrievers and Labrador/poodles (Labradoodles).

"Our family has primarily raised Labrador retrievers," says Carey. "They are the main breed used as guide dogs. Standard poodles make great guide dogs as well. Their main advantages are that they are hypoallergenic and do not shed."

Carey is sponsoring a standard poodle. She named the poodle Flossie, an appropriate name given her profession. In addition to sponsoring Flossie, she also is raising a Labrador retriever puppy named Harmony. Harmony is the 10th puppy she has raised for GDD. Harmony's sponsor is a guide dog user who received one of the puppies Carey raised as a guide dog.

"We have become very close friends," Carey says. "We feel very blessed to have this relationship. As a result of our involvement with GDD, we have made many new friends who just happen to be blind."

Jack and Ruth Carey with Flossie
Raising a guide dog puppy
A puppy raiser takes a two-month-old puppy into his or her home for a year and a half to socialize it, teach it basic obedience, and expose it to environments that the visually-impaired encounter when they experience what GDD refers to as the "miracle of independence." This is all done in preparation for the next phase (at approximately 18 to 22 months), which is the puppy's formal dog training.

"Although not all puppies make the grade to become guide dogs, most of ours have," Carey notes. "The dogs that make it have been compared to Super Bowl athletes — many play football, but only a few make it to the Super Bowl. Similarly, the best of the best complete the program to become guide dogs."

For those puppies that do not make it, GDD tries to find them another job as a therapy dog, bomb-sniffing dog, or a search and rescue dog.

Puppies visit the dental practice
Carey has been a dental hygienist for 24 years, and has worked for Dr. Douglas Wyler in San Dimas, Calif., for most of that time. "The doctor and patients welcome the puppies I raise with open arms," Carey says. "In fact, some of our patients actually phone ahead to see if the guide dog puppy I'm raising will be there when they come in for their appointments." (The puppy in training also used to visit the workplace of her husband, Jack, a retired deputy sheriff with the Los Angeles County Sheriff's Department.)

"Recently, I had a particularly phobic patient who actually got out of the chair three times to pet Harmony to calm herself. Just doing that was amazingly therapeutic for the patient."

And speaking of the movie "Pay it Forward," Carey says that several of the practice's patients now raise puppies for GDD! In addition, Carey's son-in-law, Sgt. Nathan Goodland, USMC, is going to start raising a puppy for GDD. Sgt. Goodland just returned to the states from his most recent deployment in Afghanistan. He and the Careys' daughter, Emily, reside in Redlands, Calif., the next town west of Yucaipa.
The Careys will sponsor the chocolate Labrador puppy, whose name will be "The Motivator," Moto for short. The Careys decided to sponsor the dog in honor of Sgt. Goodland's deployment. The dog's name came from their son-in-law's nickname — "The Motivator" — given to him by the other Marines in his unit. Both Flossie and Moto will also be featured in the 2011 Guide Dogs of the Desert fundraising calendar. The calendar can be purchased from GDD's Web site, and all proceeds will go directly to the program, thanks to a corporate sponsor.

Even the family dog helps!
Do the Careys have a family dog? Yes, a Labrador named Hana who is a retired breed dog for the GDD program. "It works very well to have another dog while raising a guide dog puppy," Carey explains. "In our case, Hana really helps teach the puppies the ropes as well as keeping them grounded in the 'dog world.' " Hana has helped the Careys raise six puppies and is still going strong with Harmony. She also gave birth to two litters of puppies for GDD.

Sponsoring a puppy is a way anyone can be involved in a very tangible way in the "miracle of Independence," says Carey. Although the puppy may require training, the sponsor doesn't. "All you need is the desire to help someone have a loving companion and the opportunity to live an independent life."

For more information about Guide Dogs of the Desert, go to www.guidedogsofthedesert.org.