HyLife targets improving oral health care for dependent adults
HyLife Oral Health Alliance targets oral health needs of dependent adults, such as residents in assisted living, memory care, and skilled nursing communities.
Jan 16th, 2017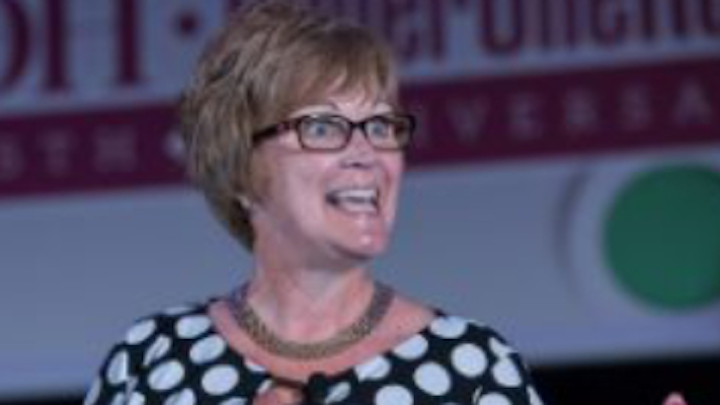 HyLife Oral Health Alliance introduces resources available to "oral care specialist"
Wisconsin-based HyLife, LLC, takes innovative program to the next level by focusing on improving the quality of life in seniors through improving oral health. HyLife recently announced the launch of the HyLife Oral Health Alliance (HOHA) during January. HOHA resources include HyLife Oral Care Services, HyLife Oral Care/Oral Health Education, HyLife Oral Health Centers, and HyLife Oral Care/Oral Health Products.
"It was an easy decision for our company. We saw a need, and we are addressing it. With CMS phasing in new star ratings for quality measures and revised 2017-2018 final rule, we wanted to focus on helping nursing facilities and home health companies find a solution before those changes take place," said Angie Stone, who is the founder and CEO of HyLife.
In a file photo, Angie Stone speaks at a dental conference.
Stone is experienced in the challenges of oral health management. Through personal experiences with two family members, Stone quickly realized the challenges care teams have with providing oral care. Placing this task on the list of responsibilities for care teams to accomplish is not the answer to maintaining or improving the oral health of dependent adults. Utilization of an oral care specialist is a roadmap for the future.
The HOHA has a proprietary process that impacts quality, adds value and addresses dental and medical concerns such as tooth decay, gum disease, and pneumonia. HOHA's process aligns oral care with each person's unique desires and needs. Stone comments, "The interesting thing is dental disease is 100% preventable. Once elders are no longer able to effectively take care of their own oral health, their situation declines rapidly."
Stone adds, "After working with clinicians in the field of aging services, we realized there is a need, not only for residents, but also for the clinical caregiver and the family member. We want the ones we care for active, happy and experiencing a good quality of life. That doesn't happen when they have dental disease."
HOHA will focus on the care and service of dependent adults, specifically those residing in assisted living, memory care, and skilled nursing communities. The oral care specialists provide oral care services and support to alternative care programs serving dependent adults such as P.A.C.E, home health, and companion care resources throughout the US.
HyLife's mission is to be change agents by addressing the oral health and well-being of dependent adults. "We believe this demographic, specifically elders, are at great risk of literally dying from dirty teeth and we plan to do something about that," Stone said.
Through education, community engagement, and by providing targeted oral care services, HyLife believes the field of aging services will be empowered to impact quality, add value, and enhance the customer experience.
"We believe this is an ultimate win for all parties," Stone added.
For more information on the HOHA, contact, Angie Stone at angie@hylifeoha.com or (608) 884-0038, or visit hylifeoha.com.