Dental products for kids: A hygienist's top picks for National Children's Dental Health Month
February is National Children's Dental Health Month. Kim Miller, RDH, BSDH, weighs in on some of her favorite dental products for kids.
Feb 1st, 2017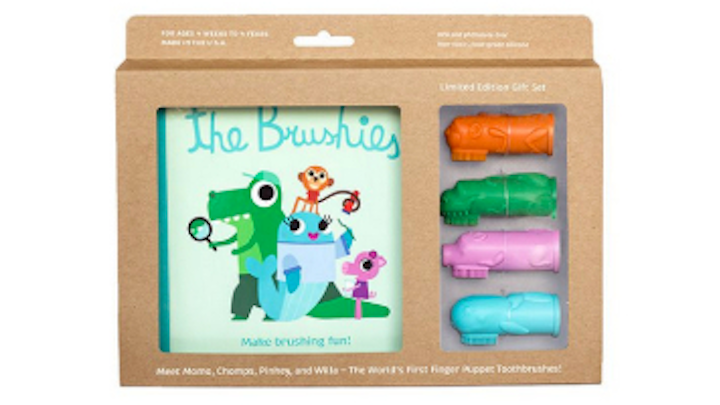 February is National Children's Dental Health Month. Kim Miller, RDH, BSDH, weighs in on some of her favorite products for kids.
Start early and make it fun
Once upon a time, there was a family dentist named Hilary. Day after day she treated tiny patients with big tooth problems, and even her own children refused to brush. During a moment with her toddler and a finger puppet, she had a flash of inspiration!
She called her friend Colleen, a family psychologist with three kiddos of her own, who somehow got her little ones to love brushing and had a knack for transforming challenges. Together they completely reimagined how brushing should be for children and their families. The result was Brushies. These amazing finger puppets allow you and your child (four weeks to four years) to become accustomed to the habit of daily oral care. Visit thebrushies.com for more information and to check out all four purchasing options.
You can't go wrong with flossing
I'd like to quote a friend and colleague, Marsh Spain, RDH, who shared her observation about flossing with me. She said, "I find that my patients who floss on a regular basis have better oral health than those who do not." I second the motion and truly believe that getting kids started flossing as soon as possible can only serve them well.
Enter GumChucks Kids. Flossing has never been easier than with these miniature nunchucks. Kids love the characters, trading cards, and the challenge of mastering the skill of using GumChucks. Visit gumchucks.com to learn more.
Oral irrigation for kids
One of my favorite things for kids is the Waterpik Water Flosser for Kids. If you haven't seen this model, visit waterpik.com and check it out. This is a great device for kids in ortho treatment or kids struggling with interproximal caries. A bonus: they can decorate it with the included stickers!
A follow-the-leader game
My two-year-old and four-year-old grandchildren love BrushyBall, a bright yellow animated brushing coach with a cute voice. It will walk your child through an innovative follow-the-leader game that encourages correct brushing technique. To see videos of BrushyBall and learn more about the creation of this brushing coach, visit brushyball.com.
Children's power brushes
I'm a huge fan of power brushes for kids and young adults. Hands down, power brushes do a better job removing plaque biofilm than manual brushing, regardless of brand. When recommending a brush, choose the one that best fits the needs of your patient. Among my favorites are the new Sonicare FlexCare Platinum Connected by Philips. If you have a smartphone, you can use this device. It even shows you where you missed as you bush. For your younger patients, the Sonicare for Kids is a great choice as well.
Probiotics: Can they really help?
I say yes! After evaluating the research and proving it to be true in my own life and the lives of my family, I believe daily probiotics for the mouth (and the gut) are beneficial. EvoraPro is a perfectly easy way to introduce good oral bacteria into the mouths of children.
Xylitol for kids
Ellie Phillips is a passionate dentist with a large family: five kids and seven grandkids! She is also the founder of Zellie's, a producer of xylitol gums, mints, and candies that she'd originally made for her family. Zellie's is dedicated to creating a delicious mints and gums with a focus on purity.
Zellie's delicious "cherry berry" mints are kid endorsed and specifically made without any acetic acid, making them a great way for kids to get xylitol into their diets. Each mint has 0.5 grams of xylitol; they come in jars of 250 mints. You can also purchase bulk bags and smaller tins for family needs.
All of Zellie's mints are sweetened with 100% xylitol, and are non-GMO, soy free, dairy free, gluten free, aspartame free, vegan, Kosher, and have a low glycemic index. Zellie's never uses any artificial flavors, colors, sweeteners or preservatives. Zellie's also provides ongoing education (check out this article). about how to use xylitol for improved health. Anyone interested in learning more can contact Ellie at ellie@Zellies.com. The company offer a 15% discount off products ordered through the end of March. The code is RDH15.
---
Editor's note: This article first appeared in RDH eVillage. Click here to subscribe.
---
For the most current dental headlines, click here.

---