Women in Business
WDJ Editor Dr. Sheri Doniger interviews three BIG NAMES in dental business.
Mar 1st, 2007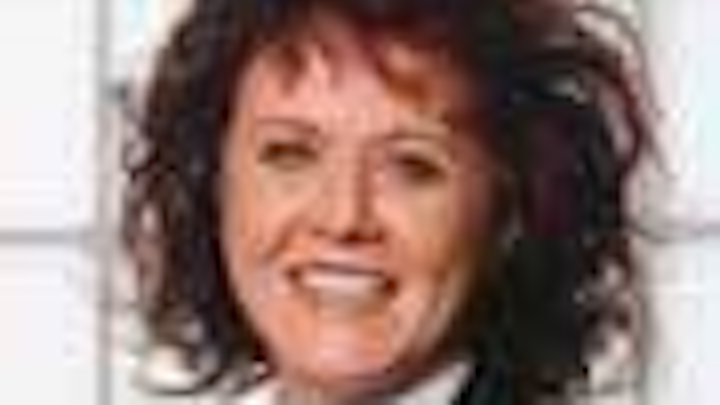 WDJ Editor Dr. Sheri Doniger interviews three BIG NAMES in dental business:
Heliane Canepa
President and CEO, Nobel Biocare
Anne Eiting Klamar, MD
President and CEO, Midmark Corporation
Milly Goldstein
President, The Bosworth Company
In the February edition of the WDJ e-newsletter, you met two important women in dental research. This month, meet three respected leaders of dental businesses, Heliane Canepa of Nobel Biocare, Dr. Anne Eiting Klamar of Midmark, and Milly Goldstein of The Bosworth Company. Please let them inspire you, too.
How and When did you get into the dental industry?
Canepa: In 2000, I became a board member of Nobel Biocare. I instantly fell in love with the company and the industry, so I did not hesitate for a second when the CEO position at Nobel Biocare became vacant overnight and I was asked to take it.
Eiting Klamar: Midmark entered the dental industry by selling its sterilizers in 1992. They were our only product in the dental market until 1997, when we acquired Knight Manufacturing, a small manufacturer of operatories in Ashville, N.C. Once we gained a toehold in the dental-operatory market, we designed our own Midmark product and introduced it to the market in 2000. In 2001, we acquired Apollo Dental Products so that we could enter the air and vac market. In 2004, we acquired Matrx Medical and expanded our presence in the air and vac market and entered the nitrous/analgesia market. During the past several years, we have designed and brought to market our own brand of metal casework to better round out our product line. The dental industry has been a good market for us, and we really enjoy developing a presence here.
Goldstein: I got this company the old-fashioned way; I inherited it. My father purchased The Bosworth Company in the mid-1950s. Throughout my school years, vacations were spent working at Bosworth. Upon receiving my master's degree, I began work here full time. I have held positions in packaging, shipping, customer service, purchasing, on up.
Does the dental industry provide more career opportunities for women than other health care professions?
Canepa: I believe any profession provides career opportunities for women as long as we are committed and determined. Dentistry, however, goes hand in hand with esthetics and beauty - undoubtedly domains of women.
Eiting Klamar: I'm trained as a family-practice physician. After residency, I practiced medicine in a small town for five and a half years. Our practice took our own calls, and I chose to pay my partners to take calls because I needed to be home all night with the kids when they were babies. I think the dental industry provides many more career opportunities for women than some of the other health care professions. Dentistry gives women the opportunity to better control their hours, allowing them to work part time if they desire with minimal disruption in care for their patients. Also, the dental industry provides good compensation for the number of hours worked, thus maximizing a woman's income potential while still allowing her to control her schedule. And last, the dental industry better suits women who want to have children than some other health care professions because there are few emergencies. Rarely does a dentist have to see a patient in the middle of the night. Dentistry is a wonderful opportunity for women to be the professionals they want to be, but it also allows them time to teach, speak, or develop themselves in other ways. I think dentistry is a natural profession for women, especially those who want to raise children.
Goldstein: Clearly, there seems to be a lower barrier in dentistry than in other segments of health care. It appears to be easier for women to become dentists. The attractiveness of being a health care professional, making a good living, owning your own business, and working in an area that allows you to make your work schedule fit your lifestyle is attractive to many. Given the number of women in hygiene and assisting and the camaraderie of the dental office, becoming a dentist is an attractive option. Opportunities in dental education seem to be opening up for many women, too. Years ago, there were no women deans or professors. Industry has opened its doors to women as well. Still, there does not seem to be as many women at the top of the ladder. Women are definitely working their way up there. There are many assistants and hygienists in the workforce from sales to professional relations. Dentists often are found owning dental companies, in professional relations, or in research positions.
Why should women consider the dental industry as a profession?
Canepa: Women should consider the dental industry because they can help people regain quality of life and help them be and look their best.
Eiting Klamar: I think that young women should consider the dental industry because they have an opportunity to really make a difference in people's lives, not only by improving their oral health, but also by improving their smiles and appearance, which really affect people's self-esteem. As the baby boomers age, there will be even more opportunity as they are concerned about esthetics and want to keep their teeth. It's a growing market with even more growth potential. Dentistry provides an opportunity for young women to enter into a health care profession in which they can make a difference and, again, have some control over their schedules, maximize their earning potential, and make time to raise their families if they choose.
Goldstein: I assume you are talking about becoming a dentist. The flexibility of scheduling work around your lifestyle is a major part. You can adjust your workload and responsibilities around childbearing years, hobbies, retirement, whatever. It's an excellent business to be in. Also, the ability to own and shape your own business as well as be your own boss is great. I also believe many women are able to develop relationships with staff and patients in ways that are beneficial to their states of mind and careers.
What achievements are you most proud of?
Canepa: Professionally, I'm proud of the development of Schneider Worldwide, a balloon dilatation company of which I was the CEO for 20 years. We grew from a start-up to a multi-billion-dollar business. And of course more recently, Nobel Biocare, the undisputed leader in innovative, esthetic dental solutions. Personally, I'm most proud to have a happy marriage of 34 years.
Eiting Klamar: I don't think about this very often. I am most proud of several achievements. The first is graduating from medical school and completing my residency. Residency was definitely a difficult time, particularly working 36-hour shifts. I'm proud that I am the fourth generation to run Midmark Corporation. While I never planned to come back or be a part of the company, I'm proud to be involved in a company with a lot of heritage, as well as a company that is full of great people. I'm proud to be involved from the early stages in a group that was formed in the medical industry called Professional Women in Healthcare. There are so many smart and talented women in the industry, but we realized that we needed help in networking skills and mentoring. Professional Women in Healthcare was founded two years ago to bring mentoring, education, and networking to women within the medical industry. We now have 140 members nationwide, we are organizing regional meetings so we can reach more women, and we are also involved philanthropically within the medical industry. I'm proud of all that these women have achieved and what we've been able to do together to change the industry. And of course, I'm very proud of my marriage to my husband, Rob, also a physician, and of our two sons, Christian, 12, and Carl, 10.
Goldstein: Professionally, I'm proud of three things: Women in Dental, which I helped organize to bring women in the trade together; being ADTA chairwoman - I was the first female chair of our trade association; and being IDM (International Dental Manufacturers) president. Personally, I learned to SCUBA dive, I learned the Morse code, and I survived working first with my dad and now my husband. We've been married for more than 25 years despite working together.
What Challenges taught you the most?
Canepa: I never stop learning, whatever challenges are coming.
Eiting Klamar: I think the largest amount of learning that I've had was in the medical profession where people paid for a service and I was valued not just on patient outcome or personal income, but also on my ability to listen to patients and help them feel better. It is difficult to go from a healing profession to one where results are measured on top- and bottom-line growth and overall financial results. I had to learn that I can still change people's lives in a different way and environment. One of my missions here is to help people develop and become better than they thought they could be. This requires a different skill set than that in which I am trained. I also encourage our teammates and women in the industry to plan their careers and not let their careers just happen to them.
Goldstein: Professionally, becoming president of Bosworth after my father's death changed my view of management. I had to learn to let other people do things their way. After I became president, the first government inspection by the Department of Transportation was on how we ship flammable liquids. We didn't do well. It was quite expensive as well as educational. Now we are prepared for all types of inspections: FDA, ISO, DOT, EPA, and so on. I also learned from having to fire an employee and apologize to a customer.
Personally, my mother's passing away taught me about mortality, what an impact we can have on others, and what type of legacy we can leave. My husband had two and a half years of health issues, including a stroke and a broken hip. I learned what was important, and not to let business manage me vs. my managing the business. My friends' losing family members taught me that friends are a valuable asset. Having friends and being one are important.
Who is a role model for women in the dental industry?
Canepa: I do not believe in role models as such. You have to observe and learn from others, but you always have to be authentic and should not copy others.
Eiting Klamar: This is a hard one for me because I feel so new to the industry. The role models I see are the people and groups that provide their time and services to help the oral care of the indigent, both here and in other countries. The National Foundation of Dentistry for the Handicapped, Operation Smile, and the Smile Train are organizations that make a difference in children's and people's lives. These people and organizations are heroes. I also consider Milly Goldstein and Dr. Vickie Waitsman to be new role models for me in this industry.
Goldstein: In the profession, my favorite is Dr. Hazel Harper. Her demeanor and straightforwardness always entrance me. Hazel not only provides health care to her community, she is giving back to the community in so many ways. She does all these activities while balancing her personal life. She always keeps her cool no matter how intense it may get. Dr. Harper is not afraid to ask or get involved. She moved upward in a male-dominated world while keeping her identity and style feminine. In the dental industry, there are a few women who were my role models: Joan Austin of A-dec; Helen Braverman of Mohawk Dental; and Joan Stevenson of Rinn Dental. These women worked alongside their spouses and aided them in whatever was needed to grow their businesses. They did this at a time when women were not recognized in business. Today, the world is different from when I entered the workforce. There are a lot more women from whom to learn: Dr. Vickie Waitsman (Dental EZ), Pam Hemmen (Patterson - EagleSoft), Margaret Pagel (ACE), and Lori Paulson (American Dental Cooperative). They are smart, serious women with a lot to offer the dental world. Each has prevailed over tough times personally, professionally, or both. I have learned so much from each of them. They have a love for this industry and what they do.
Do you have a trademark?
Canepa: My red hair.
Eiting Klamar: Midmark has a motto, "Because We Care." Whether we're dealing with customers, products, teammates, or anyone in the industry, it's important to me that each life we touch knows that we really do care about them and about their issues. It's not my personal trademark, but it is a personal philosophy and one for our company. Personally, caring is one of the most powerful forces in the world, and we can make a difference because of it.
Goldstein: I don't know. I would think you would have to ask someone else that.