Through my eyes: A tale of mentorship
Heidi Dineen, RDH, tells the story of how she began her career under the mentorship of Jane Weiner, RDH, who was the 2005 Philips/RDH Mentor of the Year.

Aug 4th, 2014

A story about beginning a career under the mentorship of Jane Weiner, RDH, who was the 2005 Philips/RDH Magazine Mentor of the Year

I had always dreamed of becoming a dental hygienist. I graduated from high school in 1999 and immediately went to college, but I only attended for three semesters. After my daughter's birth three years ago, I began to see myself through her eyes. I needed to make sure I was being the best role model I could be – for her and for myself.
-----------------------------------------------------------
Nominate your mentor for the 2015 Philips/RDH Mentor of the Year Award
-----------------------------------------------------------
With the support of my husband, who saw my passion and goals through my eyes, I registered for a dental hygiene program at the Sanford Brown Institute in Fort Lauderdale, Florida.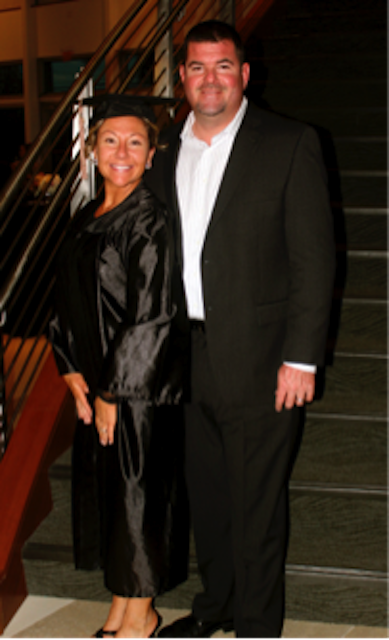 I didn't know what to expect when I added the role of student to those I already held as wife and mother. At times, I wanted to give up, but I didn't. Finally, in January 2014, I graduated with an Associate of Science degree in dental hygiene. I was so proud of myself. I did it!
After finishing my degree, I thought it was time to look for employment. Wrong! I still had to take the Northeast Regional Board Exam, the Florida Dental Hygiene State Clinical Boards, the National Board Dental Hygiene Exam, and last but not least, the Florida Dental Hygiene Laws and Rules Exam.
As the exams approached, one of my peers explained to the class that taking a weekend seminar would help us to freshen up. On January 24, 2014, the class hired Jane Weiner, RDH, for her weekend National Board Review course.
When I found out that students were flying in, paying for a hotel, and renting a car to attend her class, my first feeling was one of pure excitement. About 50 students gathered for the class, and when Jane entered the classroom, everyone went silent.
She introduced herself as Jane Weiner, indicating that she wanted to be addressed as "Jane" and not as "Mrs. Weiner" because "Mrs. Weiner" was the name of her mother-in-law. Following her introduction, Jane explained what we would endure throughout the weekend and quickly proceeded to the first subject for review.
I quickly realized that Jane didn't just teach subjects; she invited us to see dental hygiene through hereyes, her mind, her heart, and her soul. She took us on a journey through the field, telling us stories of her experiences that sometimes made us laugh and sometimes made us cry. She kept our attention through the weekend.
When we broke for lunch, I had to introduce myself to this amazing woman. I invited her to join a couple of my peers and me for lunch. At lunch, Jane and I instantly bonded and couldn't stop chatting.
When the course ended, I was sad because I felt as though I wasn't finished learning from Jane. We ended up staying in touch, talking every week until I managed to finish my exams in the first shot!
When Jane showed an interest in mentoring me, I couldn't believe it. Since we began our journey together in January 2014, I have had so many great things happen to me. Jane has opened doors up to me that I never could have imagined.
She has walked me into many successful dental practices and introduced me to the doctors and their staffs. I could sit for hours and listen to them communicate, continuing to learn. In addition to opening her knowledge to me, Jane has also opened her heart. She has made me a part of her family. As a mentor, Jane tells me the good with the bad. Being able to help someone and tell him or her how to improve at the same time is a difficult task. Before meeting Jane, I had a different understanding of what it means to be a mentor.

Jane has introduced me to a series of individuals who are just as great as her. She has taught me that no one knows everything, so it's important to branch out and listen in order to see through others' eyestheir knowledge and guidance. Throughout my life, I always helped others and enjoyed every second of it. For this to be happening to me is still so unreal.
I wanted to say a few things to honor her. Jane, thank you for teaching me that I have a gift worth sharing. I want to express my deepest gratitude to you for your belief in me. You have been an excellent friend, teacher, and mentor, as well as a great inspiration for me. You have inspired me to pursue my goals with hard work and dedication. You have shown me the value of honesty, sincerity, and trust in business. Thank you for showing me that my words have the power to move people. I truly appreciate and value everything I have learned from you. What you have taught me will be a major contributor to my achievements and success forever. I look forward to the day when I can do the same for someone else.
Lastly, I hope that you will see yourself and your efforts in my success. I will. Thank you again, for seeing through my eyes.
*****************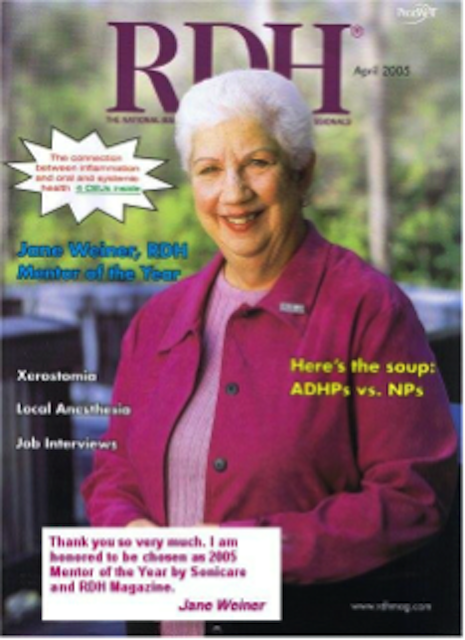 From Jane Weiner, RDH ...
I have to comment on this article with some feelings. First of all, I love to mentor, and when someone special comes into my life, it is exciting. People come into our lives for a reason – even when we don't know the reason at the time. Being able to mentor is a gift that provides many rewards to the mentor.
To me, mentoring is all about paying it forward. Please, if you feel that you have mentored in your lifetime, or if you know someone who is a wonderful mentor, submit an entry to Philips/RDH Magazine 2015 Mentor of the Year. If selected, you or your nominee will join our wonderful group of Mentors of the Year (an honor I will never forget).
Thank you to each and every one of you for what you give to the profession. We all give something even when we least think that we are doing so.
Jane Weiner, RDH
Email: rdhjw@aol.com
Website: Jane Weiner, RDH Board Reviews Inc.
Facebook: Jane Weiner, RDH National Board Review
*****************
Heidi Dineen, RDH, resides in Deerfield Beach, Florida, with her husband of seven years, Thomas Dineen, and their daughter, Chloe Dineen. She is the facilitator for the Facebook page, Jane Weiner, RDH National Board Review, as well as the co-facilitator for Jane's company, Jane Weiner, RDH Board Reviews Inc. Heidi can be reached at HeidiDineen@iCloud.com.