"Beyond the Boundaries: Discovery, Innovation, and Transformation"
The workshop was full of great information for professionals interested in moving their careers forward.

Nov 4th, 2014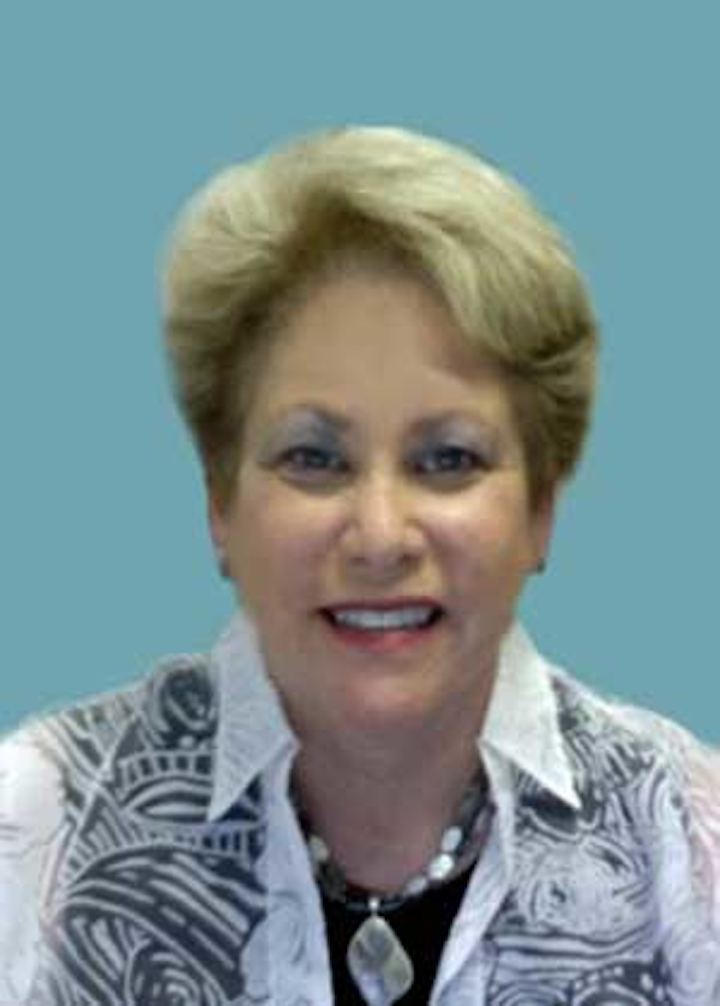 Jane L. Forrest, RDH, EdD Ann E. Spolarich, RDH, PhD
The National Center for Dental Hygiene Research and Practice (NCDHRP) had a very successful meeting, "Beyond the Boundaries: Discovery, Innovation, and Transformation" in Bethesda, Maryland, October 16-19. There was a welcome and update from the National Center entitled, "Celebrating 20 Years" by Jane L. Forrest, RDH, EdD, and Ann E. Spolarich, RDH, PhD.(1) In Plenary Session I, Margaret Walsh, RDH, EdD, presented a keynote entitled, "Dental Hygiene's Scholarly Identity and Potential Roadblocks to Achieving It," while JoAnn Gurenlian, RDH, PhD, addressed "Advancing the Profession." There were over 240 participants from around the world, and the sessions were inspirational and educational.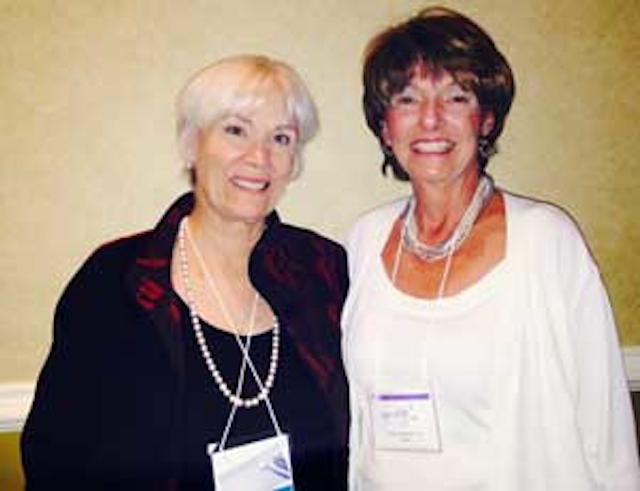 Dental hygiene icons Margaret (Peg) Walsh, RDH, EdD, left, and Michele Darby, RDH, MS
There were research posters presented, and Plenary Session II highlighted "Research that Influences Practice." "Interrupting the Disease of Tobacco Addiction: Time for the Endgame?" was a wonderful course by Dr. Charl Els, MBChB, FCPsych, MMedPsych, ABAM, MROCC, from the University of Alberta, Canada. There are more details on Dr. Els' presentation in another article in this newsletter. Ross Kerr, DDS, MSD, Clinical Professor, Department of Oral and Maxillofacial Pathology, Radiology & Medicine, NYU College of Dentistry, presented "The Oral Microbiome and Cancer," and it was fascinating. The breakout sessions were Quality of Care: Prevention is the Driving Force; Interprofessional Practice: Translating Evidence-Based Oral Care to Hospital Care; and Poor Health Literacy: Why Nobody Understands You.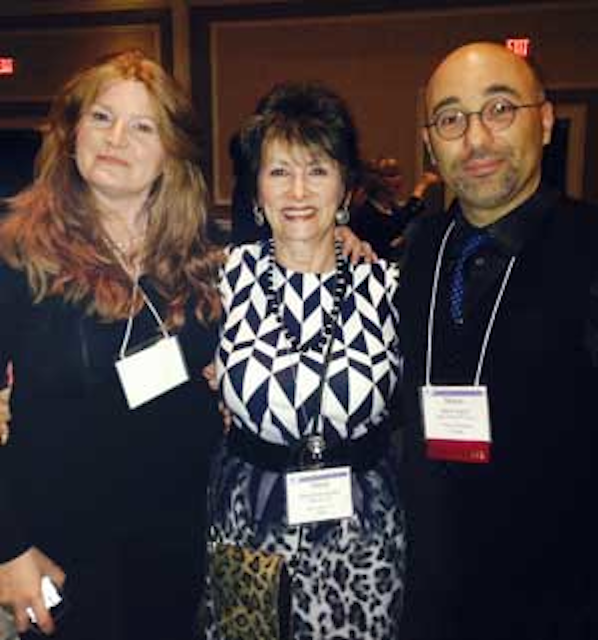 From left: Enrica (Chicca) Scagnetto, Rome, Italy; Maria Perno Goldie, U.S.; Mário Rui Araújo, Portugal
Workshop sessions included Using the Best Evidence to Enhance Dental Hygiene Clinical Decision Making; Overcoming the Fear of Statistics; Millennials and Dental Education: Utilizing Educational Technology for Effective Teaching; Getting Your Name in Print; Becoming an Effective Journal Reviewer; Navigating the IRB, Human Subjects Protection; and Data Management 101: How to Construct and Maintain a Usable Dataset. The workshops featured experts in each topic, and were rich in content. To add to the excitement, there was an evacuation due to a fire in the hotel, which took about 15 minutes.
On Sunday there was an educator's workshop called, Best Practices for Incorporating Research & EBDM into Dental Hygiene Curriculum.How to incorporate research into associate and baccalaureate curricula was highlighted, and resources that support research and evidence-based decision making (EBDM) were shared.
The National Center for Dental Hygiene Research was established through a three-year grant from the Bureau of Health Professions (BHP), U.S. Department of Health and Human Services, in 1993.(2) Development of the Center has been based on a collaborative model that brings researchers, educators, and clinicians together to conduct studies related to national dental hygiene research priorities. The National Dental Hygiene Research Agenda provides direction to hygienists on priority research areas that can help advance the profession. Recently, the National Center expanded its scope to address translational research to improve clinical practice. This concept is reflected in the new name of the center, National Center for Dental Hygiene Research & Practice (NCDHRP).
There are several new resources available from the NCDHRP. One is the NCDHRP Dental Hygiene Research Toolkit, and another is a Best Practices Guide for Faculty on incorporating research and EBDM into curriculum, both by Denise M. Bowen, RDH, MS, Editor. To join the NCDHRP to take advantage of the many resources offered, visit the website or contact Jane at jforrest@usc.edu. For proceedings from the second North American/Global Dental Hygiene Research Conference held in Bethesda in October 2011, visit the Journal of Dental Hygiene.(4)
Stay tuned for more on this fabulous meeting!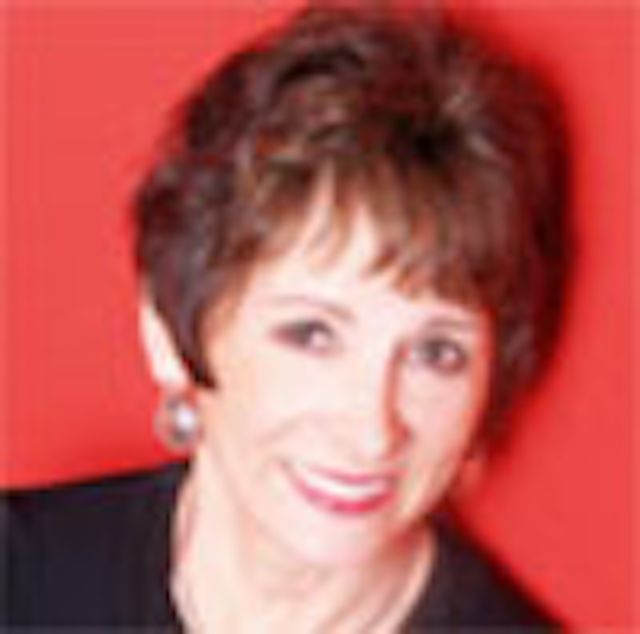 Maria Perno Goldie, RDH, MS
Maria Perno Goldie, RDH, MS, is the editorial director of RDH eVillage FOCUS.

References
1. https://dent-web10.usc.edu/dhnet/.
2. https://dent-web10.usc.edu/dhnet/about.asp?section=5.
3. https://dent-web10.usc.edu/dhnet/members.asp?section=6.
4. http://jdh.adha.org/content/86/1/local/complete-issue.pdf.