New Products
Feb 1st, 2004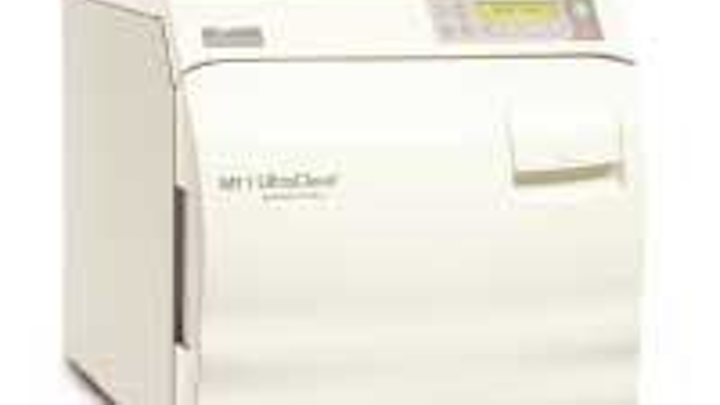 Midmark UltraClave sterilizers
The Midmark models M9 and M11 UltraClave automatic sterilizers feature many functional upgrades as well as user-friendly controls.
The electronic air valve removes 94 percent of the air inside the chamber during pre-sterilization, increasing speed and efficiency.
For more information, call (800) 643-6275.
Midmark M9 and M11 automatic sterilizers
Midmark Corporation's new M9 and M11 UltraClave automatic dental sterilizers feature improvements that make them even more efficient and easy to use, including an electronic air valve that removes 94 percent of the air from the chamber during pre-sterilization, and a new, improved, automatic-opening door that quietly dissipates steam and provides fast and efficient drying of instruments.
The sterilizer's convenient front water-fill reservoir maximizes space utilization and convenience, and a new user-friendly LCD text display indicates cycle selector, temperature, and exposure time. The display also prompts the user for directions. The programmable settings can be customized to create different cycle parameters for special sterilization needs. The display also features maintenance prompts to remind users when a cleaning is recommended.
For more information, call (800) 643-6275.
STM® Probe allows unassisted periodontal exam
Are you struggling to find the time to perform the complete periodontal exams that must be recorded on all patients? Are you waiting for help with charting or stuck spot-probing because you work alone? Pro-Dentec® announces the STM® Probe, a revolutionary new system designed to simplify compliance with today's standard of care.
The STM Probe is an affordable, easy-to-use, and comfortable automated probe. This stand-alone system allows the dentist or hygienist to do an unassisted exam and provides a printout of bleeding points and probing depths. No foot pedal is required since all feedback is through the handpiece itself. The digitally accurate unit audibly announces probe measurements and bleeding points for patients to hear. Clinicians report dramatic increases in case acceptance due to the impact of the new technology.
For information or to order, call (800) 228-5595.
Room-temp PerioChip® for long-term management
PerioChip®, proven effective and safe in two-year periodontal maintenance studies, can now be stored right in your treatment rooms. PerioChip contains chlorhexidine gluconate, a broad-spectrum antimicrobial agent, which is the gold standard in dentistry. Room-temperature PerioChip has less flexibility and is easily inserted into periodontal pockets around teeth. It dissolves naturally in the pocket over seven to 10 days, killing perio-pathogenic bacteria and inhibiting their repopulation of the pocket. Patients can eat, drink, and brush their teeth as usual after treatment.
For more information, call (866) PerioChip (737-4624) or visit www.periochip.com.
New hand instruments reduce fatigue
ADMT (American Dental Medical Technology) announces general availability of its dental hygiene instruments that help reduce hand fatigue and stress, and support those hygienists who currently suffer from CTS. The "Intervention Line" encompasses scalers, curettes, and diagnostic instruments.
ADMT's instruments are made of medical-grade composite with a specialized silicone-over-mold bond that is applied to the handle for ultimate gripping. The "Intervention Line" comes in six bright colors for convenient color-coding. Only the highest grade Medalloy (440A) stainless steel is used for the working ends. All instruments accompany an unconditional warranty from manufacturing defects and have no limitations on the way they are sterilized. ADMT offers the dental professional the opportunity to work with the manufacturer and purchase product directly.
For more information, visit www.admtechnology.com or call (888) 455-2368.
ATRIDOX® requires no refrigeration
The FDA approved a change in the ATRIDOX® temperature storage conditions from 36° - 46°F to 36° - 86°F, without changes to the manufacturing specifications. You may conveniently store ATRIDOX right in your operatory.
ATRIDOX (doxycycline hyclate 10%) is the only locally applied antimicrobial agent approved by the FDA to promote a gain in clinical attachment, reduction in pocket depth, and reduction in bleeding on probing in patients with chronic adult periodontitis. It kills the pathogenic bacteria at the site of infection and maintains the effect up to six months. The unique Atrigel® delivery system provides targeted delivery deep into the pocket, reaching areas that mechanical therapy may not reach. The gel solidifies on contact with the gingival crevicular fluid (GCF) and conforms to the root morphology. ATRIDOX is fully bioabsorbable and does not need to be removed.
For more information, visit www.atridox.com or call (888) 339-5678.
Periostat® combats chronic periodontitis
A new standard of Evidence-Based Dentistry (EBD) is emerging in which host-modulation therapy with Periostat® (doxycycline hyclate) 20 mg tablets plays a prominent role in the management of patients with chronic periodontitis. The underlying principles and methods of the evidence-based methodology provide a framework to assist practitioners in making the best treatment recommendations to ensure optimal patient outcomes.
Periostat is indicated as an adjunct to scaling and root planing, and is the only host-modulating agent clinically proven to safely halt the progression of periodontal disease and improve healing, even in patients with nonmicrobial risk factors. For more information, visit www.periostat.com or call (888) 339-5678.
Commit™ — to stop smoking
GlaxoSmithKline, marketers of Nicorette® gum and NicoDerm® CQ® patch, introduces the Commit lozenge. It is available in 2 mg and 4 mg doses, has been shown to be effective in helping people quit smoking, including smokers who have tried quitting before. Its groundbreaking new dosage-selection tool, Time To First Cigarette (TTFC), enables smokers to get the right strength of nicotine based on how quickly they need to smoke after waking. Commit lozenge provides an alternative to smokers who prefer an oral dosage form, but do not want to chew gum. For more information, visit www.commitlozenge.com, www.nicodermcq.com, www.nicorette.com, www.committedquitters.com, or call (800) 652-5625.
Arestin releases medication up to 21 days
Arestin® (minocycline HCl 1 mg) microspheres, as an adjunct to scaling and root planing, is a locally administered antibiotic treatment for severe chronic periodontitis.
The unique delivery process involves a powdery substance known as microspheres. Microspheres encapsulate a low dose (1 mg) of the antibiotic minocycline. After it is placed, the Arestin microspheres immediately adhere to the periodontal pocket where the minocycline is released up to 21 days. The microspheres are then completely bioresorbed into the gingiva.
Arestin requires no preparation or refrigeration, making it easy for dental professionals to administer. In clinical trials, dentists and hygienists were able to treat as many as 30 sites in less than 10 minutes.
Call (800) ARESTIN (273-7846) for more information.
Hu-Friedy Langer periodontal curettes
Developed by Hu-Friedy, the Langer curette design combines the benefits of a universal curette with the shank design of a Gracey. With the universal curette design, the 90-degree angle between the terminal shank and blade face allows adaptation on both the mesial and distal surfaces. In addition, the Langer has a Gracey shank with an angulation ideal for difficult-to-reach areas.
The Langer curette also is available in rigid, After Five®, and Mini Five® designs. The terminal shank of the After Five and Mini Five is elongated by 3 mm for access into deep periodontal pockets and root surfaces of 5 mm or more. The blade is 10 percent thinner than a standard Langer to ease gingival insertion and reduce tissue dissention. The Mini Five has a reduced blade — half the length of the After Five or standard Langer — for better adaptation in narrow pockets and furcations.
To order, call your dealer or call (800) HU-FRIEDY (483-7433).
DioDent™ soft-tissue laser
The DioDent™ from Hoya ConBio (formerly Continuum Biomedical) was designed for the progressive dental practice, featuring a comprehensive and intuitive touch-screen that offers programmable preset treatment selection as well as individual parameter controls. Treatment is optimized with its innovative new foot-switch. The switch can be set to operate as a variable "gas-pedal" or conventional on/off switch.
With its operational versatility, lightweight portability, and rapid return on investment, the DioDent is ideal for hygiene maintenance programs, performing bacterial reduction and sulcular debridement.
Surprisingly affordable, the DioDent is the number-one choice among renowned teaching institutions. It eliminates the need to pack cord and does predictable gingival recontouring on the same day as the restorative work.
For more information, call (800) 532-1064 or visit www.conbio.com.