Techniques for Today's Dentistry: Efficient Calculus Detection
The tactile detection of residual subgingival calculus is alarmingly low.
Feb 1st, 2004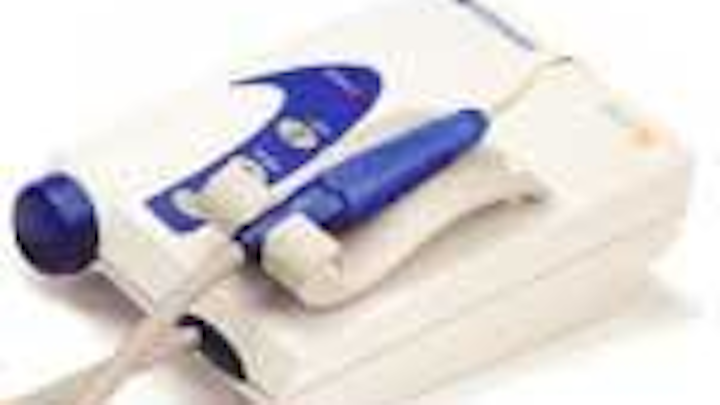 The tactile detection of residual subgingival calculus is alarmingly low. One study revealed that there was only a 33 percent efficacy in determining residual calculus.1,2 Undetected calculus generally equates to unremoved calculus, which has been found to directly correlate to the probing depth of the pocket.1,2,3 Research has shown that when probing depths are 3 mm or less, the likelihood of detecting and completely removing the subgingival calculus is good. With probing depths between 3 mm and 5 mm, the scales are tipped dramatically in favor of more going undetected than will be detected. If the probing depths are greater than 5 mm, failure is most likely to ensue.1,2,3,4
null
null
With the recently introduced DetecTar (Ultradent Products Inc., South Jordan, Utah), the percentage of subgingival calculus detection jumps to an efficacy of 91 percent in pockets up to 10 mm (Figure 1).1 It is used like a periodontal probe, except instead of relying on tactile sensation, the DetecTar uses a high-energy LED that emits light through its fiber-optic probe (Figures 2 and 3). The light reflects off the tooth surface and sends information back to the self-contained computer for analysis (Figure 4). An audible beep is emitted when subgingival calculus is detected. It will detect subgingival calculus as small as 0.1 mm in size, including tiny spicules, black ledges, and white sheet or veneer calculus. Even in the presence of water, saliva, and/or blood, the accuracy of detection is unaffected. It is an excellent tool for re-evaluating root surfaces in areas that do not respond to treatment, and may be instrumental in pointing out areas that are consistently missed by the clinician, thereby promoting better adaptation of ultrasonic and hand instruments in those locations. It can also be used prior to placing medicaments to assure a calculus-free site.
null
null
Like all things in dentistry, there is a learning curve. Remember when you had to memorize the names and numbers of all your perio hand instruments and the areas in which each one was designed to be used? It's comforting to know the DetecTar is easier to learn. And considering the dramatic improvement in subgingival calculus detection, it's well worth the effort.
References
Benhamou V. Calculus detection goes high tech. Dimensions of Dental Hygiene June/July 2003.
Sherman PR, Hutchens LH Jr, Jewson LG, Moriarty JM, Greco GW, McFall WT Jr. The effectiveness of subgingival scaling and root planing. I. Clinical detection of residual calculus. J Periodontol 1990; 61:3-8.
Rabbani GM, Ash MM, Caffesse RG. The effectiveness of subgingival scaling and root planing in calculus removal. J Periodontol 1981; 52:119-123.
Stambaugh RV, Dragoo M, Smith DM, Carasali L. The limits of subgingival scaling. Int J Periodontics Restorative Dent. 1981; 1(5):30-41.
Jaimee Morgan, DDS
Dr. Morgan practices orthodontics, family, and cosmetic dentistry in Salt Lake City, Utah. She has presented numerous scientific papers, is a published author, and lectures internationally on aesthetic dentistry. Contact her at (801) 569-2600 or jaimee morgan@mindspring.com.
Donna Brogan, RDH
Ms. Brogan is a clinical instructor at the University of Oklahoma. She works for Ultradent Products Inc. as a dental hygiene specialist and in a private practice in Edmond, Okla. She travels internationally helping companies and private practices successfully market their whitening and hygiene programs.