How to help your patients quit vaping
If you've counseled patients on quitting traditional cigarettes or smokeless tobacco in the past, you already have the toolkit you need. Here's how to put it to use.
Aug 4th, 2016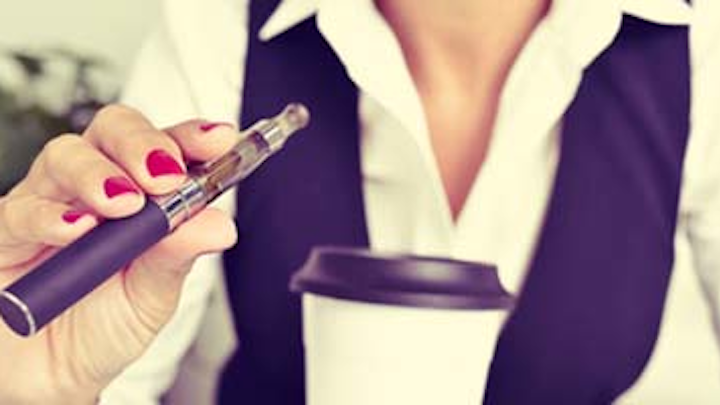 If you've counseled patients on quitting traditional cigarettes or smokeless tobacco in the past, you already have the toolkit you need. Here's how to put it to use.
With the social acceptance and popularity of vaping and e-cigarettes, I often see patients that have been led to believe they are harmless. When you take a walk or drive, I challenge you to note how many people you see toting around a vaping device or using it in the car around children. Our society and laws have made cigarettes taboo in public places and around children, but for one reason or another people find it acceptable to vape anywhere they see fit. Vaping has not been available for long enough to establish its long-term risks as well as the risks of secondhand exposure.
If you are unfamiliar with the basics of vaping and the history of e-cigarettes, you may find my previous article on the topic helpful.
Vaping has been especially popular with young people—16% of high school students currently use a vaping device or e-cigarette in some form. How often do we ask our younger population of students about unhealthy habits? Sherri Warshaw, owner of Smokefree Steps LLC and a certified tobacco treatment specialist, states that vaping use is up three times just in the past year alone. Because vaping does not cause the same odor and staining as cigarettes, it is difficult to tell when patients are using a vaping device. I personally believe the pleasant flavors and the avoidance of cigarette odors appeal to the younger population, along with the belief that it is harmless fun all while getting the nicotine high.
The struggle to quit
For many individuals the use of a vaping or e-cigarette device is part of a plan to reduce or quit smoking cigarettes. It is used partially to satisfy the hand-to-mouth habit that has become second nature for many smokers, in addition to the desire for nicotine. Most tobacco users struggle to quit over their lifetimes. I have seen my own father struggle for years to quit a chewing tobacco habit that he had started as a teenager. Sometimes it takes a certain motivational factor for the individual to truly be ready to kick the habit; for my dad it was the birth of my first child. He has been tobacco free for over a decade now but still battles the desire.
As hygienists and health-care workers, we must be able to educate and make recommendations for our patients when we recognize their desire to quit any form of tobacco. By motivational interviewing and understanding what drives the desire, we are able to help devise a plan to help with the best possible cessation success. There are two theories behind the vaping and smoking cessation: harm reduction and total abstinence. I am personally hesitant to recommend a smoker add a vaping device to reduce or quit smoking since it is relatively new and its long-term effects are not known, especially when we have proven cessation products on the market.
But for many individuals, vaping may seem the only way to satisfy the hand-to-mouth habit. In my conversation with Ms. Warshaw, she stated that a combination of FDA-approved cessation products (e.g., nicotine patches or gum) combined with counseling and support provides the best success rate. She goes on to explain the "rule of three"—the hardest times for any addiction cessation is the three-day, three-week, and three-month marks. The goal is to find a method that does not make the patient feel deprived while trying to kick the habit. I have spent countless hours talking with patients who use cigarettes and smokeless tobacco and have expressed an interest in quitting, taking the time to inform them about options and cessation products along with information about support offered by organizations.
Don't lecture—be there
There's a fine line between informing the patient and lecturing, so I let the patient determine the pace of the conversation. They will often express the desire to quit or talk about methods they have tried. For any form of addiction, quitting will only be successful if the individual is ready. However, the willingness to make a call and talk to a stranger about options can prove to be too far out of the comfort zone for some. That's where we as dental-care workers come into play.
Depending on the state, many dentists are able to write a prescription for smoking cessation products. As we know, many come in for a dental visit but seem hesitant to make a special appointment with a medical doctor "just to talk about smoking." I have given a handful of patients my personal cell number and have made the offer to all to call me at the office anytime if they have questions about any of the products or just need a recommendation of what to do next. I have been surprised over the years how many have actually called or eventually come in and have been able to quit—they just needed to know there was support out there. I encourage you to check in periodically with patients who are trying to quit, not just when they show up in 6 months.
The new battle on the market may be vaping and its widespread acceptance, but don't forget that because its addictive properties arise from nicotine, the cessation methods are the same. The quote from Ms. Warshaw I found amusing and inspired thought was "There is no such thing as 'a little' smoker or vaper like there is no such thing as a little pregnant—you either are or you're not."
Sharing oral effects with patients
We see an array of oral conditions including xerostomia and stomatitis related to the inhalation of the vaporized liquids. When I find these signs and symptoms, I inform the patient and will often use my intraoral camera. It puts it in a different perspective for many individuals. You can explain to the patient you are seeing evidence of a burn from the vaporized liquid or stomatitis, and it doesn't hit home until the patient can see what the impact on their own body is. For those who think vaping is harmless, being able to see what the effects are in reality may change their perspective of vaping as a social pastime.
Helpful products you should know
For others who are not ready or able to give up the vaping or e-cigarette habit, offer products to treat the side effects. We have all learned one of the side effects of any nicotine product can be xerostomia, especially is the individual has other risk factors or is on medications. In my personal experience the key is to make it a simple change in home routines to start. One of my go-to products for any patient suffering with dry mouth, no matter the cause, is Colgate's PreviDent Dry Mouth toothpaste (1.1% neutral sodium fluoride, SLS free), which is prescription or can be carried in the office. I have had patients experience great success with this product. Treating dry mouth is especially important since xerostomia increases the risk of caries. Switching a regular toothpaste to PreviDent is a simple change.
Another great product I discovered at ADHA this year was the Oral Essentials mouth rinse line; it utilizes the essential oils and comes in a variety of formulations including sensitivity and dry mouth and includes xylitol. I have had a handful of patients, both smokers and nonsmokers alike, try the Oral Essentials line and found it soothing to the tissues. Both products are simple changes that may help treat the side effects of vaping for those patients who haven't reached the desire or ability to give up vaping.
Conclusion
With any patient, look at the whole picture and get to know your patients and their desires when it comes to vaping use. Taking the time to have the conversation about the potential effects of vaping and e-cigarette use on the whole body may be the enlightenment for that one person to make a change and give up a habit that may or may not have effects one day down the road. With a little care and understanding we are able to motivate and educate even the younger of society on the health impacts and cessation options on the ever growing vaping trend.
---
For the most current dental headlines, click here.

---
Jamie Collins, RDH, CDA, resides in Idaho with her husband, Cory, and their four children. She currently works as a full-time hygienist as well as an educator at the College of Western Idaho. In addition, she acts as a content expert and contributor in multiple upcoming textbooks. She can be contacted at jamiecollins.rdh@gmail.com.