How the new Orbit prophy paste aims to improve oral health outside of the operatory
The new product is betting that an association between cleanliness and sugar-free gum will improve the hygienist-patient relationship and oral health at home. Read about the new Orbit prophy paste here.

Sep 14th, 2016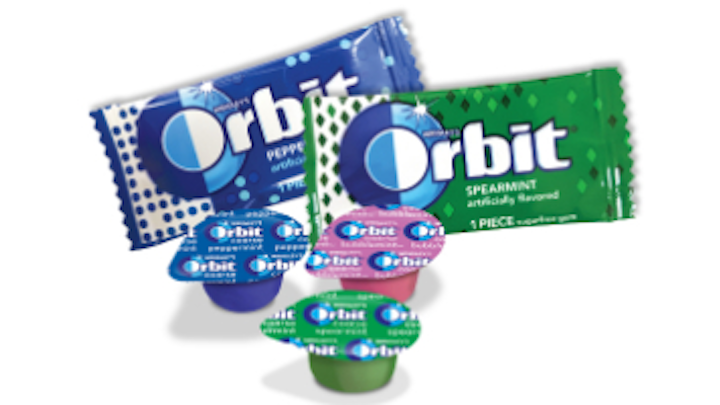 If you left the ADHA 2016 annual session with armfuls of samples, the sight of one of them—the Orbit gum logo on a tub of prophy paste, packaged with a single piece of gum—may have caught your eye. The new product, developed by a partnership between Young Dental and Wrigley, was first debuted at the ADHA annual session and is planned for release this month.
Sugar-free gum samples are a common sight at hygiene trade shows, but this association between a consumer brand and a prophy paste is a new one. What does it mean for dental hygienists, who already have a wide array of prophy pastes to choose from? Recently, DentistryIQ and RDH eVillage got a chance to sit down with both Young Dental and Wrigley to discuss that question.
First, the basics
Each Orbit prophy paste and gum pack contains a single-dose cup of paste and a piece of sugar-free Orbit gum. (1) The gum and prophy paste pack comes in Bubblemint, Spearmint, and Peppermint flavors, bearing the same colors and logos found on the retail gum packs. The product is available in coarse and fine grit. The packs will be "priced the same as the market-leading prophy paste," according to Wrigley and Young Dental.
Why make this product?
The goal of the Wrigley-Young partnership is to provide both hygienists and patients with a moment to connect over oral care, according to Steve Wright, director of marketing at Young Dental, and Michelle Green, US marketing communications manager at Wrigley. For the hygienist, this furthers their mission to improve oral care outside the operatory through home care habits, and to truly reach the patient in what can often be a rushed appointment experience.
"We set out to develop something that was truly unique and creative and that would deliver a different value for the dental hygienist," said Wright. During their initial research into the product, Wrigley and Young found that almost all dental hygienists recognized the clinical benefits of chewing gum—97%, according to the companies—and were already recommending it to their patients.
Lending Orbit's flavors to Young's pastes, however, created new opportunities for conversations between hygienists and patients, as well as to improve the patient's associations between oral cleanliness and the positive habit of chewing sugar-free gum. How? For Young and Wrigley, it's all about enjoyable flavors and a moment of connection.
READ MORE | Correct me if I'm wrong: A thoughtful use of words can make dental hygienists sound quite eloquent
The details
Many consumers are already familiar with Orbit flavors and may be surprised to see something "familiar and perhaps even comforting on the operatory table," said Green. Young already knew that assorted prophy paste flavors sold better because hygienists were using them as an opportunity to give patients a choice in the appointment and to create dialogue with them about oral care. Because of the association with the gum, Young and Wrigley knew that it was important to get the flavors as close as possible during research and development.
By using a paired paste and gum sample, hygienists can offer patients an improved experience and have another opportunity to talk about home care that can improve oral health, such as chewing sugar-free gum. "Certainly patients could walk out the door with a stick of gum after their visit," says Green, but connecting the gum specifically with the feeling of cleanliness after a prophy means that patients will more closely associate that feeling and think of gum as a way to maintain oral hygiene.
An improved aesthetic experience
Many practices are trying to "soup up" the experience for patients, says Wright. Touches such personal televisions above chairs and spa-like waiting rooms have become common in recent years. Prophy paste hasn't always been a focus of the patient experience—back in the day, hygienists made prophy pastes by mixing gray pumice with mouthwash. (1) Many hygienists were even skeptical that dentists would pay for premade mixes, yet when they were finally introduced, they became ubiquitous. (1) The partnership of a consumer and dental brand, as well as a general "upgrade" of the prophy experience, follows the trend of greater patient attention to the aesthetics of their office experience.
Conclusion
Ultimately, hygienists want to build relationships with their patients to improve communication—which makes compliance and oral health better in the long run, said Wright. The new Orbit prophy paste and gum pack offers a new way to connect with the person in your chair—and bridge the gap between hygiene inside and outside of the office.
Editor's note: As of October 5, Wrigley and Young have officially launched the prophy paste and gum packs. You can request samples at youngdental.com/orbit.

Reference
1. Alty CT. The flavor of dental hygiene. RDH magazine website. http://www.rdhmag.com/articles/print/volume-34/issue-4/features/the-flavor-of-dental-hygiene.html. Accessed September 14, 2016.
---
For the most current dental headlines, click here.

---
Amelia Williamson DeStefano edits the RDH eVillage e-newsletter with Mark Hartley, and also works on Dental Economics, RDH magazine, and Apex360. You can contact her at ameliad@pennwell.com.