CE webinar: Brogan presents 'Fluoride varnish & risk assessment'
A free, live continuing education webinar will be presented by Donna Brogan. The topic is fluoride varnish.
Sep 7th, 2016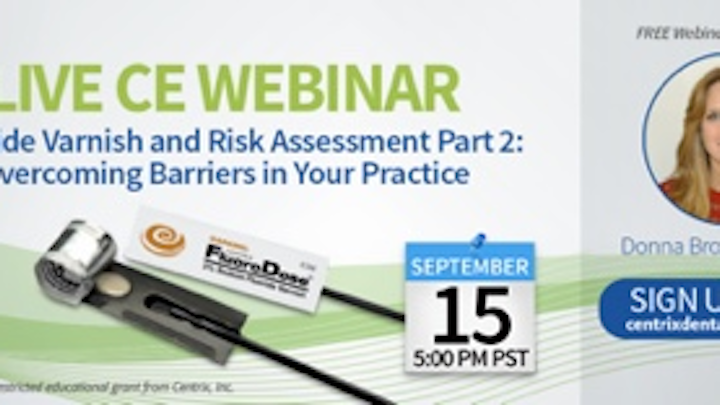 Course title: Fluoride Varnish and Risk Assessment Part 2: Overcoming Barriers in Your Practice
Date: Thursday, September 15 at 5 p.m. PST
Registration: www.centrixdentallearning.com
Don't miss out on this informative webinar! We're delighted to inform you that Part 1 "Fluoride Varnish and Risk Assessment: Are you Practicing Traditional Dentistry or Evidence-Based Patient Care" was the best-attended webinar Viva Learning has ever hosted! You can see Part 1 on centrixdentallearning.com., just click on "On Demand CE."
"Traditionally, we provide fluoride varnish to children under the age of 18 as part of caries management but what about the adult population? Research shows that older people are a caries-active group, experiencing new disease at a rate which is at least as great as that of adolescents. Why aren't more adults being offered treatment and when they are offered treatment, why aren't more accepting it? Join me to hear new ways of educating and presenting the facts to ensure your adult population is part of your caries management program." — Donna Brogan RDH, BS
What you'll learn...
In this webinar, you will learn a quick and easy method for uncovering the most common evidence-based risk factors that affect your adult patients. You will discover that a majority of your patients are likely to benefit from a risk reduction strategy including varnish.
Treat a new patient group
Discuss significant health issues
Build revenue for your practice
What you'll be able to do...
Quickly assess the adult patients' risk level using an evidence-based list of known risk factors
Effectively communicate the long-term benefits of fluoride varnish as a risk reduction tool for adults
Provide assessment and treatment with minimal change to your current hygiene appointment
Establish an office protocol promoting risk assessment as an important part of patient and practice health
Donna Brogan RDH, BS, is a graduate and former faculty member of the University of Oklahoma dental hygiene program. She was honored as the 2010 Alumnus of the Year and voted Outstanding Part Time Faculty by her students in 2007, 2012, 2013 and again in 2014. She serves on numerous committees and boards for community non-profits and professional associations. You can reach Donna by emailing her at Donna.brogan94@gmail.com
The webinar is supported through an unrestricted educational grant from Centrix, Inc.