IALD urges hygiene participation in Gum Disease Awareness Month
Over the last two years, the Institute for Advanced Laser Dentistry (IALD) has spearheaded efforts to raise public awareness of the consequences and prevalence of gum disease and bring periodontal disease into the consumer spotlight through the Fight Gum Disease campaign.
Jan 21st, 2014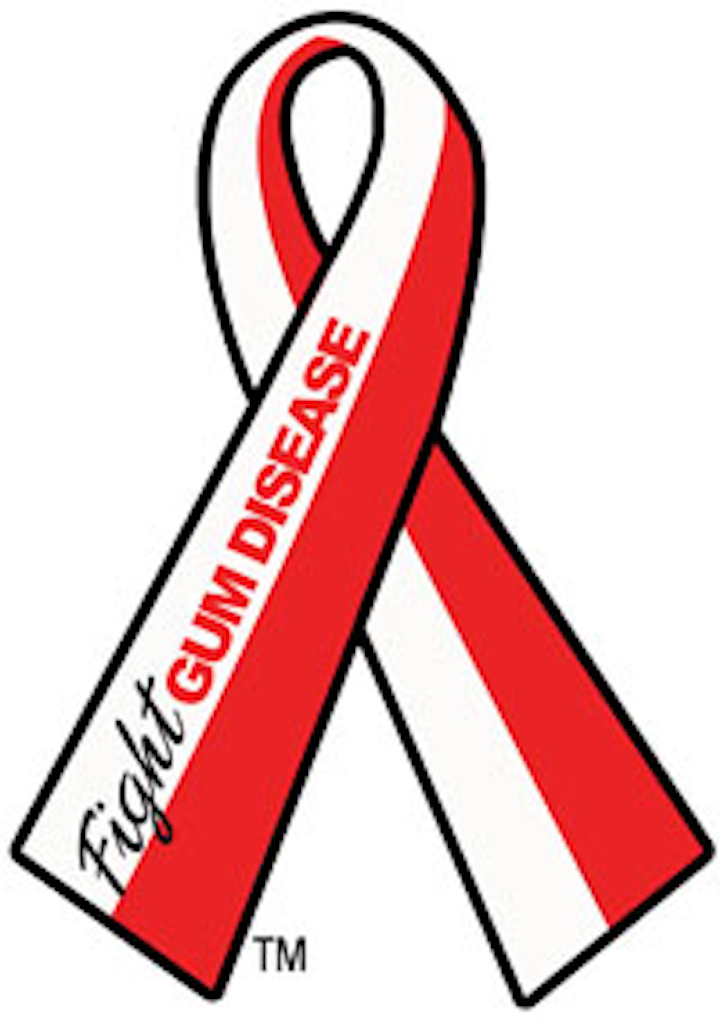 HYGIENISTS: Join the Fight Against Gum Disease and help your patients' total health
By The Institute for Advanced Laser Dentistry
SYSTEMIC CONNECTIONS
In the last 12 months, a significant number of systemic connections have been made between periodontal health and overall wellness. While gum disease has long been associated with heart disease, strokes, and pre-term births/low birth weights, recent publications are exploring links to other conditions including obesity, erectile dysfunction, pancreatic cancer, diabetes, and rheumatoid arthritis. Because dental hygienists are at the front lines of dental health, they are key players in the fight against gum disease by oftentimes being the first to identify periodontal conditions.
Although hygienists have long understood the ill effects of untreated gum disease, the general public remains largely unaware of its far-reaching and devastating effects beyond simply losing one's teeth. And because of their frontline role, hygienists perfectly bridge the awareness gap, which can lead to not just better gum health but also aid in the prevention of other serious conditions.
"A dental hygienist's main focus is on keeping gums and tissues healthy. Although we look for decay and restorative needs, our general focus is dental hygiene," says Marika Lockhart, RDH, an industry veteran of more than 30 years. "As dental hygienists we can't legally diagnose; however we assess the overall health of the gums and may be the first to inform the patient of what may be of concern."
Because hygienists are so very aware of the direct impact that gum health has on overall health, they are also Gum Disease Awareness Month champions who are in a position to help save lives by sharing information with the public on a large scale, a vitally important role considering that 50 million Americans have moderate to severe gum disease, and 40 million are unaware they have it 1 and of those who have it, only 3% seek treatment. 2 What patients believe is a routine visit to the hygienist, may actually be a lifesaving visit that helps them identify and take steps to treat more serious gum conditions thus preventing or reducing chances of being affected by more health-destroying conditions.
According the CDC's website there are two times more American adults with gum disease than heart disease, more than six times more adults with gum disease than diabetes, and more than 50 times the number of adults suffering from cancer. These numbers indicate that gum disease is the most prevalent disease affecting U.S. adults!
This was the driving force to declare February as Gum Disease Awareness Month.
RAISING AWARENESS
Over the last two years, the Institute for Advanced Laser Dentistry (IALD) has spearheaded efforts to raise public awareness of the consequences and prevalence of gum disease and bring periodontal disease into the consumer spotlight through the Fight Gum Disease campaign.
Efforts over the last two years have helped to increase public awareness of gum disease, securing support from more and more states that have officially proclaimed Gum Disease Awareness Month. Yet, half the country still needs to make the commitment to help lower gum disease statistics—thereby improving the overall health of their citizenry.
Governors of 28 states have lent their support to this campaign by signing proclamations declaring February as Gum Disease Awareness Month and more than 200 organizations have supported the campaign, including major news sites such as Reuters and CBS News. Fifteen major broadcast stations in five major U.S. metropolitan areas, including New York, Los Angeles, and Chicago aired public service announcements in February to draw attention to the risk factors, signs and symptoms, as well as preventative measures for gum disease. The campaign has received extensive regional support with articles published in the San Francisco Gate, Philadelphia Magazine's Be Well Philly, West Virginia's Register-Herald and Sun Sentinel. In addition, private practices across the country have participated in the campaign to raise awareness within their patient bases.
This is a definite success for the Gum Disease Awareness campaign, and although the media has been vital in increasing public attention to the multiple studies by researchers assessing systemic connections, the public is still woefully unaware of the patient-friendly treatment options available to them and this is why hygienists will continue to be key players in raising awareness on a large scale.
It's up to the dental community to educate the masses on the dangers of this widespread disease, and to let them know that periodontal disease is treatable! As dental professionals it is well within our reach to improve the overall health of each and every one of our patients.
"Gum Disease Awareness Month is very important because of systemic connections connected to gum health that impact far more than just oral health," notes Lockhart. "That is why I am thrilled not only to be a part of such a powerful awareness-raising and potentially life-saving campaign but as a hygienist to know that I am an integral part of the solution because I see patients every day."
The Fight Gum Disease program has an active social media presence on Facebook and Twitter that provides an interface for patients to stay informed about gum disease, ask questions, and discuss systemic connections. A dedicated website, http://www.fightgumdisease.com, also provides them with the information they need to understand the signs, symptoms and treatment options.
Together we can fight gum disease
Join the fight: www.facebook.com/fightgumdisease or follow us on Twitter: @fightgumdisease; www.fightgumdisease.com
References
1 ADAM and Simon H. (2009). Gum Disease In-Depth Report. The New York Times. Retrieved from http://health.nytimes.com/health/guides/disease/periodontitis/print.html.
2 Mackarey PJ. (February 7 2011). Laser Treatment Offers Help for the Gums. The Scranton Times Tribune. Online Edition. Retrieved from http://thetimes-tribune.com/news/health-science/laser-treatment-offers-help-for-the-gums-1.1100961