Type 1 diabetes discovery: Stem cells make millions of human insulin cells
A new study from Harvard is a huge advance for patients with type 1 diabetes, and some with type 2 diabetes, many who require daily injections of insulin.
Oct 15th, 2014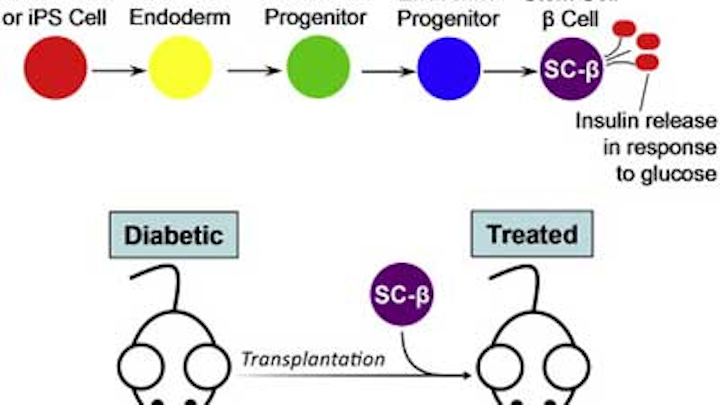 As we are all aware, Type 1 diabetes is an autoimmune disease where the body destroys insulin-producing beta cells in the pancreas. Without insulin, the body cannot control glucose, which can lead to high levels of blood sugar that eventually damage tissues and organs. A new study exposes how scientists successfully created billions of insulin-producing pancreatic beta cells from embryonic stem cells.(1)
The Harvard stem cell researchers report how they transplanted the stem cell-derived beta cells into the kidney of a diabetic mouse that showed no signs of the disease after two weeks. The study is a huge advance for patients with type 1 diabetes, and some with type 2 diabetes, many who require daily injections of insulin.
For their new technique to work in people with type 1 diabetes, the researchers must create a mechanism that halts a recipient's immune system from attacking and destroying the 150 million or so beta cells they would receive. The team is currently collaborating with colleagues at the Massachusetts Institute of Technology (MIT) to develop an implant that protects the stem cell-derived beta cells from immune attack.
With human embryonic stem cells as a starting point, the scientists were able to produce, in the massive quantities needed for cell transplantation and pharmaceutical purposes, human insulin-producing beta cells that are equivalent in almost every way to normally functioning beta cells.(3) This is the first time this has been done.
The stem-cell-derived beta cells are currently undergoing trials in animal models, including non-human primates. Researchers have attempted to generate human pancreatic beta cells that could be cultured under conditions where they produce insulin. Cell transplantation as a treatment for diabetes is still experimental, using cells from cadavers, requiring the use of powerful immunosuppressive drugs, and having been available to only a small number of patients.
Richard A. Insel, chief scientific officer of JDRF, formerly known as the Juvenile Diabetes Research Foundation, said, "JDRF is thrilled with this advancement toward large-scale production of mature, functional human beta cells by Dr. Melton and his team. This significant accomplishment has the potential to serve as a cell source for islet replacement in people with type 1 diabetes, and may provide a resource for discovery of beta-cell therapies that promote survival or regeneration of beta cells and development of screening biomarkers to monitor beta cell health and survival to guide therapeutic strategies for all stages of the disease."(4)
The work was funded by the Juvenile Diabetes Research Foundation, the Harvard Stem Cell Institute, the National Institutes of Health, the JPB Foundation, and Mike and Amy Barry.(4)
In other diabetes news, the American Diabetes Association (ADA) applauds the U.S. Preventive Services Task Force (USPSTF) for elevating the draft recommendation for "Screening of Type 2 Diabetes Mellitus in Adults," released October 6, 2014.(5) The USPSTF's draft recommendation will now include multiple risk-factor-based type 2 diabetes screening for asymptomatic patients, in addition to screening those who have high blood pressure, which was previously the only screening guideline under the existing recommendation last updated in 2008.(6) For the current standards, visit the ADA website.(7)
Maria Perno Goldie, RDH, MS, is the editorial director of RDH eVillage FOCUS.





References
1. Pagliuca1 FW, Millman JR, Gürtler M, et al. Generation of Functional Human Pancreatic β Cells In Vitro, Cell. Volume 159, Issue 2, 9 October 2014, Pages 428–439. doi:10.1016/j.cell.2014.09.040
2. 2014 Elsevier Inc. http://www.sciencedirect.com/science/article/pii/S0092867414012288
3. http://hms.harvard.edu/news/leap-diabetes
4. Harvard Medical School. http://hms.harvard.edu/news/leap-diabetes
5. http://www.diabetes.org/newsroom/press-releases/2014/uspstf-type2-screening.html?loc=news_oct2014
6. http://www.uspreventiveservicestaskforce.org/Home/GetFileByID/1119
7. American Diabetes Association. Standards of Medical Care in Diabetes–2014. Diabetes Care January 2014 vol. 37 no. Supplement 1 S14-S80 http://care.diabetesjournals.org/content/37/Supplement_1/S14.extract