Survey: Hygienists assertively answer questions about floss after reports
In an RDH eVillage survey, dental hygienists comment about patients' questions about floss after media reports surface.
Sep 7th, 2016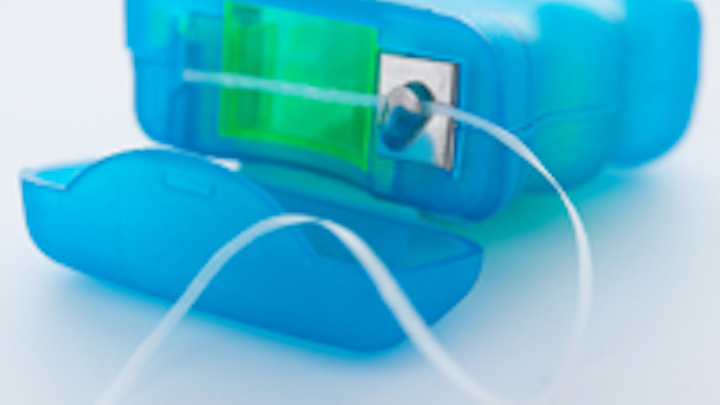 Almost three-quarters of dental hygienists estimate that up to 40% of patients have inquired about recent media reports regarding the necessity of flossing, according to an RDH eVillage survey.
Dental hygienists have also expressed different strategies to counter the news reports, which were sparked by an Associated Press article in early August questioning the evidence that floss is an effective home care tool for consumers.
73% of the 976 dental hygienists participating in the survey said they advise patients to continue to floss and demonstrate correct flossing techniques.
38% said alternatives to flossing, such as interdental brushes, were discussed with patients.
25% said they told patients that the Associated Press article was inaccurate.
"I let them know the (Associated Press) article stated that the research was flawed, not that floss isn't effective," said one dental hygienist.
Another dental hygienist said, "I explained that, among our patients who have successfully formed a habit of proper flossing regularly, we see a marked difference in the state of their oral health when contrasted with those who don't floss properly or regularly."
49% said up to 20% of patients have inquired about the reports in the news media.
24% said up to 40% of patients have asked about it.
14% estimated that up to 60% of patients have inquired about the need to floss as a result of the reports.
Almost all dental hygienists (96%) said they recommend floss to patients, but 77% will recommend interdental brushes or water flossers (54%) too.
-------------------------------------------------------
Read related articles
-------------------------------------------------------
"I discussed the article—truths and misconceptions," one hygienist said. "I then discussed all of the options for interdental cleansing—their challenges and benefits—while encouraging the client to make an informed decision about what method to use."
Among dental hygienists who recommend floss, which as indicated above is almost all of them, 49% say floss produces the "best results overall—patient compliance and actual oral health improvement."
Dental hygienists who also recommend interdental brushes believe the brushes produce "best results" over floss by one percentage point: 42.5% to 41.3%.
Other comments about the flossing controversy from dental hygienists included:
Most patients thought the article/study was unbelievable, and no one has changed habits that I've spoken to!
Nearly all who have commented on article said they believe flossing is important, because they see all the "garbage" they pull out of their teeth when they floss!
I explained that the article should have simply stated there is a lack of scientific evidence for the effectiveness of floss and it should have stated that interproximal cleaning (with other possible alternatives) is still important and necessary for optimal oral health.
I went on the news to discuss the importance of flossing and the false claims in the article.
I asked my patients to think about their oral health when they first became my patient as compared to today since they have flossed regularly. Most patients agree they have a healthier mouth and they look forward to their dental "cleanings."
I explained that it's difficult to do an accurate study regarding flossing if people aren't consistent or are using improper technique. Just because there have been no recent studies, it doesn't mean that diligent flossing isn't effective or recommended by the dental community. With that said, there are many patients who do a wonderful job cleaning between their teeth with dental aids other than floss.
I asked them if they feel that they should stop flossing
I have been off for about 2 weeks, but so far I've only had one patient bring it up and he presented the topic with the phrase "I know this is not true..." The ones that don't like to floss don't probably want to bring the topic up. They are just satisfied that they think they were right all along.
Wrote a newsletter on the subject and handed it out along with detailed instructions.
---
For the most current dental headlines, click here.

---