Oral health and breastfeeding: Patient education
Patients should pay extra attention to their health while breastfeeding, just like they should while pregnant. Here's several patient education tools, as well as a clever idea for a "new baby" care package your office can send.
Sep 1st, 2016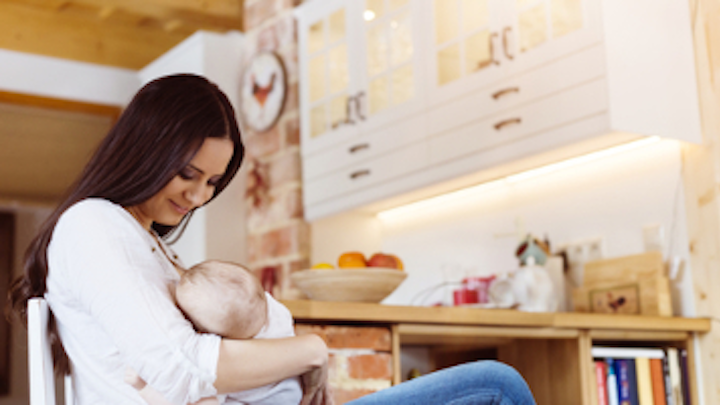 Patients should pay extra attention to their health while breastfeeding, just like they should while pregnant. Here's several patient education tools, as well as a clever idea for a "new baby" care package your office can send.

Breastfeeding is one of the most natural experiences a woman can have, but with it comes an added commitment. Making sure they are keeping up with their oral hygiene habits and nutrition to supplement breastfeeding is a crucial part of the experience.
Think of being on a plane—the safety instructions tell you to put your oxygen mask on first before helping others. The same goes for breastfeeding. The breastfeeding mother is the sole nutritional provider for that child and she must make sure she is strong and healthy by taking the right steps to nourish a child. Diapering, bathing, comforting, nighttime feedings will make anyone exhausted—and then don't forget laundry, dishes, and the rest of the responsibilities that come with having a newborn. Who has time for healthy eating and practicing good oral hygiene when all you want to do is climb into bed and rest? Being a mother to a newborn is no easy task, but a breastfeeding mother has even more on her plate.
According to the Mayo Clinic, breastfeeding moms need to take in an additional 400–500 calories, limit their caffeine intake, make sure they are keeping up their protein intake, and drink enough fluids. (1) When the focus is solely on the baby, making sure mom is getting enough nourishment for herself might not be as easy as one thinks.
Here are a couple of ways to educate your breastfeeding patients to sneak in those extra calories without damaging their oral health and or stalling pregnancy weight loss.
Staying away from empty calories from soda and sugar is a good way to begin this adventure. Not only will it save the teeth from acid and sugar attacks, it will also prevent fat-building calories from entering the body.
Peanut butter and fruit are good sources of extra energy. Peanut butter is an awesome dip and protein source. It is good on celery, apples, crackers, and bananas. Another great protein source, cheese, is also healthy for the teeth due to its high pH value. Cariogenic bacteria cannot thrive in a high-pH environment, so cheese and other dairy products are good choices. Yogurt, while a good source of protein, can have high amounts of added sugar, so caution your patients to check the labels. Also, some yogurts have artificial sugars, which some pediatricians do not recommend for infants and children. Checking with the patient's pediatrician or OBGYN is the best route to take if she is overindulging in foods that have artificial sugars and flavoring.
Besides peanut butter and cheese, another good snack to suggest to patients is hard boiled eggs. They are full of protein, plus they are easy to grab and go. All of these snacks are high in protein and are also excellent for maintaining good oral health.
Oral health care for the breastfeeding mom
This is a very important topic for the appointment prior to delivery, and should be reintegrated afterward. It cannot be stressed enough for her to maintain good oral health measures to ensure she does not fall into a gingivitis issue. Since some new moms really space their appointments out when they have a newborn, the office can bring the patient education to her. A nice touch for offices would be to send the expecting patient congratulations and a hygiene pack for her and the baby. This could include a 5" x 7" (or similar) patient education card covering oral hygiene tips for the mom and newborn, a toothbrush, a tongue scraper, floss, a finger cot or infant gum massager, and perhaps mouth rinse. If the patient has any other children, I would also throw in a toothbrush for them as well to surprise them. Also, have the hygienist write a note of congratulations in a card (e.g., "Congrats on your new bundle of joy. Here are some products for you until I see you at your next visit."). Have the office staff and doctors sign it, too!
I know this is a stretch, but I will guarantee you that the newborn package will not only benefit the patient—the personal handwritten touch will benefit the office, even considering the cost of the package. The patients will remember and talk to others about your kindness and caring about their oral health.
The best part of our jobs as hygienists is to educate and see the change through implementation of our education. By providing excellent caring communication through patient education we will not only see the change in our patients, but then create an excellent foundation for our patient's children—who are our future patients.
Reference
1. Breast-feeding nutrition: Tips for moms. Mayo Clinic website. http://www.mayoclinic.org/healthy-lifestyle/infant-and-toddler-health/in-depth/breastfeeding-nutrition/art-20046912. Published May 5, 2015. Accessed September 1, 2016.
---
For the most current dental headlines, click here.

---
Nicole Giesey, RDH, MSPTE, enjoys researching, writing, and educating on topics related to dental hygiene. She is the dental hygiene product specialist for Maxill. She can be contacted at nicolerdh03@neo.rr.com.