Oral health for overall health: Delivering the message to the silver tsunami
Carol Roszel describes a program in Illinois for presenting oral health information to senior citizens.
May 22nd, 2018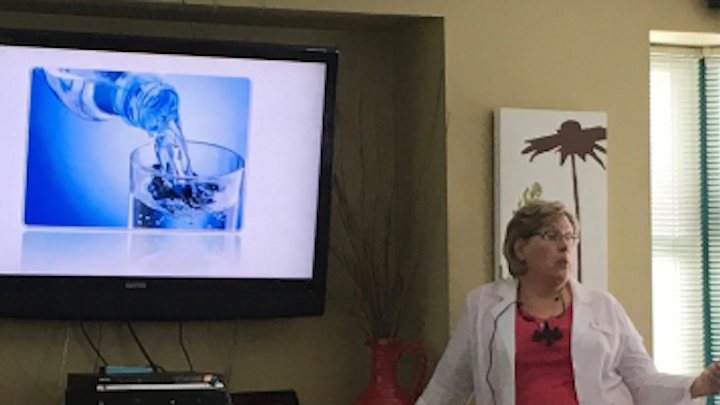 The author leads health education class at a senior citizen facility.
By Carol Roszel, RDH, BSDH
In recent years, the growing problem of inconsistent oral care in nursing facilities has come to the attention of dental professionals. This neglectful situation continues, except for certain pockets where dental hygienists have broken through the system and provide care.
According to the Institute on Aging (2009), 28% of seniors end up in skilled nursing homes.1 The remaining 72% of seniors grow older in their homes alone, or with families and caregivers who may not understand the risk of dental bacteremia. This population often lives with a plethora of health issues, such as heart disease, high blood pressure, diabetes, arthritis, asthma/COPD, cancer, and dementia. Who is talking to them about their oral health, and the effects it has on their overall systemic health?
With the federal Medicare system as it is presently, most states have little if any dental coverage, making dental care appear as an expensive luxury. Hygienists can point fingers at direct care staff for not performing oral hygiene on residents, a basic activity of daily living (ADLs) as well as the caregivers for not brushing and assisting seniors with their mouth care.
The real responsibility, however, belongs to hygienists. We need to own this problem. As dental hygienists, have we done our professional responsibility, emphasizing the importance of daily brushing? Have we armed our patients with the necessary information to make good oral health a priority? Have we shared the results of dry mouth from the medications they take? Have we given them options to make it easier?
I've always been partial to working with the elderly because of the wonderful stories they share and their grateful attitude. They are living history of life lessons.
Teaching seniors about health
Four years ago, I stepped away from clinical dental hygiene due to health reasons. I accepted a part-time position leading health care classes for older adults in senior community centers through a nonprofit called White Crane Wellness Center in Chicago. When I took the position, I explained that my heart was still with dentistry, and information about oral health for the older population is minimal, at best. I wanted to help the seniors with their dental concerns.
Nursing home resident receives dental screening.
White Crane's goal is to equip older adults with tools, knowledge, and support necessary to remain healthy, active, and engaged in their communities. Before and after the health classes, I would chat with the seniors about their oral health. Did they go to the dentist and how often? Did they know an oral infection could be detrimental to their physical health? Now engaged, the seniors would ask endless questions; they were a very attentive audience about this new information.
The most common question was where to get affordable dental care? I shared this with Elizabeth Cagan, executive director of White Crane and Michael Svete, the assistant director. Elizabeth and Michael were attracted to the idea of an oral health initiative, as there has never been an oral health program with dental screening offered before in Illinois. They were agreeable to help look for funding, if I was willing to create the program.
White Crane Wellness Center approached Community Memorial Foundation (CMF) with the idea of starting an oral health initiative. CMF's vision is that the foundation, together with the community, will transform their region into the healthiest in the country. These two entities recognized the significance of this idea and its potential impact on the older adult community. Oral Health for Overall Health was shared throughout senior communities in western Cook and southeastern DuPage counties in Illinois.
When offering the Oral Health for Overall Health program to senior centers, I routinely had to educate those hosting the program about oral health. Often, the initial contact was met with a polite decline because the void of information. I often dropped off scientific data and articles before we received a commitment to host our program.
Engaging with seniors
Kim Jochheim, RDH, BS, and Melissa Van Witzenburg, RDH, BS, MDH, shared the same passion to help this wonderful older adult community. Together, we shared important health education to over 590 seniors. The information included oral diseases, how they manifest and the complications. Also discussed was how the specific conditions and illnesses that lead to additional oral health problems and the various medication that can cause xerostomia.
The older adults were empowered with the signs and symptoms of oral cancer and what to do should symptoms arise. One lovely woman told me that she learned more about her teeth in our program than she has in all the times she's gone to her dentist. One silver-haired sweetheart simply wanted reassurance that she had a nice smile.
After hearing our presentation, those with dental homes were more inspired to go back for an evaluation.
Positive results
Over 140 older adults took advantage of the dental screening. The majority of those had no dental home and had not seen a dentist for a number of years. We screened for broken and decayed teeth, evidence of gingival inflammation, oral cleanliness, and dental abnormalities after a medical interview.
We used a MouthWatchintraoral camera to provide pictures from areas of concern or abnormalities. Originally, our hope was to send these photos directly to providers; however, providers were not set up to receive teledentistry data. The intraoral camera was a critical teaching tool that allowed the participants to see exactly what we were seeing. Participants were grateful to have a large screen to see their photos, especially those with limited vision.
A referral list was completed and made available to public health clinics, local dental and dental hygiene schools and dental programs with free or low-cost care. The county health department was willing to see any person with emergent dental needs.
In one CMF community, we found out that a township contracted with a dentist to provide dental care for the residents over 55 years of age. The dentist came to our presentation and was excited to hear the same message he has shared with his patients. "It's important for them to hear the same message from another source", he explained. Melissa and I were thrilled to partner with this dentist during the screening.
As we were talking to one elderly woman, we noticed a missing filling and two areas of root decay. The dentist came over to confirm our findings. The women became concerned and said, "I don't have dental insurance." Her face morphed into disbelief when he said, "You don't need it. Your dental work will be free of charge." If this could only happen to more people, could you imagine the impact on the lives of the elderly?
One of the more notable experiences we had reinforced that absence of pain does not preclude the need for dental care. This idea was evident as a charming woman came to us for a screening having "no dental pain, just a dull headache for two months." Her health history indicated that she was diabetic. With our intraoral camera, we were able to show her three draining fistulas in her mouth. We strongly encouraged her to visit the county health dental department, as she had no dentist and limited finances.
At the same senior center, we encountered an older gentleman with an unusual, dental abnormality between #13 and #14. No dental pain and no dental home. During the health interview, he indicated previous cancer occurrences. We asked how long had the lesion had been there? We showed the gentleman our area of concern with the MouthWatch camera and suggested he bring it to the attention of his physician.
Through our initiative, we learned that 90% of the older adults had some level of gum tissue inflammation and that 50% of them had one or more teeth that were decayed or broken. Additionally, 59% reported were identified as taking a medication, if not several, that can cause dry mouth. Very few of the screened individuals had a dentist that they were seeing regularly, while many have had no contact with any dental professional "in years."
As dental hygienists, how do we reach this population and share the impact their oral health is having on their physical health? Must the oral infections get to a critical situation before we see them? Most people do not make appointments to have heart attacks or strokes. People don't schedule coming down with diabetes. Sharing how good oral health habits minimize their risk for such conditions adds value to the procedures we perform and information we share with the public.
Individuals with aging parents need to be reminded and educated on the impact their parents' oral health can have on the well-being of their aging body. For instance, when a joint replacement is being scheduled, a dental prophylaxis should be scheduled prior to surgery along with an explanation of wanting an optimal outcome and minimal complications is appropriate. Oral health information prior to cancer treatment is vital.
Older adults want to enjoy a healthy diet, remain social, and, most of all, sustain their independence. If there is knowledge they can acquire to improve their health, they want it. Their gratitude is abundant when you take time to help them out or answer questions.
There is a great deal of work ahead of us, and it is our goal to leverage the successes and partnerships developed over this past year to expand our reach in promoting good oral health and creating greater access to oral health care.
Carol Roszel, RDH, BSDH, received her education at Loyola University. She has spent a majority of her career in various settings of clinical hygiene. She can be contacted at croszel817@gmail.com.
Reference
https://www.ioaging.org