Circle of friends: Five dental hygienists share memories of careers
Five dental hygienists, who graduated from Temple University in 1974, reflect on their careers in dental hygiene.
Jul 5th, 2016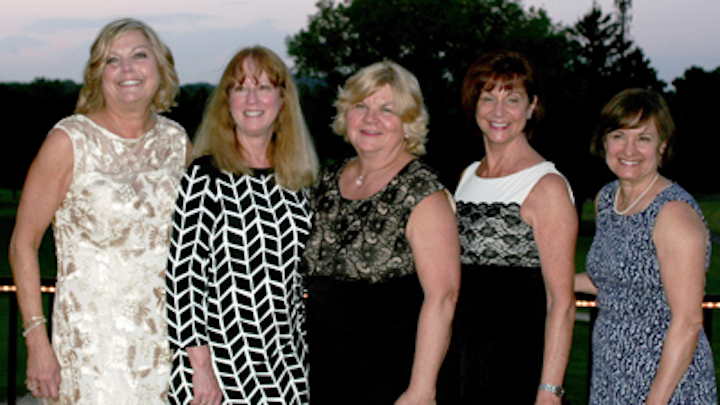 From left to right, Judy Hall, Sue Ostrowski, Sally Speir, Sandy Jorgenson, and Bethann Neiser. The five dental hygienists, who have become lifelong friends, met again at a wedding.
By Sally Speir, RDH
I would like to introduce you to five of my closest friends. We are all graduates of Temple University's dental hygiene school, class of 1974.
During the early years of her marriage, Sue Ostrowski moved to northern Virginia. She became licensed in Virginia, Maryland, and Washington, D.C. Keeping track of continuing education credits became difficult due to varying rules and deadlines in each state. Her husband, a banker, had many opportunities to work in various states and Sue wanted to be able to work wherever they lived.
She found her passion volunteering at local schools and enjoyed working with children. Instructing elementary school children on proper nutrition and dental care along with applying sealants and fluoride was extremely rewarding. In 2007, she traveled to Peru with Rotary International and used her fluency in Spanish to oversee the education division of teaching daily dental care to villages and tribes along the Amazon. In Sept. 2014, Sue she spent a month in Thailand treating medical and dental patients. Learning and living in a different culture has been exciting and also provided Sue with life experiences she will never forget.
Sue resides in Carlisle, Pa., with her husband, daughter, mother and dog. Her oldest daughter resides in another state.
Judy Hall took a very traditional path. She worked as a dental assistant, periodontal assistant, and a hygienist. Getting married and having three children worked well with her part-time hygiene job. Her current office has been a second home and safe haven for 32 years. Judy has developed friendships with some of her patients and knows all of her patients well enough to be more than just a hygienist.
Dental hygiene has allowed Judy to be with her children and to continue raising them on her own after the unexpected death of her husband at a very young age. Her career became even more important and helped her make new friends and added support that she needed. We have all tried to be there for her and offered advice when needed. Our friendship is always there.
Linda Smith began her career as a dental hygienist in 1974. She completed her bachelor's degree in 1989. After 17 more years as a clinical hygienist, Linda pursued her love of science. She received a master's degree in biology and a doctorate from Rutgers University in 1992. She is currently a tenured professor of biology in New Jersey at Robert Stockton College.
The love of the outdoors and gardening are two hobbies Linda is most passionate about. She constantly educates and introduces the five of us and others to the benefits of organic produce—a lifelong passion of hers. Many of us started our own backyard gardens and were able to give our families fresh vegetables. We continue to share plants and seeds from each other's flower beds.
Linda's knowledge has made all of our gardening efforts possible. I helped to plan and start a community garden at our local YMCA. We supplied four local food banks with nutritious vegetables for the past two summers. Linda maintained an organic farm in Red Lion, Pa., where she was born and raised. She had a local produce stand on the farm and spent her free time with her two dogs.
Linda Smith passed away in August 2015, and the remaining five members of the group dedicate this article to her.

Bethann Neiser grew up in my hometown of York, Pa. After Temple University, she went to West Chester University and received a bachelor's degree in educational services while working part-time. She practiced dental hygiene in Roxborough, Pa., for five years after graduating from West Chester. She returned to York where she met her husband. Bethann accepted a job with Dr. Runyan after a single interview and has been there for 34 years. Bethann often enjoys traveling to Key West. She lives with her husband and dog, regularly receiving visits from their two children and grandchild.
After graduating from dental hygiene school, Sandy Jorgenson began her career in an office in the Center City District of Philadelphia. In only one year, she decided she did not have a passion for hygiene and left her job for another opportunity. Sandy's brother-in-law owned two bagel shops and decided to open two bagel restaurants in downtown Philadelphia. Making a better salary and enjoying what she was doing was much more appealing to Sandy during that time of her life. Her sister also worked there.
In 1976 Sandy moved to Los Angeles and returned to hygiene again. Shortly after returning to hygiene she realized her passion for the job had been rekindled. She worked in Beverly Hills, Santa Monica, and Marina del Rey. After 17 years she relocated to Pennsylvania and has been working for 23 years at Meetinghouse Dental Care in Hatboro. Hygiene has allowed her to travel, enjoy a career and spend time with her husband, daughter, and dog.
We have all grown and matured as our lives twist and turn along the way. What were our positive and negative experiences? Would we choose the same profession again? Why it is so important that we share our knowledge to improve the lives of current hygienists practicing?
More than a hygienist
I had dreams of becoming a commercial artist. While pursuing art classes, I realized my hands are my best asset. After a lengthy discussion with my high school counselor, I was convinced that a career as a dental hygienist had more potential to guarantee a respected profession with a good salary. I could always paint in my spare time and would always consider art a hobby.
Forty years of practicing as a dental hygienist has enriched my life and given me new purpose. Interacting with a diverse group of individuals and families has opened many opportunities for me after I hang up my instruments, and I realize I love sharing stories and interacting with people. I have been supplementing my dental hygiene skills and attending numerous trainings and certifications to become a fitness instructor. Being a hygienist and interacting with so many different people for so many years has helped me be confident as a fitness instructor. I am enjoying a new career path and use many of my learned people skills while I am teaching classes at the local YMCA.
Dental hygiene has evolved into such an amazing profession over the last 40 years. I enjoy the daily challenges and expect the field to continue to grow and expand.
After 42 years in the profession, I realize that I am more than a hygienist. Being hygienists for a collective 258 years with my five good friends has given all of us a lot to be grateful for. We are married and raise our children and pets on our own schedules. Flexible hours and part-time employment are a few important qualities our jobs offer. Thousands of interesting people have become more than patients and many are now our friends.
Compensation has been good, and the work hours are manageable. We are not always offered the benefits we might hope for, but an understanding boss will work with you and your family. Listening, giving advice, and support has enabled me to gain many of the qualities I apply in my other job as a senior fitness instructor.
Along with the amazing job of being a clinical hygienist comes the realities of job-related injuries. Bethann has sought and received professional help for foot, hand, and arm issues. Judy has experienced hand and finger issues and has managed with diet and exercise. Sandy and Sue have experienced back and shoulder problems. Sandy has received physical therapy for her shoulder several years ago. Exercising, weight training, stretching yoga, and walking are some of the solutions Sandy and I have chosen to help reduce discomfort from our jobs. Reducing clinical hygiene days has proven to be beneficial to all of us. I just recently had my second carpal tunnel surgery.
Time management is our number one concern and this puts a lot of stress on us. Outside the office we need to practice stress reduction and things such as meditation, exercise, and yoga have allowed all of us to do this. For example, we have had an annual beach trip the past seven years. Meeting for breakfast, lunch, and shopping excursions allows us to catch up on our lives outside of hygiene.
We are always hygienists even though we are not always practicing hygiene. It has been a rewarding career than is more than just about the money. It has been a wonderful adventure communicating with so many different people from all walks of life. Listening is the number one skill a hygienist has to perfect. Many patients have other problems that have nothing to do with their teeth. Sometimes the only thing I deliver is a kind word, which might be all anyone needs. Many patients have sent notes or commented on how much they appreciated my concern. Hygiene is always a part of each of us and our lives whether we are in or out of the office.
How many love it?
I really enjoy my career and feel as excited today as I was when I started 42 years ago. Judy, Bethann, Linda, Sandy, and Sue join in a resounding yes when asked would you choose the same career path again. Our employers have come and gone, but we are in charge of our own destiny. In many ways, hygiene has allowed us to be our own bosses. We choose our own instruments, we see patients on our own terms, and we deliver education to our patients on our own terms.
Time management is crucial and can be stressful if you allow it to control you. Working conditions are clean and usually modern décor. Interacting with our patients has given us the opportunity to experience kindness, compassion, and caring on a much broader level. A feeling of confidence has evolved during our careers and continues to grow.
Advice to new hygienists
There are so many things I wish an experienced hygienist had shared with all of us as we began our careers. Being a hygienist has some occupational health hazards that everyone should know as they begin their career. Limiting the amount of clinical hygiene time is crucial. Resting your hands on your days off is so important to overall health. Extended use of my hands placed me in terrible carpal tunnel pain that was fortunately treated successfully with surgery. Proper positioning and the type of chair used can prevent back, neck, and shoulder damage.
Approach your employer early on and develop a good working relationship. This will prove to be so useful and important during your entire career. Develop a nice, friendly relationship with your coworkers. They will most likely become friends, and it is so much easier to works with people you know and trust. Remember to treat people the way as you want to be treated.
---
For the most current dental headlines, click here.

---