Interdental brushes, other aids provide alternatives to flossing
Millions of Americans are seeking an alternative to flossing, says Jackie Sanders, RDH, BS. She points out that dexterity limitations, embrasure spacing and periodontal issues are factors to be considered in selecting interdental cleaning aids for patients.
Mar 30th, 2011

By Jackie Sanders, RDH, BS



Biofilm continues to gain attention as more clinical studies provide more scientific evidence. Now that this research is available and we understand how dental biofilms operate in the oral cavity, dental professionals should be prepared to provide a new level of education to their patients about the need for cleaning between the teeth where bacteria hide and thrive. Most patients don't floss regularly and of those who do, many don't floss correctly. It has long been known the most severe gingivitis occurs interproximally.(1)

Millions of Americans are seeking an alternative to flossing, seeking a solution that is easy and fits their specific need. Achieving interdental health involves the patient and the clinician working together. To maximize compliance, clinicians recommend an interdental cleaning aid that is best suited to individual needs. When making this recommendation, many factors must be considered: dexterity limitations, embrasure spacing, and periodontal issues. Most importantly, which solution will assist the patient in achieving success?

Studies indicate that patients who use interproximal brushes, end tuft brushes and oral irrigation devices in addition to toothbrushing had results that were as effective as standard string floss in significantly reducing gingival bleeding scores and removing plaque.(2,3,4,5,6)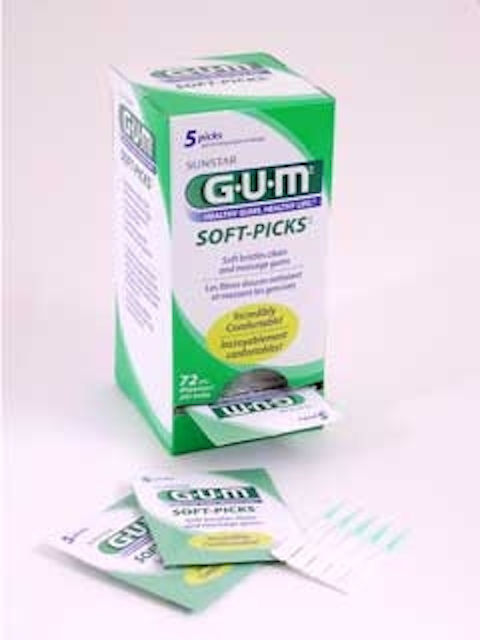 A clinical study showed GUM Soft-Picks are as effective as string floss in removing interproximal plaque and reducing gingival bleeding.(7) Soft-Picks consist of soft flexible rubber bristles with a tapered design to fit better into interproximal spaces where plaque removal is a necessity. The product is effective in healthy mouths as well as beneficial for implant care, bridges, crowns and orthodontic appliances.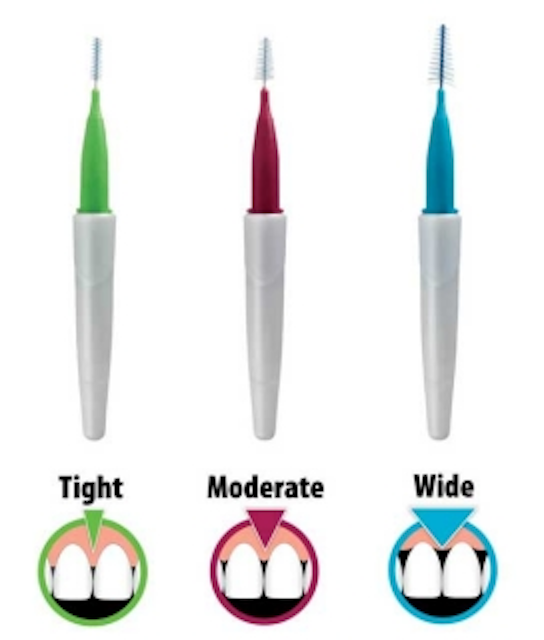 Go-Betweens Proxabrush Cleaners are designed in three individual sizes that fit into tight, moderate or wide embrasure spaces. With many root structures being concave interproximally, the proper size brush is necessary to reach into the curvature of the surface. With three sizes the dental professional can now choose the brush size that will offer the best interproximal cleaning solution to the patient. The three sizes are color coded to assist the consumer in finding the proper size when shopping.

Eez-Thru Flossers are a successful solution for the patient who likes flossing but has difficulty with dexterity skills and wrapping floss around their fingers. Many flossers are now flavored and/or coated with different beneficial medicaments, such as fluoride, xylitol or vitamin E.

Rubber tip stimulators are still a favorite solution for gingival massage and interproximal cleaning. With a longer handle to make access easy, they continue to be a very effective method for plaque removal in large embrasure spaces.

As clinicians, we must work together with the patients to develop individual strategies to control oral biofilm. Understanding that each patient has unique needs and the plan for one patient may need to be modified for another patient will result in the best solution for the professional and the patient.

References
1. Linde J. Koch G: The effect of supervised oral hygiene on the gingiva of children. J Periodont Res 2:215-220, 1967.
2. Barnes, CM, Russell CM, Reinhardt FA, Payne JB, Lyle DM (2005). Comparison of irrigation to floss as an adjunct to tooth brushing: effect on bleeding, gingivitis, and supragingival plaque.
3. Journal of Clinical Dentistry, 2005; 16(3): 71:7.
4. Lewis, M., Selders Jr., R., Holder-Ballard, C., Scarbecz, M., & Turner, E. (2005, Fall2005). Comparison of the Use of a Toothpick in a Toothpick Holder to Dental Floss in Improvement of Gingival health. Journal of Dental Hygiene, 79(4), 1-1. Retrieved May 27, 2009, from Academic Search Premier database.
5. Schuz, B., Wiedemann, A., Mallach, N., & Scholz, U. (2009, June). Effects of a short behavioural intervention for dental flossing: randomized-controlled trial on planning whe, where and how. Journal of Clinical Periodontology, 36(6), 498-505. Retrived May 17, 2009, doi: 10.1111/j.1600-051X.2009.01406.x from Academic Search Permier database.
6. Slot, DE, Dorfer, CE. (2008, November). The efficacy of interdental brushes on plaque and parameters of periodontal inflammation: a systemic review. Int J Dent Hyg, 6(4):251-2. Retrived May 16, 2009 from the Academic Search Premier database.
7. K.G. Yost, M.E. Mallatt, J. Liebman: Interproximal gingivitis and plaque reduction by four interdental products. J Clin Cent 2006; 17(3): 79-83.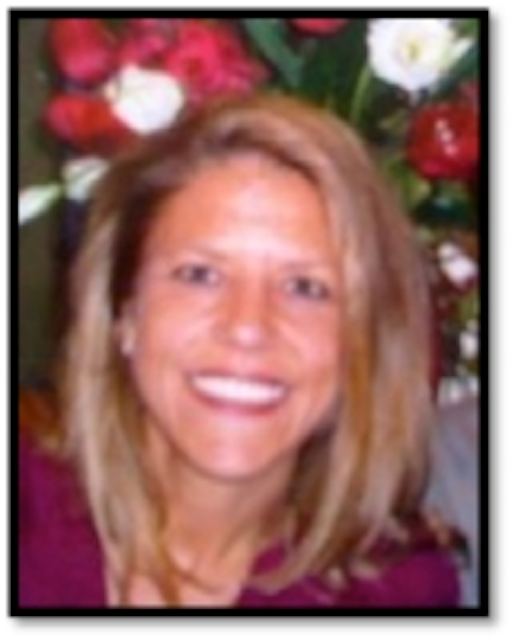 Jackie Sanders, RDH, BS, is Associate Marketing Manager at Sunstar Americas, Inc. in Chicago, Illinois. She works with key opinion leaders in the oral health community, coordinates the hygiene student program, and communicates with various professional organizations about Sunstar products and proper dental care. She is a member of ADHA, AADH and a graduate from Weber State University in Utah.