What will dental hygiene look like in 59 years? The opportunities are there
Betty Peebles, RDH, who graduated from dental hygiene school 59 years ago, reflects on the many opportunities awaiting the 2018 graduates.
Apr 18th, 2018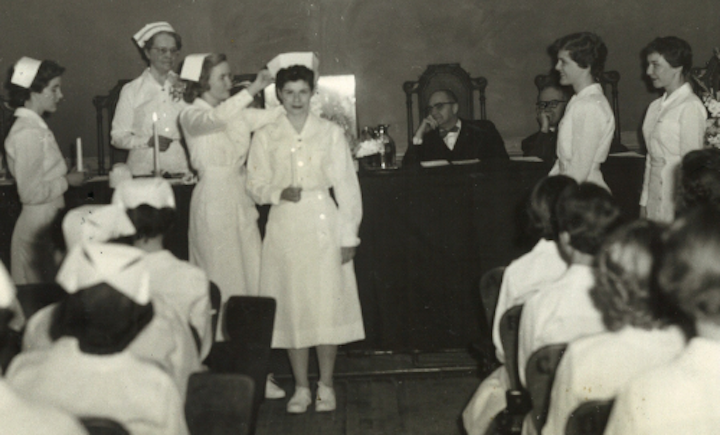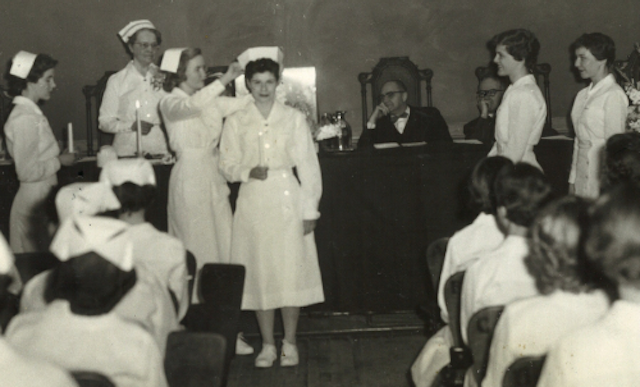 The author at her capping ceremony in 1959.
By Betty Peebles, RDH
I welcome the graduating class of 2018 to the community of dental professionals. There are some things that are important for you to know as future registered dental hygienists who are preparing to leave the classrooms and move into the health-care world.
I graduated from the University of Pennsylvania's dental hygiene program in 1959 (that's 59 years ago). It was, of course, a very different time. Hygienists wore the traditional nursing caps. A purple stripe across the cap indicated we were hygienists. We also wore white, stiffly starched nurse uniforms that came down to our ankles and white nurse shoes. We were called dental nurses.
Men were dentists, and women were hygienists. We understood that we were to learn everything we could, be friendly, responsible, and certainly be respectful.
If we were able to secure a job in a dental office after graduation, it was our duty to do our best to support our doctor and his patients.
My first job paid $75 a day. I was given 30 minutes for lunch, and I saw 18 patients a day. Most of us worked two-part time jobs. So, of course, there were no benefits, contributions to Social Security, or retirement. We were proud. It simply never dawned on any of us that there might be more, that after 10 or 15 years of clinical experience that we could continue to grow.
Some of us left the profession mid-career to try new things such as real estate or stayed home as full-time mothers. Things have drastically changed. Your class will have a very different career options. I can't even imagine where you will be in 2077 (59 years from now). First, you need to understand where your profession is now, and what opportunities and responsibilities you will have when you graduate. This will allow you to make good career decisions for yourself.
You are one of the first classes to have these choices, since many of the changes are very recent. You can thank the hygienists who came before you and your associations that not only broke glass ceilings but cracked the windows and doors. Be clear, it will be up to your generation to keep dental hygiene opportunities growing.
What are these opportunities?
A hard fact is that the most exciting options will be available to those of us who have a four-year degree. If you have an associate's degree, don't panic! Go back to school when you can. There are many great educational options, including online programs.
Here are some career options:
You can consider dental research. Some universities and the National Institute of Health, a premier federal government research institute, has hygienists working side-by-side with practitioners and scientists on clinical research.
Teaching remains a rewarding and critical career.
The possibility to become a mid-level provider is still in development in most states, but it is a breakthrough change for our profession and a critical solution to the public health crisis.
Public health careers offer exciting and critical opportunities to make real differences in people's lives. Most people, even those within the dental profession, do not know that the need for oral health education and treatment is the third most urgent health care need in the world.
Where should you begin? Start where you are. New graduates need time to work in clinical practices to solidify their clinical skills. First, work as a hygienist until you are confident and at the top of your game. Be the best hygienist possible. Learn from the doctors, hygienists, dental assistants, office managers and patients that you work with.
Consider tempting or joining a dental travel program. The time spent in a dental travel program is like an internship that speeds up your learning and allows you to work in different environments. In six or eight months you will be exposed to every specialty and office environment. It will challenge your growth not just professionally but personally.
Go back to school. Stay involved with your state and national associations. These groups are leading the way and will keep you informed. Volunteer in your community. You will see things you won't believe while learning, making a significant difference in your patients' lives. We all live in our own bubbles, and they are comfortable; move out, if only for a little while. You need to keep learning and challenging yourself!
You are now a professional and that comes with responsibility. You have an obligation to your patients, fellow hygienists and yourself to carry on your expanding dental horizons beyond anything my generation of hygienists ever imagined.
Class of 2018, break things. We paved the way. It's your turn. Now is your time! Seize the moment. I send you on your way with hope and love. Go do magnificent things! I can't wait to see what you all accomplish.
Betty Peebles, RDH, is a former educator and founder of Team Placement Service, Inc. established in 1983. Currently, Betty is serving as President of the Jon C. Burr Foundation, which is fighting for access to dental health care for everyone. Team Placement Service, Inc. (TPS) is a premier dental staffing firm with over 35 years of experience. TPS operates the only Dental Travel Program in the nation providing dental professionals the opportunity to work and travel.