Simplifying Technology With Creative Operatory Monitor Placement
Every few years, an innovation in dental operatory design appears that significantly transforms the experience of the dental visit by the way it both increases efficiency and professionalism for the dentist and creates a more relaxed, enjoyable experience for the patient.
Nov 1st, 2005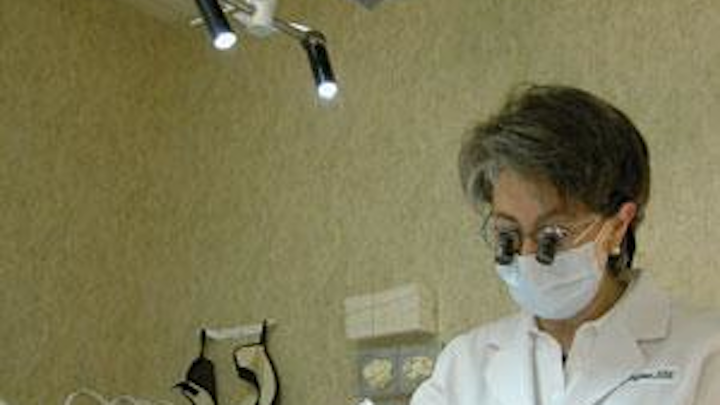 Every few years, an innovation in dental operatory design appears that significantly transforms the experience of the dental visit by the way it both increases efficiency and professionalism for the dentist and creates a more relaxed, enjoyable experience for the patient.
WRITTEN BY Deborah Smith
Most women dentists today appreciate the value of monitors in the operatory for relaxing patients, making case presentations and co-diagnosis, and viewing digital X-rays. The problems associated with operatory monitors have primarily been where to place them, total integration for the dentist, and position for optimal patient viewing and no interference for the clinician. To date, most monitor placements have been cumbersome and impractical for creating a useful, esthetic, high-tech environment.
This article describes how four dentists - two who built new offices and two who updated existing operatories - found a unique, high-tech solution to maximize space and esthetics, improve ergonomics and efficiency, integrate technology, and best of all, create a more relaxed and enjoyable experience for their patients. The product they implemented is the DentalChairPotato (DCP), an over-the-patient monitor system integrated with a cold, glare-free fiber-optic operating light that consolidates operatory technology into one location. The dentists report they can easily use their intraoral cameras without repositioning patients or interrupting workflow.
Ergonomics for the clinician and the patient
Dr. Pam Doray, who recently remodeled two operatories in her downtown Philadelphia office, cites three reasons for choosing this monitor system:
"I provide a lot of extended treatment visits and long, full-mouth cosmetic reconstruction appointments, so I needed a way to make patients comfortable and distracted for long periods of time. With the DCP, patients are relaxed and have movies to watch, so I can focus completely on clinical excellence. Second, patients are impressed by the sleek ergonomic design, especially first-time patients who seem genuinely 'wowed' by the experience and delighted that they can watch TV. They tell their family and friends, which generates a surprising number of new patients for my practice. Finally, I wanted an excellent operatory light minus the heat and glare. What I love about the DCP fiber optic lighting system is that it fully integrates with the monitor, and angles easily for different procedures."
Technology can mean better dentistry
Dentists want to make better use of technologies such as intraoral cameras and patient education programs. Dr. Elizabeth Reiter, who recently built an office in Las Vegas, remarks, "I had such a hard time using the camera. I'd tour the mouth, stop, walk over to the corner to turn on the monitor, then sit the patient up, and the monitor was so far away he or she couldn't see much. Now I use the camera without hesitation. This is a seamless system for me that actually helps me use all of my technology."
Dr. Lisbeth Bradley uses five DCPs in her new dental office near Nashville. She notes, "The best feature of the DCP for me is my ability to position patients exactly where I want them, then adjust the monitor to the patient. The overhead placement of the monitor is by far the best solution I've seen. As I work, if I want to show patients something, they can see the monitor without disturbing my work rhythm or their comfort."
Higher treatment acceptance
The dentists have also increased treatment acceptance with the DCP. Dr. Reiter says, "Now when I suggest procedures, I show digital X-rays right on the monitor. Patients can see exactly what the problem is and immediately understand that what I'm suggesting is in their best interest."
Because patients have a clear, home theater-like view of the monitor, many who see the actual state of their oral hygiene for the first time are shocked and motivated to take better care of their mouths.
Patient comfort equals relaxation
Many dentists cite patient relaxation as the most significant benefit of integrating an over-the-patient monitor with a glare-free operating light. Dr. Mary Dighton, who updated her operatories in Lenexa, Kan., says, "Most of our patients bring their own DVDs. From the second I start the movie, they just lie there as if sedated. They don't fidget or talk. It's almost like working on a mannequin in dental school. One of the biggest differences we've noticed is the change in the atmosphere of our office, which is quieter, more peaceful, and much less stressful."
Dr. Lisbeth Bradley adds, "Relaxed patients make us more relaxed. An integrated monitor and light system is easy to use, and my staff picked it up very quickly. It also makes them proud of our new office."
Dr. Reiter shares the story of a self-proclaimed high-fear patient who came in for a crown prep and was visibly nervous. After putting a movie on the monitor, the patient relaxed. Imagine the patient leaving the office and telling the receptionist, "That's the most fun I've ever had in a dentist's office!"
Referrals and word-of-mouth marketing
The dentists were pleasantly surprised by the growing level of new patient referrals generated by patients who were dazzled by the experience. Dr. Reiter says, "The DCP sets us apart from other dentists. It shows we're thinking about our patients and that we care about them. That's our niche as women dentists. We are perceived as nurturers and mommies, people who won't hurt you. This system really makes patients feel relaxed and cared for."
Dr. Bradley adds, "The patients definitely talk about our high-tech office to their families and friends. The DCP enhances our image and puts a positive spin on the dental experience. Some patients actually tell us they look forward to their dental visits to relax and watch a movie." ■
Are you considering an Integrated Monitor System?
Here's some advice ...
Dr. Dighton: "I strongly suggest putting a DCP in every operatory. Once you start using it, you won't want to work in the rooms without one. If you can afford only one unit, use it in the room where you schedule your longest appointments. Hygiene patients especially love it. And know that a system like DCP will pay for itself in many different ways."
Dr. Elizabeth Reiter:"Make sure your operating light and monitor are totally integrated and that the patient has a clear view unobstructed by hot glaring light. With the DCP, I can easily interchange DVDs, the camera, and digital X-rays, the light is focused, and it looks great in my new office. I definitely feel I have recouped my investment, and I can see how patients benefit from the technology."
Dr Doray: "Think about how you work. In my opinion, this system works best in patient-centered offices that offer high-end care and long appointments. The cost justification comes in the form of increased productivity, enhanced image, word-of-mouth referrals, and the goodwill generated by patients who feel more comfortable and better cared for."
Dr. Lisbeth Bradley: "I think it's a good idea to visit dental offices to see various integrated monitor systems in operation. Sit in the chair, notice the lighting, and spend some time determining if the system would work well for your style."
Deborah Smith
Ms. Smith, a high-tech consultant in the consumer electronics industry, served as a vice president for Tweeter Home Entertainment for seven years and as the executive director of PARA, a division of the Consumer Electronics Association, for 14 years. She can be contacted at dsmith@deborahsmithgroup.com.
ABOUT THE INVENTOR ...Steven M. Seltzer, MBA
Mr. Seltzer is a dental technology expert and Harvard MBA. The inventor of the DentalChairPotato, he has taught at Boston University, New York University, and Tufts Dental Schools, served as a consultant to the ADA Council on Dental Practice, and lectured at dental meetings for more than 15 years. The DentalChairPotato is available from Seltzer Institute. You may contact Mr. Seltzer at (800) 229-8967, steve@hitecdentist.com, or www.dentalchairpotato.com.