Oral-B introduces first of its kind power toothbrush to the U.S.
he New Oral-B Professional Series Deep Sweep is a breakthrough in brushing technique for U.S. consumers
Feb 6th, 2013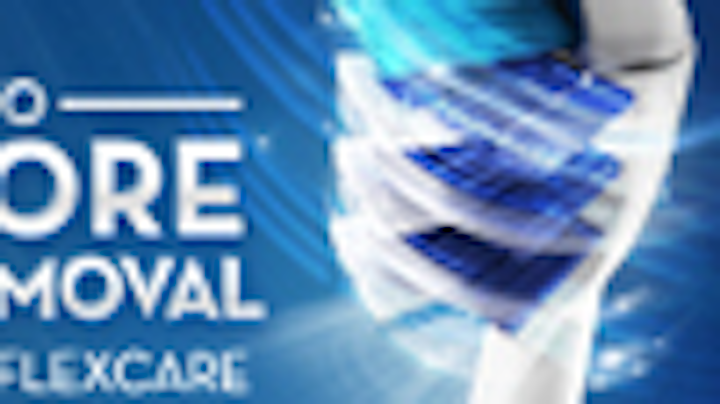 CINCINNATI — Oral-B announces the launch of its newest rechargeable power (electric) toothbrush to the popular Professional Series line-up: the Professional Series Deep Sweep TRIACTION. The new Oral-B Deep Sweep TRIACTION toothbrush is a breakthrough in brushing – the first of its kind in the U.S. to combine the familiar brushing motion of a manual brush with the comprehensive power of advanced triple zone cleaning action to cover more surface area and remove up to 100% more plaque vs. a regular manual toothbrush. Furthermore, with up to 48,800 bristle movements per minute, select models of the Oral-B Deep Sweep TRIACTION remove up to 76% more plaque in hard-to-reach areas vs. Sonicare FlexCare. "Taking proper care of one's teeth and gums is essential for optimal oral health," said Dr. Jonathan B. Levine, world-renowned dental expert and Oral-B partner. "I recommend Oral-B power toothbrushes to my patients because they are superior to manual brushing in removing plaque, and come with a variety of features to address every patient's brushing style." RELATED ARTICLE: Crest Oral-B celebrates profession's 100th anniversary at CareerFusion RELATED PRODUCT: Oral-B Crossaction Power Max Whitening With its familiar, manual-shaped brush head designed to compliment people's natural, back-and-forth brushing motion, Deep Sweep TRIACTION has a unique combination of sweeping and stationary bristles, and a dynamic angled power tip that cleans effectively in hard-to-reach areas. Inspired by the dentist-recommended Bass technique, Deep Sweep TRIACTION's dynamic bristles sweep perpendicular to manual brushing motion while unique two-level tufting makes sweeping bristles longer to ensure they reach deeply between teeth. "We at Oral-B listen to our customers and strive to provide them with the best oral care solutions," said Rishi Dhingra, marketing director, Procter and Gamble. "Deep Sweep TRIACTION provides what many customers have long been looking for – the familiarity and experience of a manual brush coupled with the cleaning performance of an Oral-B power brush – and we're excited to be able to meet that need for our customers nationwide." Like other Oral-B power toothbrushes, all Deep Sweep TRIACTION brushes feature a professional timer that signals at 30-second intervals to encourage thorough brushing in the four quadrants of the mouth, and at two minutes to indicate when the dental expert recommended brushing time has been reached. A pressure sensor in the brush head stops pulsations when someone brushes too hard, and Indicator bristles remind users to replace their brush head every three months. The Deep Sweep TRIACTION power toothbrush is available in multiple models, including the Professional Series Deep Sweep TRIACTION 1000 and Professional Series Deep Sweep + Smart Guide TRIACTION 5000, offering consumers a choice of prices and features that best suit their needs. Oral-B Professional Series Deep Sweep TRIACTION brushes cost from $64.99 to $159.99. For more information, visit OralB.com or Facebook.com/OralB.