Tuesday Tip from Pride Institute: The ADA Landscape Report
The report tells dentists something about what to expect in the future

Apr 1st, 2014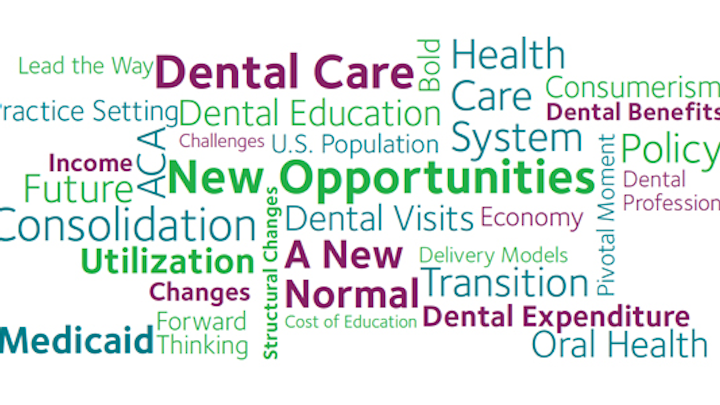 By Kristine Hodsdon, RDH, MSEC, Consultant/Trainer Pride Institute
As a dental consultant and coach, any information about our industry is exciting to me. The ADA study on the "dental care sector" got my attention real quick.
A report titled, "A Profession in Transition: Key Forces Reshaping the Dental Landscape," summarizes key findings of an environmental scan that was carried out by the ADA, and assisted by Derringer and Associates, as part of the ADA's 2015-2020 Strategic Plan development process.
The dissemination of information and findings were offered after a literature review and key informant interviews. The findings fall into five themes:
1. People
2. Providers
3. Payments
4. Policies
5. Practice implications
Here are the archetype topics as reported in the executive summary.
People
• The population is getting older and more diverse, leading to different disease patterns, care‐seeking behavior, and ability to pay.
• Consumers are becoming more astute purchasers of health care and looking for value for their spending.
Providers
• An increasing number of dentists are being trained, but mounting debt burden and changing demographics are altering the practice choices for new dentists.
• Pressures are growing for an expanded dental team to provide preventive and restorative services.
• Care is being integrated within "patient centered medical homes" in medicine, but this has been slow to develop for dental care services.

Payments
• Payment for dental services is shifting from commercial dental insurance to public coverage and personal out of pocket payments.
• Commercial dental plans are using more selective networks, demanding increased accountability through data and performance measures, and pressuring providers to reduce costs.
Policies
• The Affordable Care Act pediatric dental benefit will provide millions of additional children with dental coverage through the small group and individual markets and optional Medicaid expansions.
• With a growing number of participants, public programs will require increased accountability from dental providers.
Practical Implications
• With the increased demand for value in dental care spending, practices will need to become more efficient.
• The trend toward larger, multi‐site practices will continue to be driven by dental plan pressures for small provider networks, practice patterns of new dentists, and increased competition for patients.
• Health care reform and Medicaid expansions with an increasing emphasis on outcomes and cost effectiveness will encourage other models of dental care.

"Change is the new normal." When thinking about future implications, remember you are not alone. You can discuss changes with your Pride consultant. If you don't have a Pride consultant, give us a call or send a message. We care!

Critical Trends Affecting the Future of Dentistry — Diringer and Associates' Executive Summary (PDF)

-----------------------------------------------------------
PAST TUESDAY TIPS:
Schedule the hard-to-fill appointments first
Dentist has come full circle with Pride
Helping your dental team hope
----------------------------------------------------------
Tuesday Tips from Pride Institute are provided weekly on their Facebook page as well as in this column in DentistryIQ. To ensure you don't miss any of Pride Institute's proven methods to take your practice to the next level, visit prideinstitute.com, and like them on Facebook!