Solo or group dental practice? Don't overlook these factors when deciding a practice's future
Group practices are on the rise, and dentists must decide which one is better for them and their team – group or solo practice.

Aug 19th, 2014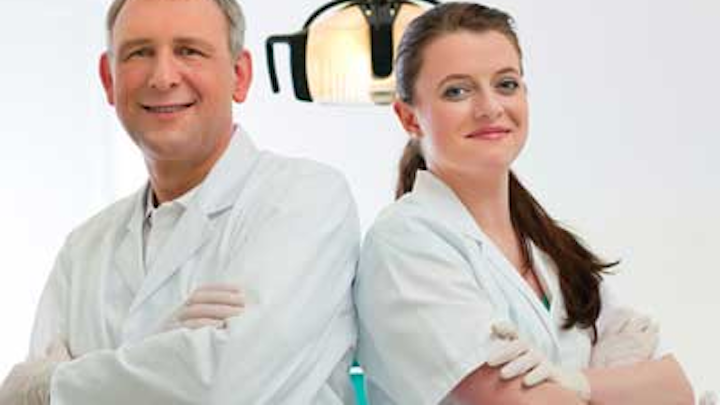 There are a seemingly unlimited number of advice columns, online communities, books, support groups, and counselors for people who need help maneuvering the ins and outs of dating, relationships, and marriage. Unfortunately, there are fewer resources for dentists trying to decide if merging with another practice, joining a large group practice, or practicing solo is the best strategy for their business.
The ADA reports approximately 6.4% of members are part of a larger entity with multiple locations, which is up from 5.4% in 2008.[1] Changes in payer reliance on restricted preferred provider networks and demographics of new dentists contribute to the rise in consolidation, as well as the increased number of associates in practices. In addition to lifestyle choices and increased debt for dental students, graduating dentists are more likely to be women, who often choose to work part-time and do not aspire to practice ownership.[2]
While the trend toward large group practices and multi-location dental firms is slowly growing, dentists must consider how to position themselves – from business philosophy to financial and clinical technology – to succeed in whichever arena they choose – solo or group.
No matter the scenario, there are a number of questions that should be asked early in the decision-making process. By considering all of the factors that affect a relationship, you can avoid heartbreak later.
How do I know if the relationship is right for me?
A professional relationship is similar to a personal one. The associate, the practice that is being acquired, or the group with which the practice is consolidating must be like-minded practitioners. Not only should practice philosophies related to clinical care of patients be similar, but dentists should approach management of staff, use of technology in business operations, and commitment to patient experience the same way. For example, do both practitioners use technology to streamline the benefits verification process in order to provide patients with accurate estimates at the time treatment is recommended?
Solo practitioners must decide if they're ready to share responsibility for decisions and, in many cases, select someone in the group to act as the final authority. This is one of the most difficult aspects of consolidation for many dentist-owners who built their business from the ground up and handled all decisions along the way.
What challenges should I expect?
One of the most significant challenges for dentists who are acquiring other practices or adding new associates or locations is financing. Developing a business plan and necessary documentation is outside the scope of expertise for most dentists. They should be prepared to hire outside help with the initial expansion and financing, and be open to employing a practice administrator when the group reaches a certain size or level of complexity. Not only can an administrator handle day-to-day patient interactions, staff, and finances, but an administrator can help set long-term goals for the business to ensure success and growth.
What if I'm not ready for a relationship?
Many dentists prefer solo practice. Even if a dentist has no aspirations to join a large group or expand services with additional associates and locations, increasing competition from other dentists and large groups requires strategic planning to ensure sustainability.
The easiest way to differentiate a practice is to pay attention to the patient experience. Implement processes that ensure patients are delighted with their care, which leads to a loyal patient base and positive word-of-mouth advertising. Another key strategy is to support other solo practitioners within your personal and professional network by referring to endodontists, medical doctors, orthodontists, and oral surgeons, who are also solo practitioners offering excellent service.
Evaluate office workflow and business practices, and implement technology that supports staff by automating repetitive tasks and providing access to information, such as patient eligibility and benefits verification, quickly and efficiently. Implementing the right technology can improve cash flow by improving collections, and will allow staff to focus on providing a good patient experience.
Planning leads to happy relationships
Not surprisingly, the very things that can make a solo practice successful are also the factors that make a practice attractive for consolidation. Potential associates or partners want to affiliate with forward-thinking, financially successful practices that offer opportunities. So, if the long-term business goal is to consolidate, stay up to date with clinical and financial technology to strengthen the practice's bottom line and develop loyal patients.
Personal relationships require a commitment to making them work, and business relationships are no different. When dentists take time to carefully evaluate options, identify what is most important to them, and put processes in place to ensure success, everyone benefits – patients, staff, and dentist-owner.
Karlene Bostick is regional business executive at OneMind Health. With more than 20 years of experience in the dental industry, Karlene is responsible for overseeing strategic partnerships with dental practices and groups of all sizes to optimize financial management efficiencies.
REFERENCES:
1. Diringer J, Phipps K, Carsel B. A Profession in Transition: Critical Trends Affecting the Future of Dentristry: Assessing the Shifting Landscape. American Dental Association. May 2013.
2. ibid