AADOM member Elizabeth Markiewicz receives Green Leader Award
Henry Schein has announced that Elizabeth Markiewicz of Mundelein, Illinois, is the winner of the third annual Green Leader Award.

Oct 27th, 2014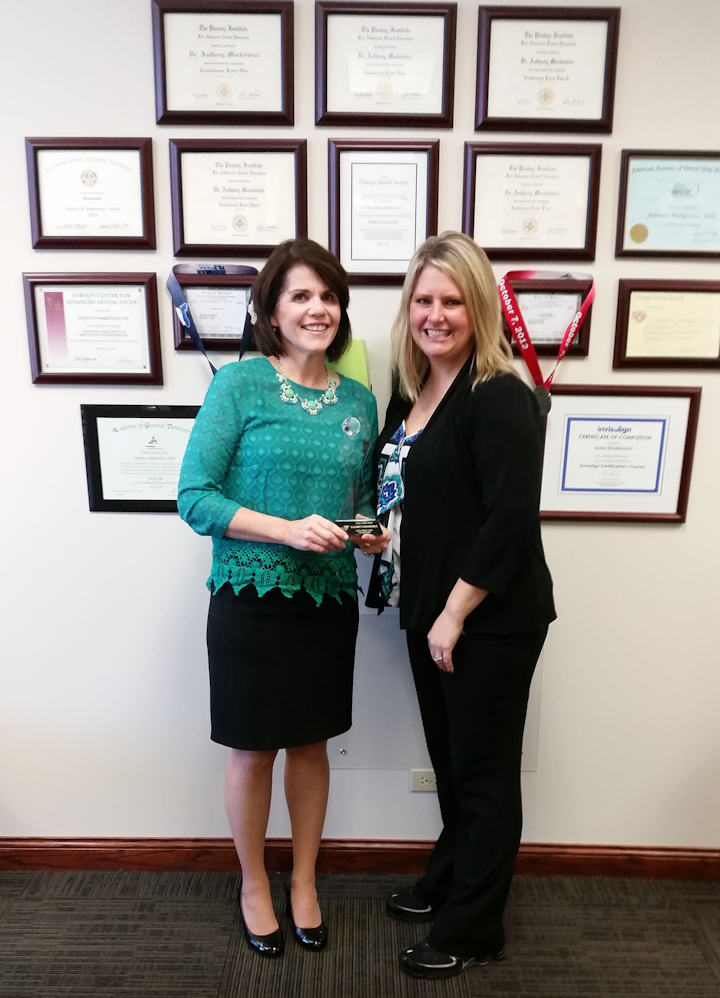 Henry Schein Inc. has announced that Elizabeth Markiewicz from Dr. Anthony Markiewicz's office in Mundelein, Illinois, has been selected as the recipient of the third annual Green Leader Award. The American Association of Dental Office Managers (AADOM) presented the award to Mrs. Markiewicz at this year's AADOM conference. Mrs. Markiewicz was recognized for her outstanding leadership in inspiring her team to reduce waste and pollution; conserve energy, water, and money; and incorporate a wellness-based and high-tech approach in their dental practice.
The award was created as part of the Green Leader Initiative, which was developed to educate dental office managers around the country about easy-to-implement strategies that can help an office to reduce its environmental footprint and support its practices in achieving greater financial success. The Initiative aims to empower practice managers to lead their teams in becoming part of dentistry's green future, and it was made possible by a generous grant from the Henry Schein Cares Foundation.
"When we read Elizabeth's story, we knew she was the one," said AADOM Vice President Lorie Streeter. "She represents the spirit of the award and of AADOM. Her team values her, and she believes in making her environment a reflection of their excellent work."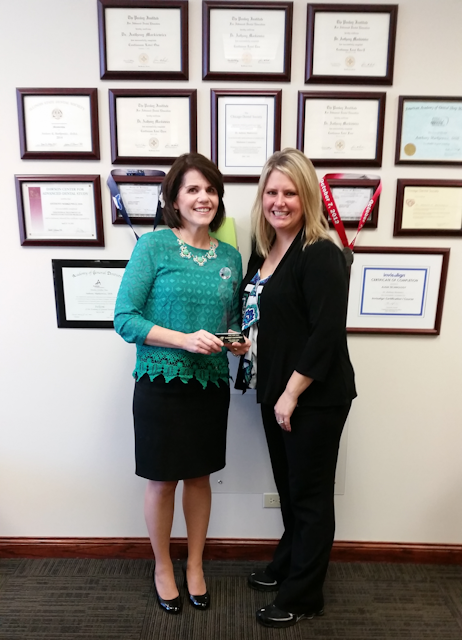 Elizabeth Markiewicz (left) with Henry Schein field sales rep, Denise Semrow Casey(right)

Mrs. Markiewicz, an AADOM member and fellow of the organization, was presented with the award in recognition of her hard work in moving her office to achieve a gold award in Leadership in Environmental and Energy Design (LEED) for Commercial Interiors.
"It is an honor and a privilege to be the recipient of the Green Award. I would like to thank the American Association of Dental Office Managers and the Henry Schein Cares Foundation for recognizing our office as a Green Leader. It isn't the work of just one person to receive this award; we have a wonderful team of eight employees that help with all of our going-green efforts. We hope to inspire other offices to make green choices," she said.