Fluoridation efforts of states and communities honored
ADA, Association of State and Territorial Dental Directors offer accolades.

Jun 10th, 2013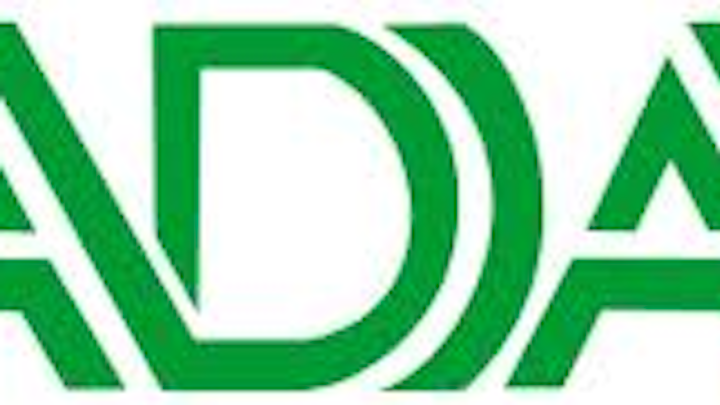 CHICAGO, Illinois—Marking 68 years of community water fluoridation, the American Dental Association, the Association of State and Territorial Dental Directors, and the U.S. Centers for Disease Control and Prevention have honored 112 states and communities with 2012 Fluoridation Awards at the National Oral Health Conference at the Von Braun Center in Huntsville, Ala.

The Fluoridation Merit Award honored the Children's Dental Health Project and the Campaign for Dental Health for its efforts to maintain and expand the benefit of community water fluoridation.

The Children's Dental Health Project developed the Fluoride Legislative User Information Database, or FLUID, the first publicly available database on the legal status of community water fluoridation in the United States.

A comprehensive resource containing historical information on legal cases decided by U.S. courts, FLUID offers current information on federal and state policies about fluoridation. FLUID is often used by fluoride supporters as an authoritative resource to defend and promote community water fluoridation.

The Children's Dental Health Project worked with the ADA, the City University of New York/Hunter College School of Nursing, and the CDC Division of Oral Health to develop the resource. With continuing support by the CDC, it is now maintained in partnership with the American University's Washington College of Law.

The Campaign for Dental Health was developed and launched by the Pew Children's Dental Campaign to help ensure every American has access to community water fluoridation. Oral health advocates, health professionals, and scientists volunteer together to preserve the nation's gains in oral health by providing reliable scientific information about oral health and community water fluoridation.

In April, U.S. Surgeon General Dr. Regina Benjamin officially endorsed community water fluoridation as "one of the most effective choices communities can make to prevent health problems while actually improving the oral health of their citizens."

The American Dental Association has supported fluoridation since 1950. The Centers for Disease Control and Prevention has proclaimed community water fluoridation as one of 10 great public health achievements of the 20th century.

A total of 16 communities in seven states were recognized with Community Fluoridation Initiative Awards for passing water fluoridation initiatives during 2012. Another 16 communities in 12 states received Fluoridation Reaffirmation Awards for defeating initiatives to discontinue fluoridation or approving initiatives to maintain fluoridation.

Seventy-one water systems in 21 states received National Flouridation Fifty Year Awards for achieving a half a century of continuous water fluoridation in 2012.

Additional Awards include the following:

* Arkansas received the State Fluoridation Initiative Award for having the greatest increase in population receiving fluoridated water in 2012.
* Massachusetts, Maine, Nebraska, Nevada, North Dakota, and Virginia received State Fluoridation Quality Awards for maintaining the quality of fluoridation and optimal fluoride levels.
* Michigan and Delaware received Healthy People 2010/2020 awards.

For the complete list of winners, visit http://www.ada.org/sections/advocacy/pdfs/AwardsBrochure13.pdf.

For more information, visit www.ada.org.

To comment on this subject, go to http://community.pennwelldentalgroup.com.