VITA VM LC color palette expands
Palette expanded for greater shade choice.

Jul 29th, 2013
BREA, California--VITA's VITAVM LC Classical line has been expanded from 10 to 15 colors for greater shade choice.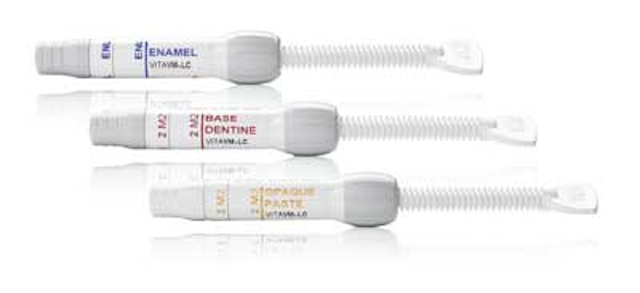 The range of new Classical shades includes B4, C1, C4, D2, and, D4 to complete the Classical shade line. With the expanded color palette, VITA VM LC is now available in the full line of 3D-Master and Classical shades.

A new effect enamel material (EE2) has also been added to the VM LC line, and can be used as an alternative to ENL. For less translucent results, VM LC EE12 can be used as a replacement for enamel (except in the case of bleached shades).

Designed for a range of indications, VITA VM LC offers processing characteristics for quick results, shade stability, and low plaque affinity. VITA VM LC mimics the reproduction of the fluorescence and opalescence of natural teeth, creating an esthetic restoration that is virtually indistinguishable from those of ceramics.

For convenience, VITA VM LC can be built up over metal and resin frameworks, and is indicated for veneering of full and partial crowns, bridges, inlays, and onlays. It can also be used to individualize VITA denture teeth, including Physiodens, Lingoform, Vitapan, Vitapan Plus, and MFT.

The new Pre Opaque bonding agent further improves adhesion between the framework and veneer. Pre Opaque can be applied optionally as an initial layer over the bonding system, and thanks to its low viscosity, flows reliably into retention undercuts where its high translucency helps ensure that it sets properly.

The new VITA VM LC Opaque Paste should be applied after polymerizing Pre Opaque. For convenience, Opaque Paste is already premixed in the syringe, helping to eliminate potential errors as a result of applying the incorrect amount of opaque material and significantly reducing the time required to complete veneering.

For more information, call (800) 828-3839 or visit www.vident.com.

To comment on this topic, go to http://community.pennwelldentalgroup.com.