Proofs: Industry Updates
Apr 7th, 2016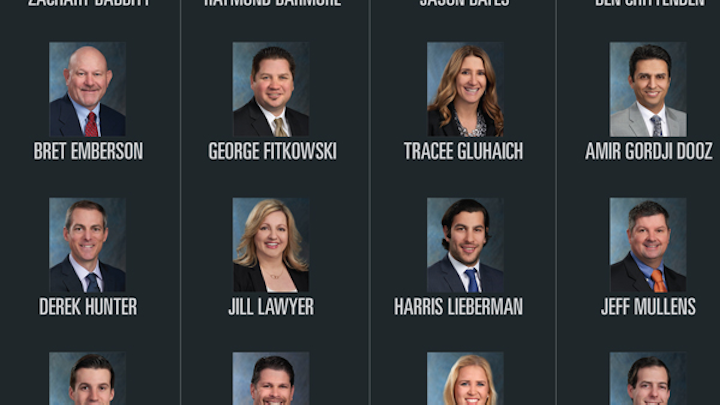 SCIENCE AND TECHNOLOGY
New patent on synthetic molecules brings researchers closer to new periodontitis treatment
Donald Demuth, PhD, and Frederick Luzzio, PhD, receive patent for biochemical structure that could provide a promising periodontitis treatment
University of Louisville researchers recently received a patent on a synthetic biochemical compound and its variants, moving science closer to a treatment for gum disease. This discovery could lead to the formulation of a mouth rinse or tooth varnish to prevent the pathogen Porphyromonas gingivalis from colonizing in the mouth and establishing itself orally.
Dr. Donald Demuth, associate dean for research and enterprise, University of Louisville School of Dentistry, and Dr. Frederick Luzzio, professor, University of Louisville College of Arts and Sciences, Department of Chemistry, developed and tested 40 different molecular compounds, and the three most potent compounds are being further developed.
This patent builds on the previous work of Demuth and other University of Louisville dental school researchers who developed a series of peptides, the building blocks of protein in a cell, that prevent interaction between P. gingivalis and Streptococcus gordonii.
"When P. gingivalis enters the oral environment, it initially interacts with the bacterium S. gordonii-an otherwise benign organism-in order to lay the groundwork to propagate and ultimately gain a foothold below the gum line, leading to periodontal disease," Dr. Demuth said.
Dr. Demuth found that administering the peptide in an animal model prevented P. gingivalis-related bone loss (i.e., the clinical symptom of periodontal disease) and prevented the spread of the bacterium in the mouth. He says creating peptides is expensive, but synthetic compounds that mimic the active peptides are easier to formulate and less costly to produce on a large scale.
Dr. Luzzio and Dr. Demuth hope to improve the potency and stability of the three synthetic molecular structures, and eventually gain approval for a clinical trial.-University of Louisville press release 14 December 2015
INDUSTRY UPDATES
HHS and USDA release new dietary guidelines advocating decrease in added sugar intake
Edition is the first to recommend a quantitative limit for added sugar intake
The HHS and USDA have released updated nutritional guidelines that encourage Americans to adopt a series of recommendations to improve how they eat to reduce obesity and prevent chronic diseases such as Type 2 diabetes, hypertension, and heart disease.
The newly released 8th edition of the Dietary Guidelines reflects advancements in scientific understanding about healthy eating choices and health outcomes over a lifetime. This edition recognizes the importance of focusing not on individual nutrients or foods in isolation, but on the variety of what people eat and drink-healthy eating patterns as a whole-to bring about lasting improvements in individual and population health.
Based on a review of current scientific evidence on nutrition, the 2015 edition includes updated guidance on topics such as added sugars, sodium, and cholesterol and new information on caffeine. For example, the 2015-2020 Dietary Guidelines is the first edition to recommend a quantitative limit to consume less than 10% of calories from added sugars.-HHS press release 7 January 2016
Septodont acquires injectable dental anesthetic manufacturing plant from Dentsply International
Septodont announces its acquisition of DLA, an injectable dental anesthetic manufacturing plant located in Brazil, from Dentsply International
Septodont (Lancaster, Pennsylvania) has announced that it has acquired DLA, an injectable dental anesthetic manufacturing plant, from Dentsply International. The plant is located in Catanduva, São Paulo, Brazil, and the acquisition was done through Septodont's Brazilian affiliate, TDV.
Septodont currently owns manufacturing plants in Brazil, France, the United States, Canada, and India. Annually, Septodont produces more than 500 million dental injectable anesthetic cartridges, which are distributed to dental professionals in more than 150 countries. DLA produces injectable dental anesthetics under the brands of Lidostesim (lidocaine), Mepivalem (mepivacaine), and Citanest (prilocaine).
This acquisition is Septodont's second in the Brazilian market. In 2014, Septodont acquired TDV, which is based in Pomerode, Santa Caterina, Brazil. With this new investment in DLA, the company plans to strengthen its presence throughout the Latin American region and beyond.-Septodont press release 1 February 2016
United States District Court ruling sets stage for expansion of 'dental specialties,' practitioner independence from ADA restrictions
Federal court rules dentists in Texas can advertise as 'specialists' in anesthesia, implantology, and non-American Dental Association (ADA) specialties. Decision will likely shape the future of dental practice in the United States.
In late January, the United States District Court for the Western District of Texas, Austin Division, ruled that the Texas State Board of Dental Examiners could not prohibit two dentists, Drs. Jay E. Elliot and Monty Buck, from advertising themselves to the public as "specialists" in implant dentistry. Although Drs. Elliot and Buck had received credentials from the American Academy of Implant Dentistry (AAID), the Texas State Board, citing Texas Administrative Code §108.54, had prohibited them from advertising as such because implantology was not among the nine officially recognized specialties of the American Dental Association (ADA). The court found §108.54 to be unconstitutional, as it violated the defendants' First Amendment rights to engage in truthful, nonmisleading commercial speech.
The ruling was particularly significant in that it potentially weakened the scope of authority held by the ADA, the United States' largest and most prominent dental association. The Texas State Board had invoked the authority of the ADA to differentiate between legitimate and illegitimate specialties, but in his decision, Judge Sam Sparks found the dental board had an obligation to consider the authority of other associations representing non-ADA specialties.
In his ruling, Sparks wrote: "While ostensibly promulgated to protect consumers from misleading speech, it appears from the dearth of evidence that Rule 108.54's true purpose is to protect the entrenched economic interests of organizations and dentists in ADA-recognized specialty areas. Indeed, Defendants have presented little more than industry bias in favor of the ADA to support the argument [that the] Plaintiffs' desired speech is deceptive, false, or misleading or that the State Dental Board can trust the ADA to carve out specialty areas without the need to make any substantive determination of whether the Plaintiffs' dental organizations are actually bona fide."
In addition to Drs. Elliot and Buck, plaintiffs in the case were the AAID, the American Society of Dentist Anesthesiologists (ASDA), the American Academy of Oral Medicine (AAOM), the American Academy of Orofacial Pain (AAOP), and three private dentists. The plaintiffs provided evidence that their represented groups required significant standards for membership credentialing, all seemingly equal to other ADA-specialty groups.
Defendants in the case included members of the Texas State Board of Dental Examiners and the Texas Society of Oral and Maxillofacial Surgeons (TSOMS), which intervened as a party defendant. TSMOS, a private organization representing the interests of oral surgeons in an ADA-recognized specialty, held that the elimination of §108.54 would harm its members and do a disservice to patients, who would be misled in their understandings of treatment quality.-Article by Michael W. Davis, DDS, and Apex360 editors 25 January 2016. Full article available at DentistryIQ.com. Search "independence."
BiofilmDNA oral microbial salivary test launched by Oravital Inc. during 2016 Chicago Midwinter Meeting
During the 2016 Chicago Midwinter Meeting, Oravital Inc. (Toronto, Canada) launched its BiofilmDNA oral microbial salivary test, which detects the presence and thresholds of specific pathogens via collected salivary, subgingival, and tongue biofilm samples.
BiofilmDNA is a sensitive DNA test that detects both the presence and thresholds of specific pathogens via collected salivary, subgingival, and tongue biofilm samples. This advanced and accurate biofilm analysis provides the dental clinician with a detailed, multipanel, whole-mouth picture of the patient's oral health.
Oravital's new BiofilmDNA test is a complement to its BiofilmGS test, which uses site-specific Gram-stain analysis to determine the exact type and location of oral infection. Both the BiofilmDNA and BiofilmGS tests are analyzed in Oravital's on-site, state-of-the-art lab facility. Reports are available within two days of Oravital's receipt of the samples. Used together, the two biofilm tests will help the dental clinician accurately identify periodontal disease pathogens, opportunistic parasites, caries pathogens, yeasts, and inflammatory response.-Oravital press release 18 February 2016
Kerr Restoratives launches Maxcem Elite Chroma self-etch/self-adhesive resin cement with color cleanup indicator
Kerr Restoratives (Orange, California) has announced the launch of Maxcem Elite Chroma, the first self-etch/self-adhesive resin cement offering a color cleanup indicator.
Maxcem Elite Chroma from Kerr Restoratives is a new "smart" self-etch/self-adhesive resin cement featuring a color cleanup indicator.
The smart cement initially has a pink color that fades at the gel state to indicate the optimal time for the clinician to clean up excess cement. The pink color disappears after both self cure and tack cure, allowing for maximum flexibility in its use. In addition to the color cleanup indicator, Maxcem Elite Chroma also features "One-Peel" cleanup, an automix delivery system, no-refrigeration storage, and compatibility with all indirect restorations.
Maxcem Elite Chroma forms a strong and durable bond with a wide variety of dental substrates and is compatible with all indirect restorations-including anterior or posterior ceramics, porcelain-fused-to-metal crowns (PFMs), metal restorations, and CAD/CAM materials.
Radiopaque for easy identification on x-rays, the cement is available in a dual-barrel automix syringe system, and it is supplied with single-use automix tips and optional curved dispensing tips to allow the user to deliver the desired volume of cement directly onto the restoration and/or tooth preparations.
For more information, visit kerrdental.com.-Kerr Restoratives press release 12 January 2016
PERSONNEL UPDATES
Convergent Dental appoints David Garabedian as vice president of marketing
Garabedian brings more than 15 years of medical device marketing experience
Convergent Dental (Boston, Massachusetts), a privately held dental device company, announced that David Garabedian has joined the team as vice president of marketing. In this role, Garabedian will own all aspects of marketing for Convergent Dental's flagship product, Solea, the first US Food and Drug Administration-cleared CO2 9.3 micron dental laser for hard, soft, and osseous tissue procedures. In addition, he will drive the company's many upcoming innovations from concept to commercialization.-Convergent Dental press release 27 January 2016
Glidewell laboratories names Neil Park, DMD, director of clinical affairs
Dr. Park to oversee company's clinical research and development efforts, advise on dentist training and education programs for implants and restorative solutions
Glidewell Laboratories (Newport Beach, California), a provider of dental products, implant solutions, and lab services, announced the hire of Neil Park, DMD, as its director of clinical affairs, a new position created to oversee the clinical aspects of product research and development. In addition to coordinating the activities of the company's clinical staff, Dr. Park will help guide the company's training and education efforts to meet the needs of dentists and enhance knowledge and awareness of new techniques, materials, and procedures.-Glidewell Laboratories press release 19 January 2016
Look for news, opinion, and industry updates delivered to your inbox each week in the Apex360 newsletter. Not a subscriber? Sign up for free at dentalApex360.com.