2016 dental meetings and exhibits calendar
Here's a collection of dental meetings and exhibits, both big and small, for the entire year.
Mar 10th, 2016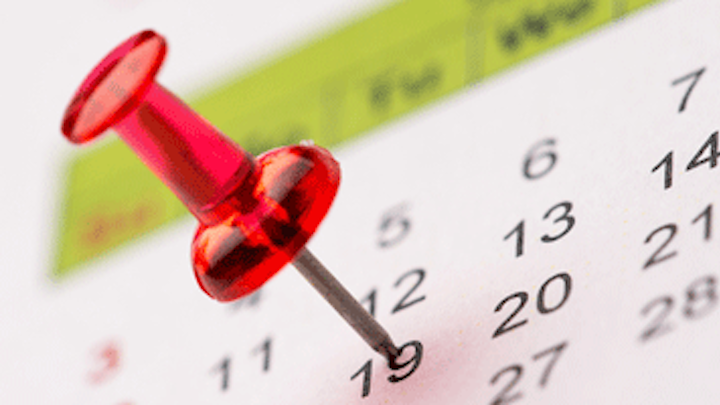 Editor's Note: Calendar is based on information that was available at press time. Please see show websites for more information. This article was originally published in the January-February issue of Apex360. You may download a PDF version of the calendar here.
---
Before you get started, we suggest you check out our 10 tips for trade show success and how to boost your investment.

---
JANUARY
OSAP CORE Dental Infection Boot Camp 2016
OSAP (Organization for Safety, Asepsis and Prevention)
Atlanta, Georgia
January 11-14
osap.org
Hawaii Dental Association Convention
Hawaii Dental Association
Honolulu, Hawaii
January 21-22
hawaiidentalassociation.net
2015 Rocky Mountain Dental Convention
Metropolitan Denver Dental Society
Denver, Colorado
January 21-23
rmdconline.com
Star of the South Dental Meeting
Greater Houston Dental Society
Houston, Texas
January 21-23
starofthesouth.org
Yankee Dental Congress 2016: Navigating Our Future
Massachusetts Dental Society
Boston, Massachusetts
January 27-31
yankeedental.com
FEBRUARY
2016 AO Annual Meeting
Academy of Osseointegration
San Diego, California
February 17-20
osseo.org
The 151st Midwinter Meeting: Three Days of Dental Excellence
Chicago Dental Society
Chicago, Illinois
February 25-27
cds.org/mwm
MARCH
Greater Philadelphia Valley Forge Dental Conference
Second District Valley Forge Dental Association
King of Prussia, Pennsylvania
March 2-4
vfdc.org
2016 Kentucky Meeting
Kentucky Dental Association
Louisville, Kentucky
March 3-6
kyda.org
2016 ADEA Annual Session & Exhibition
American Dental Education Association
Denver, Colorado
March 12-15
adea.org
Thomas P. Hinman Dental Meeting
Hinman Dental Society of Atlanta
Atlanta, Georgia
March 17-19
hinman.org
APRIL
Oregon Dental Conference
Oregon Dental Association
Portland, Oregon
April 7-9
oregondental.org
Western Regional Dental Convention
Arizona Dental Association
Phoenix, Arizona
April 8-9
westernregional.org/2016
2016 Spirit of Michigan Meeting
Michigan Dental Association
Novi, Michigan
April 13-16
smilemichigan.com
New Orleans Dental Conference and LDA Annual Session
New Orleans Dental Association
New Orleans, Louisiana
April 14-16
nodc.org
2016 ASDA Annual Scientific Session
Arkansas State Dental Association
Little Rock, Arkansas
April 15-16
arkansasdentistry.org
Utah Dental Association Convention
Utah Dental Association
Salt Lake City, Utah
April 21-22
uda.org
32nd Annual AACD Scientific Session
American Academy of Cosmetic Dentistry
Toronto, Canada
April 27-30
aacd.com/conference
2016 Star of the North Meeting
Minnesota Dental Association
Saint Paul, Minnesota
April 28-April 30
star.mndental.org
147th SCDA Annual Session
South Carolina Dental Association
Hilton Head Island, South Carolina
April 28-May 1
scdaannualsession.com
2016 AAO Annual Session
American Association of Orthodontists
Orlando, Florida
April 29-May 3
aaoinfo.org
MAY
2016 MDA Annual Meeting
Montana Dental Association
Helena, Montana
May 5-6
mtdental.com
2016 Iowa Dental Association Annual Session
Iowa Dental Association
Des Moines, Iowa
May 5-7
iowadental.org
2016 Texas Meeting
Texas Dental Association
San Antonio, Texas
May 5-7
texasmeeting.com
Charter Oak Dental Meeting
Connecticut State Dental Association
Uncasville, Connecticut
May 11-13
csdadentalmeeting.com
2016 SDDA Annual Session
South Dakota Dental Association
Rapid City, South Dakota
May 12-14
sddental.org
CDA Presents in Anaheim
California Dental Association
Anaheim, California
May 12-14
cdapresents.com
DSDS 153rd Annual Session
Delaware State Dental Society
Wilmington, Delaware
May 13
delawarestatedentalsociety.org
IDA Annual Session and IUSD Alumni Dental Conference
Indiana Dental Association
Indianapolis, Indiana
May 18-21
indental.org/register
Music City Dental Conference
Tennessee Dental Association
Nashville, Tennessee
May 19-23
tenndental.org
AAPD 2016 Annual Session
American Academy of Pediatric Dentistry
San Antonio, Texas
May 26-29
aapd.org/annual
JUNE
OSAP 2016 Annual Conference
Organization for Safety, Asepsis and Prevention
San Diego, California
June 2-4
osap.org
ADHA 93rd Annual Session
American Dental Hygienist Association
Pittsburgh, Pennsylvania
June 8-14
adha.org
CDA Annual Session
Colorado Dental Association
Location to be announced
June 9-11
cdaonline.org
2016 MDA Annual Convention
Maine Dental Association
Rockport, Maine
June 10-11
medental.org
Pacific Northwest Dental Conference
Washington State Dental Association
Bellevue, Washington
June 16-18
wsda.org/pndc
Florida Dental Convention
Florida Dental Association
Kissimmee, Florida
June 16-18
floridadental.org/convention
WDA 100th Annual Session
Wyoming Dental Association
Casper, Wyoming
June 23-26
wyda.org
JULY
NDA 103rd Annual Convention
National Dental Association
Atlanta, Georgia
July 22-26
ndaonline.org
RDH Under One Roof 2016
RDH magazine (PennWell)
National Harbor, Maryland
July 28-30
rdhunderoneroof.com
AUGUST
2016 Southwest Dental Conference
Dallas County Dental Society
Dallas, Texas
August 11-13
swdentalconf.org
SEPTEMBER
CDA Presents in San Francisco
California Dental Association
San Francisco, California
September 8-10
cdapresents.com
The Virginia Meeting
The Virginia Dental Association
Norfolk, Virginia
September 14-18
vadental.org/pro
12th Annual Dental Managers Conference
The American Association of Dental Office Managers
Boca Raton, Florida
September 15-17
dentalmanagers.com
Chesapeake Dental Conference
Maryland State Dental Association
Ocean City, Maryland
September 23-25
msda.com
OCTOBER
ADA 2016 Annual Meeting
American Dental Association
Denver, Colorado
October 20-25
ada.org/meeting
NOVEMBER
Buffalo Niagara Dental Meeting
University at Buffalo Dental Alumni Association
Buffalo, New York
November 2-4
ubdentalalumni.com
Greater New York Dental Meeting
Second District Dental Society and New York County Dental Society
New York, New York
November 25-30
gnydm.com
Do you have an event the dental industry needs to know about? Email Managing Editor Amelia Williamson at ameliaw@pennwell.com
The Big Six
CDA Presents in Anaheim
California Dental Association
Anaheim, California
May 12-14
cdapresents.com
ADA 2016 Annual Meeting
American Dental Association
Denver, Colorado
October 20-25
ada.org/meeting
The 151st Midwinter Meeting: Three Days of Dental Excellence
Chicago Dental Society
Chicago, Illinois
February 25-27
cds.org/mwm
Thomas P. Hinman Dental Meeting
Hinman Dental Society of Atlanta
Atlanta, Georgia
March 17-19
hinman.org
Greater New York Dental Meeting
Second District Dental Society and New York County Dental Society
New York, New York
November 25-30
gnydm.com
Yankee Dental Congress 2016: Navigating Our Future
Massachusetts Dental Society
Boston, Massachusetts
January 27-31
yankeedental.com