New company profile: Dental Bird allows patients to shop for dental services online, dentists to fill holes in schedule
Dental Bird is a new online platform that offers price transparency to dental consumers, while dental practices fill holes in their schedules with quality patients.
Jun 20th, 2016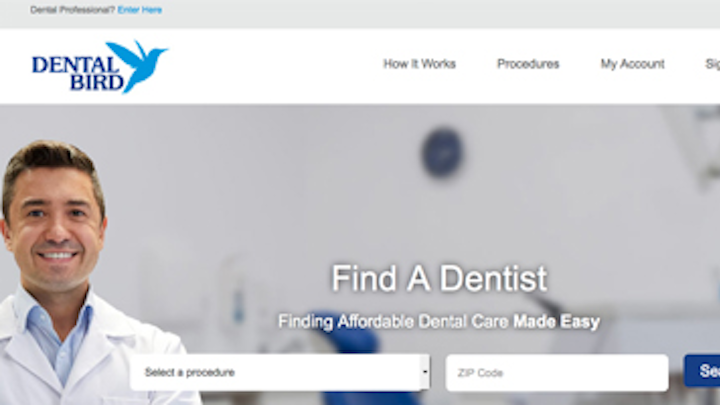 Dental Bird offers price transparency to consumers, while dental practices fill openings with quality patients
What if dental consumers had a platform that allowed them to view consistent rates for dental services and to directly communicate with the dental service provider before even going to the dentist? Would this increase the demand for dental services? A new company called Dental Bird thinks so.
The Pricing Problem
Price transparency and negotiation are currently difficult to achieve in the medical and dental fields. As a result, there is no easy way for patients to price-shop dental care. In addition, dental service providers in metropolitan areas often have trouble keeping their schedules filled. According to a recent survey regarding the US dental industry, one significant barrier to accessible and affordable dental care is the lack of price transparency coupled with highly variable pricing.1 Furthermore, many Americans face a financial barrier in dental care.2 The combination of these factors leads many people to forgo dental care altogether.
Connecting Consumers and Dental Practices: Dental Bird's Approach

Dental Bird co-founder, John O'Brien, DDS, explains his online platform this way:
Our platform allows patients to make strategic choices regarding their dental care, and [it] eliminates ambiguous price variations. On our platform, average regional rates for dental services are published, so dentists don't have to disclose their individual prices. We feel this incentivizes participation from dentists who—rightfully so—do not want to publicly disclose their fee schedule. We facilitate a process that starts with an offer and a required down payment so patients and dental service providers can communicate directly and negotiate a deal that makes sense for both parties. We feel this will increase the overall demand for dental services.
Dental Bird does seem like an innovative idea that presents a new avenue for patients to find a new dentist and/or seek a second opinion. We all have patients who are reluctant to return after a comprehensive exam and treatment plan due to perceived overwhelming fees. Many of these patients do not return to a dentist for several years, causing their dental conditions to deteriorate. On DentalBird.com, patients can shop around without the costs associated with a first-time visit to a new dentist. On its platform, patients can submit offers to the dentist of their choosing. Patients can include photographs and/or radiographs so dentists may have a sense of whether or not the services requested are appropriate. Additionally, dentists can request more information before deciding to accept, reject, or make a counter offer. All accepted offers are pending a clinical examination.
According to the American Dental Education Association (ADEA), the average student debt of a graduating dental school senior exceeds $247,000, and it is well known this is only increasing.3 Unfortunately, this means there is a desperate need for new dentists to keep full schedules in order to maintain successful practices.
If dental consumers have a platform to efficiently find a dentist who is affordable, regardless of their insurance situation, they would be more willing to seek dental care, and dentists could be more productive and profitable. On DentalBird.com, customers are able to narrow their search results geographically while gaining access to regional prices on a forum that provides swift and easy negotiation with the dental service providers themselves.
"We see our service being used by dentists to fill gaps in their schedule and to better fill their total practice capacity. Almost every industry in the world uses price fluctuation and this is a valuable tool that dentists can use to influence the patient arrival process. If a dentist has trouble staying busy on Monday morning, perhaps he or she can steer these patients making offers to come in during that time. Our platform benefits both the patients and providers offering a win-win situation," says Matt Simon, DDS, Dental Bird's other co-founder.
Value Proposition to Dentists
Dental Bird solves many problems discussed above by producing previously unavailable price transparency and the opportunity for effective schedule management. The company does this by creating a dental marketplace through an online platform; this enables direct communication of offers and negotiations for dental services.
The percentage of Americans with private dental insurance has been on a steady decline over the past several years. In 2013, approximately 47% of Americans lacked dental insurance,1 making the platform offered by Dental Bird an interesting value proposition for both patients and dentists. DentalBird.com has launched recently in the New York City market, and is looking to expand to become the most cost-effective service for new patient acquisitions. Signing up as a Dental Bird provider is easy to do online, and, unlike other online services, there is no cost to join.
References
1. Neal D, Herd N. 2013 US Survey of Dental Care Affordability and Accessibility. https://www.google.com/search?q=2013+US+Survey+of+Dental+Care+Affordability+and+Accessibility&ie=utf-8&oe=utf-8. Published July 2013. Accessed June 20, 2016. Pgs. 2–3.
2. Wall T, Nasseh K, Vujicic M. Most Important Barriers to Dental Care Are Financial, Not Supply Related. American Dental Association Health Policy Institute research brief. https://www.google.com/search?q=MOST+IMPORTANT+BARRIERS+TO+DENTAL+CARE+ARE+FINANCIAL%2C+NOT+SUPPLY+RELATED&ie=utf-8&oe=utf-8. Published October 2014. Accessed June 20, 2016.
3. Federal Student Loans. American Dental Education Association website. http://cqrcengage.com/adea/federalStudentLoan. Accessed June 20, 2016.
Author Bio: Andrew S. Deutch, DDS, practices general dentistry in New York, New York, and currently serves as a part-time clinician at the New York Presbyterian Cornell Weill Hospital. He obtained his DDS from SUNY Buffalo and completed his residency at the New York Presbyterian Cornell Weill Medical Center and the Memorial Sloan Kettering Cancer Center.
---
For the most current dental headlines, click here.

---