Dentists on Yelp: Study shows missed marketing opportunities
Online review sites such as Yelp present huge opportunities for dentists that are going unnoticed.
Oct 3rd, 2016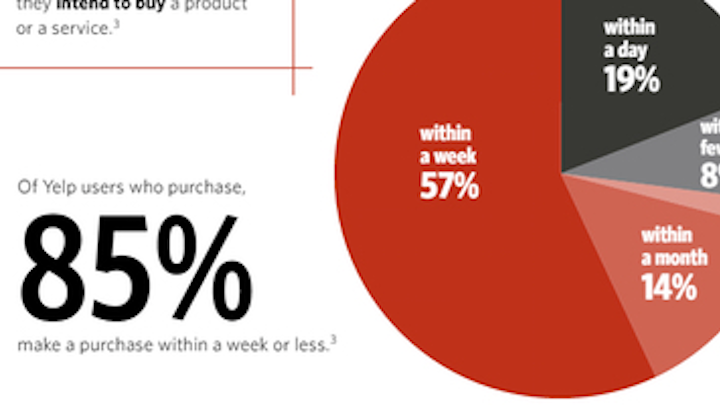 Online review sites such as Yelp present huge opportunities for dentists that are going unnoticed
Our team of marketing experts at Rockin Dental Marketing recently examined the optimization habits of dentists on Yelp. What we found was nearly an abandonment of the opportunities Yelp presents for dental practices.

Earlier this year, we collected usage data by dentists for essential components of Yelp Business Pages. Even we were surprised by how few dental practices were utilizing this online review site, despite how simple and effective it's been proven to be.
Our findings are part of a larger study on marketing habits by dentists. In that study, we looked at more than 140 variables from a sample of 1000 dentists chosen at random from the National Plan & Provider Enumeration System. Variables ranged from general descriptions, such as dental provider names, to specific marketing techniques, such as whether social media profiles existed and were being optimized. You can see our full findings in this comprehensive report.
Ratings and review websites like Yelp are an easy-to-use marketing tool often overlooked by dentists in their web marketing. The practices we work with are surprised by how simple review websites actually are to maintain. In this article, we'll take a close look at our findings on Yelp profiles and Yelp Business Pages in relation to dental offices. Then, we'll give you some tips on boosting your dental practice's Yelp profile and show you just how easy it is to get ahead of the game.
Less than half of dentists and dental practices have pages on Yelp
The first step to optimizing your Yelp presence is having a profile. Yelp is a great opportunity to show potential clients how well received your services are, so it's surprising that 53% of dental offices do not have Yelp pages. Because anyone can write a review, people feel Yelp is an honest survey of their peers. For this reason, they are more likely to visit a business that is highly rated. In fact, according to a 2015 survey, 80% of people trust online reviews just as much as personal recommendations. (1) A patient not being able to find a Yelp page for a dental practice they're interested in may be discouraged enough to consider a different practice.
Half of all dental pages on Yelp remain unverified
To assure potential patients that your practice's Yelp profile is legitimate, you must claim or "verify" the page. Remarkably, we found that 51% of practices have left their pages unverified.
Once your page is claimed, you are able to do more to manage it, including:
● Controlling business hours and contact information
● Generating responses to reviews
● Linking your practice's website

● Tracking how many people have viewed your page
● Adding images (the importance of which you can read about below) (2)
You can verify your Yelp Business Page at biz.yelp.com.
Nine out of 10 dentists fail to connect their Yelp page with their website
You want to make it easy for new patients to find positive information about your practice. Similarly, you want to make it easy for existing patients to contribute positive information about your practice. This can be done by linking your Yelp profile to your website. Is your practice one of the 10% that actually does this? If not, link your profile to your website right now. It's one of the easiest steps to optimizing your page on Yelp, but it will allow for more reviews to be easily posted and seen.
More than two-thirds of practices have contradicting business hours listed online
When patients find contradicting business hours, it leads to confusion and frustration. It may even prevent them from contacting you. Moreover, it just looks unprofessional. Remember, the online impression your dental practice makes can be just as crucial for new patients as their belief that you are a skilled dentist. If they don't find your practice professional and accessible based on your online presence, it's likely they'll just find another practice with the quality they're looking for. With 72% of practices having conflicting hours online, it is easy to stand out as a practice by paying attention to detail. Don't miss this opportunity.
Less than half of dental Yelp pages include images
Images supplement reviews in helping new patients connect with your practice. They can even be taken as proof that the reviews are honest. Yet only 47% of dental profiles on Yelp are using this tool to assure potential patients of their qualifications. Upload high quality photos of your business to give new patients a better sense of your practice. This can even be done with your iPhone.
The majority of dentists and practices on Yelp have a mediocre rating or worse
According to our survey, 62% of Yelp dental pages have a three-star rating or lower. Consumers look to star ratings as the main factor when judging a business. Only about 13% of people will even consider using a business with a one- or two-star rating. (1) More positive reviews lead to a more trustworthy impression, thereby increasing the likelihood that your dental services are chosen. If your practice is frequently getting bad reviews, find out what patients are dissatisfied with and make changes.
After claiming your page, respond to negative reviews with an apology and a solution. If you only have a few reviews and one or two bad ones are bringing down your rating, work on getting more reviews for your page to up the average.
It's extremely rare for dental pages to have sufficient reviews on Yelp
The vast majority (90%) of Yelp Business Pages for dentists and dental practices have 10 or fewer reviews. Almost half (42.7%) have no reviews at all. There isn't much benefit to having a Yelp page with no reviews. In fact, it might even harm you if it stays that way for too long. It could easily give the impression that customers are not satisfied, or that they are indifferent at best. Less than 3% of dental pages have more than 30 reviews. This is a good goal to set for your practice. Start by encouraging current patients to write a review of the practice, perhaps by offering coupons through Yelp. This will direct them to your page, and many will respond with a review while they're on it. You can even post a sign by the front desk saying, "Check us out on Yelp" with information on how to find your page. Your reviews will start to build, and this will help you acquire new patients.
Yelp is a very valuable and user-friendly marketing tool that is too often being ignored by dentists and dental practices
According an e-book released by Yelp,78% of online review website users rely on Yelp when searching for local businesses. (3) There is an incredibly quick turnaround time from when a potential customer visits a page on Yelp to the time of purchasing from that business. (3) It is established as a hugely popular business review site that you don't want to miss out on.
Yelp pages are also highly visible in search engines, especially for searches about dental services. Just look at this example of a Google search, which displays results for "root canal in Los Angeles." You can see that the online reviews and star ratings from Yelp dominate search engine results.
The first four results are sponsored ads. The boxed portion contains results from Google Maps, which are localized and impacted by website ranking and Google+ profiles and reviews. (For information on how to achieve that, visit our page on dental SEO.) The three results below the Google Maps box are the top organic Google search results, all of which are Yelp pages. These results are indicative of what consumers and users find most significant. These are shown next to the green arrows. It's obvious that consumers are becoming increasingly more reliant on online ratings and reviews when conducting research on products and services. More positive reviews and higher ratings on Yelp are now extremely likely to convert to patient acquisition. The proof is in the search engine.
Use our findings to optimize your Yelp page and up your online marketing game
Simply having a Yelp Business Page is beneficial to some degree. But you'll want to optimize it in order to guarantee great results. Here's a summary of how to do that.
1. Claim your page. A claimed Yelp Business Page allows business owners the opportunity to engage with reviewers and enhance important aspects of your page.
2.Link to your page from your professional website. You want to make it easy to access this page so that existing patients can write reviews and potential patients can read reviews.
3.Link to your website from your Yelp page. This is a two-way street and you want to draw in the maximum number of consumers. That means always connecting your different online pages.
4.Get your details right. Make sure you have correctly listed your contact information, business hours, and location so patients can easily find you.
5.Appeal to patients with photos. Adding images to your page will make it seem more professional and more trustworthy.
6.Get those reviews and up your ratings! Direct existing patients to your Yelp account to encourage them to leave a review. The odds are that the majority of your patients are happy customers. Share that with your community!
References
1. Local Customer Review Survey. BrightLocal website. https://www.brightlocal.com/learn/local-consumer-review-survey/. Published 2015. Accessed July 26, 2016.
2. Claiming your Business. Yelp website. https://biz.yelp.com/support/claiming. Accessed July 26, 2016.
3.A simple guide to showcasing your business online. Yelp website. https://yelp.app.box.com/s/zu5pv3hbhl2a72ru54osufsq2e8xr6nk. Accessed July 26, 2016.
All images owned by Rockin Technology LLC unless otherwise cited.
---
Varun Tandon, CEO at Rockin Technology, helps dentists succeed through online advertising. He firmly believes in transparency in marketing and supports that belief with monthly reporting for his clients. With Rockin Dental Marketing, Varun has focused on ROI-driven dental marketing, utilizing pay-per-click marketing, search engine marketing, and inbound content marketing. Rockin Dental Marketing works to assist dentists and dental practices in their online reputations and patient acquisition. For more information on Rockin Dental Marketing's research process, along with findings and analyses, visit the company's 2016 Dental Marketing Survey page.
---
Editor's note: This article first appeared in the Apex360 e-newsletter. Apex360 is a DentistryIQ partner publication for dental practitioners and members of the dental industry. Its goal is to provide timely dental information and present it in meaningful context, empowering those in the dental space to make better business decisions. Subscribe to the Apex360 e-newsletter here.
---
For the most current dental headlines, click here.

---