A new century of dental achievements: A closer look at Tokuyama Dental
Celebrating its 100th anniversary in 2018, Tokuyama Dental looks to create deeper relationships with its dental customers while maintaining its reputation as a chemical engineering powerhouse. Learn more in this interview with Tokuyama Detnal by Apex360 chief editor Zachary Kulsrud.  
Jun 12th, 2018


Celebrating its 100th anniversary in 2018, Tokuyama Dental looks to create deeper relationships with its dental customers while maintaining its reputation as a chemical engineering powerhouse.
---
While many dental professionals are familiar with the Tokuyama name and its advanced restorative products, not as many know the history of the accomplished Japanese materials company behind them. We thought 2018 would be a good year to address that fact, as Tokuyama is celebrating its 100th anniversary and looking to create deeper relationships among dental professionals.
We talked to the Tokuyama team to learn more about the company's beginnings, its growth in the dental market, how it approaches advanced chemical engineering, and its strategies for future success.
---
Interview with Tokuyama Dental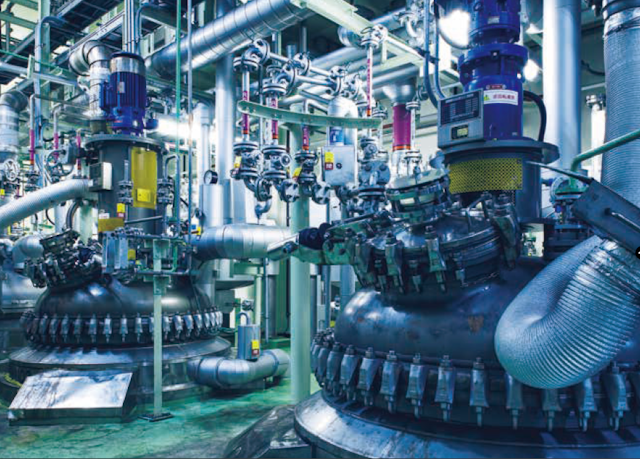 APEX: Tokuyama Dental operates in 30 countries, has more than 100 dealers worldwide, and achieves more than $3 billion in revenue annually, but many dental professionals are not familiar with Tokuyama as a company. Tell us a little bit about the beginnings of Tokuyama and how it evolved into the company it is today.
TOKUYAMA: Tokuyama was established in Shunan City, Japan, in 1918. At the time, the city was actually named Tokuyama. The company was originally called Nihon Soda Kogyo Co. Ltd. and had a simple mission: to create value that enhances people's lives. One of its first achievements was to help Japan develop a domestic source of soda ash, or sodium carbonate. Soda ash has a myriad of industrial applications, such as its role in the manufacturing of glass, and is still an important product for the company.
The company's name changed to Tokuyama Soda Co. Ltd. in 1936. In the following years, it expanded its business to produce cement and a diverse array of chemicals. For example, today we produce photochromic dye for eyeglasses that protects the eye from ultraviolet radiation. We also produce TMAH for semiconductors.
In 2018, 100 years after the company's founding, we now have more than 5,800 employees and production plants and subsidiaries around the globe. We have more than 10,000 patent applications and are in more than 70 countries. We've grown to become one of the largest and most advanced chemical and silicon manufacturers in the world.
Our key industries are information and electronics, where our main product is polycrystalline silicon, which has numerous semiconductor applications; life and health care, which includes eyeglass lens materials, dental materials, and other such products; and environment and energy, which includes resources and other environment-related businesses.
APEX: Tell us more about your growth in dentistry. How has your expertise in other industries aided you in the dental market?
TOKUYAMA: We officially entered the dental market in 1978 as a dental materials and equipment business. The business started as a joint manufacturing and sales venture under the name Towa Giken Co. Ltd. and was merged into Tokuyama Dental in 2001. As with all our business lines, we apply what we've learned in other industries to improve our dental manufacturing techniques and products.
In terms of product development for dentistry, we've had a number of milestones over the years. In 1983, we launched our first esthetic self-cure and self-mix composite. Also in the 1980s we introduced a hypoallergenic resin for denture repair and our first bonding agent. In the 1990s we introduced a primer for bonding self-cured acrylics with non-precious metals, a primer to improve adhesion between ceramics and resins, and our second bonding agent. In the 2000s we introduced our Palifique flowable line and our third-generation Estelite. More recently, we've introduced Estelite Omega polychromatic composite and our Sofreliner Tough Series.
We take pride in the fact that our dental products are consistently awarded for their quality and reliability. We are always improving, working very hard to listen to our customers' needs and incorporating their input into the development of top quality dental products.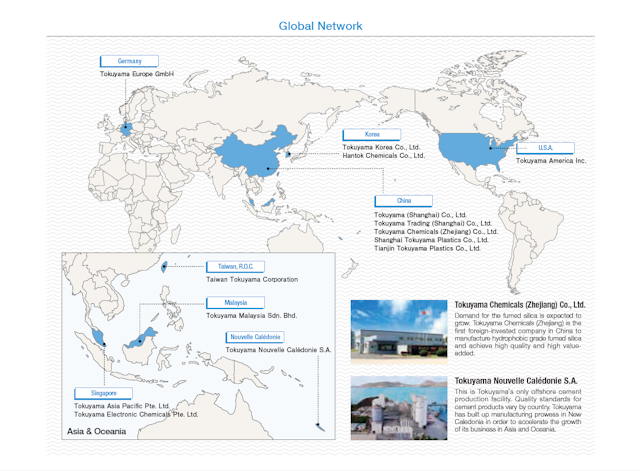 Above: Tokuyama global production (click to enlarge)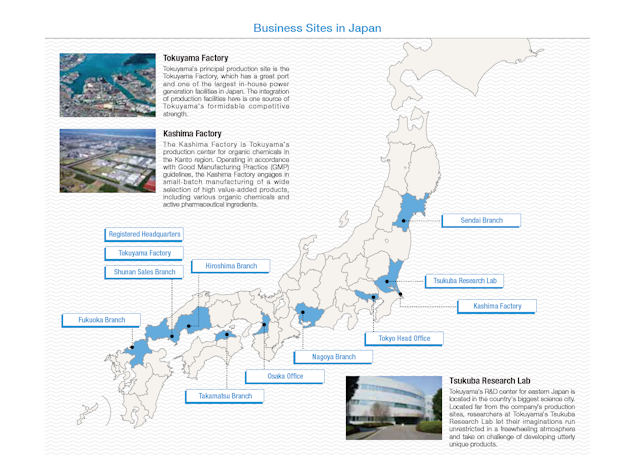 Above: Tokuyama domestic production (Click to enlarge)
APEX: You've introduced many products to the dental market—many of which are enhancements of previously released products. Which product do dentists most associate with the Tokuyama name?
TOKUYAMA: We are well known for our Estelite Sigma Quick composite, which has won Top Universal Composite from the Dental Advisor nine years in a row, and our hard denture reline, Rebase II.
Interestingly, the Tokuyama name carries different associations depending on where you are in the world and what you do for a living. For example, in Japan you will see many billboards featuring Tokuyama for things from tires, smart phones, diapers, eye glasses, and building construction material. Our materials are incorporated into many products that enhance many aspects of everyday life.
APEX: Tell us more about that. How does Tokuyama's breadth of knowledge in chemical engineering influence its perspective toward the customers it serves?
TOKUYAMA: If you look closely at one industry, such as dental, we say that our key customers are the dental professionals who influence the restorative oral health care of their patients. This can range from the general dentists who use our composite, to the dental assistants who dispense our products, to the office managers who review inventory and pricing of our materials. However, as a company we see ourselves as having a larger, even more positive impact.
In 2016, Tokuyama put in place an overarching vision for undertaking a new foundation. We felt the need to confirm our purpose and direction as we approached our second century as a business. We established our mission as: Centered on the field of chemistry, the Tokuyama Group will continue to create value that enhances people's lives. We recognized that customer satisfaction was the ultimate source of our profits and affirmed that we would do business with integrity, perseverance, and a sense of fun.
Corporate social responsibility is very important to us. As a chemical manufacturer, Tokuyama gives priority to exercising responsible care through the consistent operation and enhancement of management systems for safety, the environment, and quality. Respect for human rights is an important part of our code of conduct as well, as are fair business practices and social contributions as a good corporate citizen.
APEX: Who are the key people leading Tokuyama Dental today, and how are they helping the company pursue growth?
TOKUYAMA: We work to cultivate a culture in which all employees have voice that can impact decisions and the direction of the company. That means our corporate direction is very team-oriented: We understand that success cannot be achieved by just one person, but only together as a team. More specifically in dentistry, we define success by our ability to develop and introduce meaningful products that contribute to positive oral health care. By doing so, we will create new value and contribute to people's happiness as well as the growth and development of society.
APEX: Now in its 100th year, Tokuyama is celebrating a special milestone. Tell us about what the company has in store to recognize the milestone and connect with its customers.
TOKUYAMA: Of course! We are excited to take this opportunity to create deeper connections with our dental customers. We are creating a corporate awareness campaign as a cornerstone of that effort. Dental professionals can visit tokuyamarevealed.com to learn more about us...and also about themselves.
Our overall goal this year is to teach people about our growth as a dental company and commitment to creating value centered on the field of chemistry. We believe that in the process, we can do our part to help enhance people's lives as well as build a better society—from dental professionals, to patients, and beyond.
Editor's note: Images courtesy Tokuyama Dental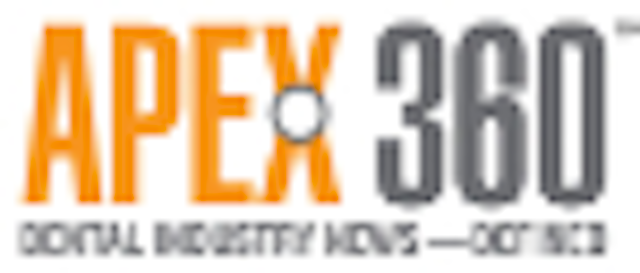 ---
Related
Product spotlight: Tokuyama Shield Force Plus [VIDEO]
Product review by Dr. Howard Glazer: Estelite Bulk Fill Flow composite by Tokuyama Dental America
---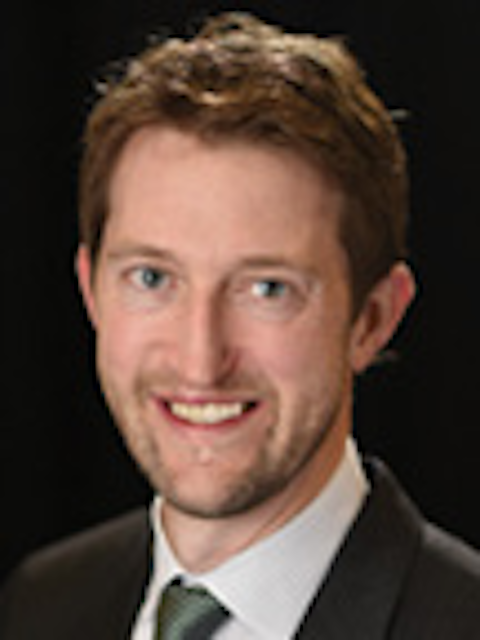 Zachary Kulsrud is senior editor of PennWell's dental group. He serves as chief editor of Apex360 and managing editor ofDental Economics, while also managing the editorial group of DentistryIQ and Perio-Implant Advisory. Email him at zacharyk@pennwell.com and follow him on Twitter at @dental_editor.
---
Editor's note: This article first appeared in the Apex360 e-newsletter. Apex360 is a DentistryIQ partner publication for dental practitioners and members of the dental industry. Its goal is to provide timely dental information and present it in meaningful context, empowering those in the dental space to make better business decisions.
Subscribe to the Apex360 e-newsletter here.
Dental news and press releases may be sent to Apex360 editors at dentalpress@pennwell.com.
---
For the most current dental headlines, visit the DentistryIQ home page.

---